Few sneakers can compete with Kanye West's Yeezys in terms of iconic status. Since its original debut in 2009, Yeezy shoes have grown into a kaleidoscope of sizes, styles, colors, and patterns, with input from Nike and Adidas.
Yeezys are one of the most comfortable pairs of sneakers available right now. The soles of Yeezys are created from harvested algae combined with EVA, making them extremely lightweight and comfortable.
How comfortable are the Yeezy Boost 350s on your feet? As long as you don't lace them too tightly, the Yeezy Boost 350 is an extremely comfortable sneaker. The upper of the Yeezy 350 is made of Primeknit. Adidas' revolutionary BOOST™ technology is employed in the midsole. A side stripe of post-dyed monofilament is woven into the top. The laces are made with reflective threads. 
The upper of the YEEZY BOOST 700 is made of lightweight polyester with no-sew overlays for increased breathability, mobility, and durability. 
Just as the finest Jordans have an aesthetic flair and a near-universal level of appeal, so do the best Nikes, and it's safe to assume that Yeezys are on their way up.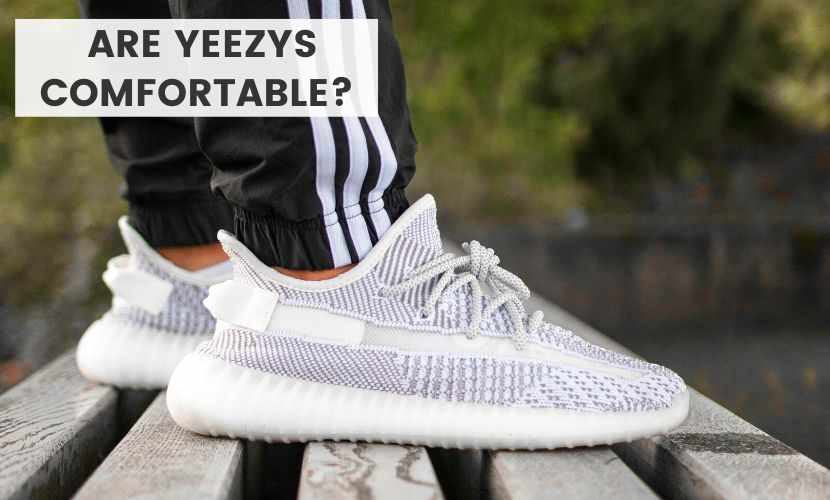 Are All Yeezys Comfortable?
Yes, the majority of Yeezys are extremely comfortable. They give feet flexibility, durability, and cushioning. Furthermore, the EVA foam used in the Yeezys provides a high level of comfort to the feet. You can wear them all day and still have light feet. The best thing about Yeezys is that they mold to your foot and are easy to put on and take off.
As Yeezy sizing affects comfort. The Yeezys 350 run small, so size up a half or full size to avoid having a narrow sensation on your feet and to allow your toes to move freely.
Also check out: Why Are Yeezys So Expensive And Popular?
Features That Make Yeezys Comfortable
Due to the high performance and technology used to create these shoes, they are specially designed to be worn daily. When compared to other shoes with the same high price tag, the features listed below make Yeezys one of the top picks.
Upper 
This is due to the sock-like fit provided by the Primeknit fabric upper and the cloud-like cushioning provided by the full-length Boost sole.
Both of these features work together to create this sneaker. The presence of both of these components influences the overall construction of the shoe. 
The Yeezys 500's upper is made of suede, mesh, and leather. The upper of the Yeezys 700 is the same as that of the Yeezys 500, with different layer combinations(suede, mesh and leather). This makes them less breathable than the Yeezy 350 and 380 (uppers made of PrimeKnit fabric), where the fabric allows air to flow freely.
Sole
The sole of the shoe is made by combining algae foam and petroleum ethylene-vinyl acetate, and the shoe is then sewn together with a combination of the two components.
To provide comfort, the Yeezy 500 midsole is made of AdiPrene that is bound with rubber wrapping. Yeezys 700, on the other hand, have a Boost Sole that provides comfort to the feet, as well as mesh fabric used in their construction provides flexibility and cushioning to the feet.
The semi-translucent rubber outsole of the Yeezys, combined with the TPU sidewall, provides excellent traction and propels you forward. The outsole's shock absorption feature aids in the preservation of your feet. As a result, runners adored the Yeezys 700.
Breathability
Yeezy's Primeknit upper is designed to keep your feet cool and dry. As with the Yeezy 700, the upper is made of mesh to allow for airflow.
This keeps your feet in constant contact with air, reducing the possibility of bacterial formation and foul odor.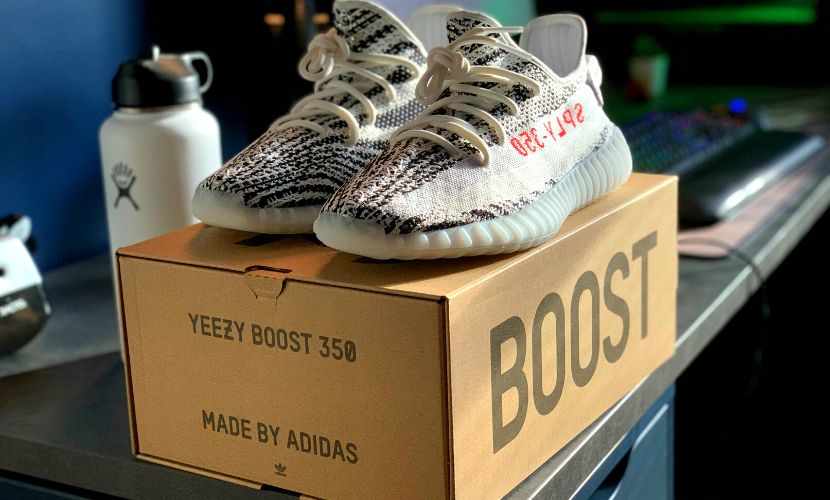 Can You Wear Yeezys For Running?
Yes, some Yeezys will smooth out your run and provide enough traction and padding to propel you forward. Others are not built for running.
As previously stated, the Yeezys 350 are extremely comfortable shoes, but they are not ideal for running due to a lack of ankle support and traction. The upper made of fabric can be a great cushioning component provided by Yeezys 350, but they are a hindrance when running.
When it comes to the Yeezys 380, they have the same built-in material as the Yeezys 350, so they have the same upper as the Yeezys 350, which makes them another great pair of comfortable shoes, but they are not recommended for running because they do not provide the necessary foot movement.
The uppers of the Yeezys 500 and Yeezys 700 are made of a combination of mesh, suede, and leather, making them ideal for running. The Yeezys 500 feature a thick Adriprene midsole, which increases the overall weight of the shoes. This is why they are not suitable for long-distance running.
However, the Yeezys 700 are built with a Boost midsole, which makes them lightweight and provides enough padding for long-distance running. The only problem is that they aren't cheap, costing around $460 and up.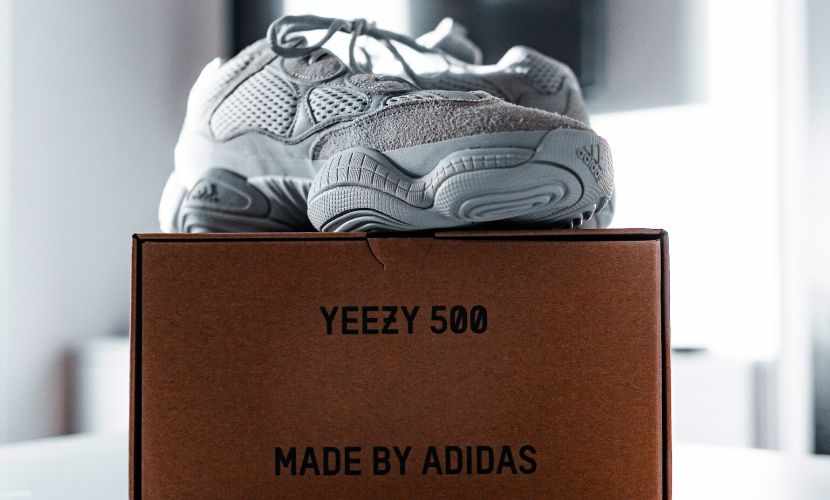 Are Yeezys Good For Your Feet?
The majority of people agree that Yeezy sneakers are among the most comfortable shoes ever designed for human feet. This is because they are made from a combination of algae foam and petroleum ethylene-vinyl acetate. This manufacturing method improves the durability of the footwear.
If you're looking for Yeezys that are both comfortable and flexible, the Yeezy Boost 350 V2 is one of the most comfortable. Since the midsole absorbs shock and returns energy to the maximum level, you won't feel every bump in the road.
Since the new release Yeezys run true to size, there is no need to size up, and they fit perfectly to your feet.
Read more on: Are New Balance Shoes Good?
Are Yeezys Comfortable For Walking?
If they do not have a fit that is too tight, the Yeezys are an excellent solution for traveling about town while wearing something that is completely comfortable to do so in. However, this is only the case if the shoes do not have an excessively tight fit.
Yes, as well as being excellent for running, they are also among the best-cushioned shoes for walking. Although only a few Yeezys have been approved for running, when it comes to walking, most Yeezys provide ample padding for your feet to make your walk a breeze.
However, if you are looking for Yeezys for walking, go for the Yeezys 500, which are great for short to medium-distance walking and provide enough breathability due to the upper they are made of. You can also opt for Yeezys 700, which will help you with long-distance walking.
Are Yeezy 350 Shoes Comfortable?
The Yeezy Boost 350 is the most comfortable Yeezy, as well as the most visible interpretation of the Yeezy form. The sock-like fit of the Primeknit upper and the cloud-like cushioning of the full-length Boost sole make this shoe as comfortable as a performance sneaker. Together, they explain why this is the case. These two elements are critical to the overall development of the shoe.
According to statistical research, purchasing a pair of Yeezy Boost 350s appears to be a wise investment. Adidas has risen to the top of the sneaker industry in terms of innovation thanks to the Primeknit upper, Boost cushioning, and streamlined design. Adidas has been able to maintain its dominant market share as a result of this.
Read more on: Are Clark Shoes Good and Comfortable?
Are Yeezys Comfortable for Wide feet?
Customers with wide feet should consider purchasing a size larger than usual to accommodate the Yeezy shoes' narrow toe box, which has been purposefully designed to be narrow.  
Yeezys typically run true to size. However, some Yeezy models, such as the Yeezys 350 V2, run smaller, so if you have wide feet, it is best to go a size up. I would also recommend a full-size up rather than a half-size up because they are a size smaller than your regular size.
The upper of the Yeezy, which is made of the fabric Primeknit, will stretch over time, providing more toe room. So, if you recently purchased Yeezys and they fit snugly, wear them for a while and you'll notice how quickly they break in and mold to your feet. So, yes, Yeezys are an excellent choice for wide feet; however, you must size up from your regular size.
You can also read more on Yeezys sizing here: Do Yeezy Run Small, Big or True To Size?
Are Yeezys Shoes More Comfortable Without Insoles?
If you feel the Yeezy shoes are too restrictive for your feet and cause pain, you can remove the insole and replace it with another one. As a result, there will be more room in the shoe for your feet and toes to move around. Wearing Yeezy sneakers does not necessitate the use of insoles.
Yeezys tend to run on the small side in many situations, and the toe cap region is one of the most obvious examples. If you removed the insoles, the shoe would be more comfortable to wear and have a looser overall fit. Because the insoles of every pair of Yeezy sneakers can be removed, putting them on and taking them off is a breeze.
Which Yeezys Are More Comfortable?
Every pair of Yeezys with Boost (350, 380, or 700) will almost certainly provide the user with a high level of comfort. 350/380 makes you feel as if you're walking on a cloud, whereas 700 provides a little more firmness and supportiveness for athletic comfort.
Walking on the 500 is almost as enjoyable as walking on a racquetball cushion, which is to say that it is quite comfortable in its own right. However, it is not as enjoyable as walking on a tennis ball pillow.
Read more on: Are Skechers Good Shoes?
How Long Does Yeezys Last?
Unlike the vast majority of other shoes, the outsole of these shoes has only a very thin layer of rubber on them. Other shoes typically have a thicker rubber covering on their outsoles. Even if you wear heels all the time, they will only last six to twelve months if you drag your feet while wearing them. The lifespan of the 380s and 700s is significantly greater than that of the 350s. They can last for more than 2 to 3 years if properly cared for.
Should You Buy Yeezys Or Not?
The statistics add up to show that buying a pair of Yeezys is a smart move that will pay you dividends much beyond the initial outlay. Thanks to the revolutionary Primeknit upper, the flexible Boost midsole, and the streamlined design, Adidas has risen to the forefront of the market in terms of cutting-edge product design. 
My first choice would be to purchase Yeezys 350. However, if you want to run in them, the Yeezy 700 is next on the list. I believe it is worthwhile to purchase one. However, when it comes to price, the Yeezys 350 V2 starts around $240, while the Yeezys 500 starts around $340. So, if you're looking for a cheaper pair of Yeezys, go for the Yeezys 350.
Takeaway: Are Yeezys Comfortable?
Many people consider the Yeezy model to be the most comfortable sneaker, with the Foam Runner a close second. The research indicates that purchasing a pair of Yeezy shoes is money well spent.
The streamlined design, accommodating Boost sole, and Primeknit upper create an air of excellence that has propelled Adidas to the top of the industry in terms of innovation.
More Articles: