Running shoes are not always the most visually appealing footwear, but most athletes are willing to forego aesthetics in exchange for performance.
Hoka running shoes, on the other hand, have received a lot of criticism for their appearance. In fact, in a 2013 cover story, Outdoor Magazine referred to them as "clown shoes."
Hoka shoes are great because they give your feet the most support and padding. They're surprisingly light for such a large sneaker, which is a big plus because one of the most common complaints about larger running shoes is that they're too heavy. Hoka shoes are made of high-quality leather that has been certified by the Leather Working Group.
Hoka shoes have a padded midsole that absorbs shock and protects joints. Hoka employs a carbon fiber plate in the insole for bottom-of-foot comfort and support, providing your feet with just the right amount of cushioning for forward and backward movement.
In their shoes, they use Meta-Rocker technology, which reduces the amount of strain on the feet caused by external pressure while increasing toe, midfoot, and heel movement.
Numerous blogs and videos are extolling the virtues of the best running shoes, but keep in mind that no shoe is perfect unless it provides the necessary level of comfort! Continue reading to learn about amazing Hoka features!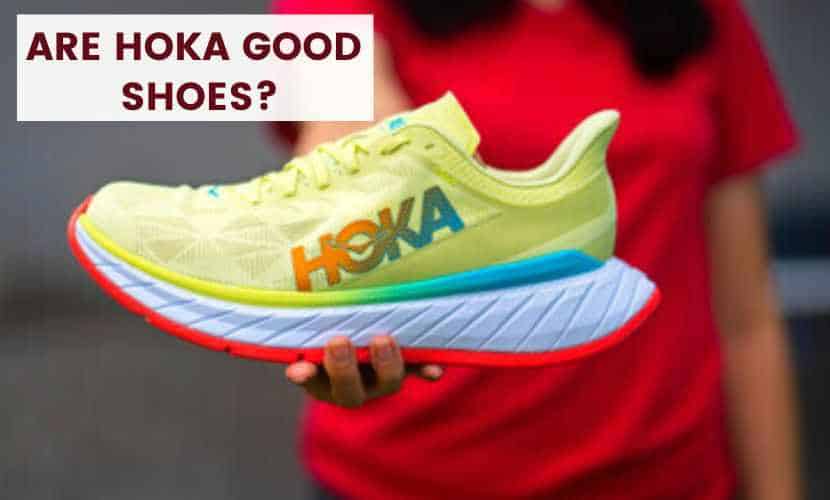 What Is So Special About Hoka Shoes? 
The unique feature of Hoka is that it has a high level of cushioning and is lightweight and breathable, making it a comfortable option for long-distance running.
Other notable features include inner heel support, a compression-molded midsole, and Hoka's Meta-Rocker technology, which is designed to catapult you forward while encouraging a more natural stride.
Read more on: New Balance Vs Hoka
Pros and Cons of Hoka Shoes 
Pros of Hoka Shoes 
Hoka shoes are slip resistant 
They are very lightweight
Hoka shoes are very durable 
They offer a sprawling footbed platform
Ideal for people with wide feet.
Cons of Hoka Shoes
They take a long time to dry.
Hoka shoes are very expensive 
Not every pair of Hokas is lightweight
They are bulky, so if you want something sleek, avoid Hoka!
What Materials Are Used To Make Hoka Shoes?
Hoka shoes are made from three different materials:
Leather
Cloth 
Synthetic materials (plastic, nylon, rubber, polymer, etc.) 
All of the leathers used in HOKA footwear products are sourced from tanneries that have been certified by the Leather Working Group as environmentally conscious (LWG). These tanneries follow sustainable and environmentally friendly corporate practices in the leather industry.
Top 5 Hoka Shoes Comparison 
| | | |
| --- | --- | --- |
| Model | Best For | Price  |
| Hoka Clifton 8 | Everyday Training | $140 |
| Hoka Bondi 8 | Padding and Cushioning  | $165 |
| Hoka One One Khawana | Distance Running  | $140 |
| Hoka Rocket X | Speed | $200 |
| Hoka Arahi 6 | Overpronators  | $140 |
Why Are Hoka Shoes So Expensive?
Running shoes are typically more expensive than traditional shoes for a good reason. Not only that, but some of them are downright unattractive!
Every component, from the foam to the cushioning, the arch, the outsole, and the heel counter, is specifically designed for runners and their shoes. These items are expensive, which causes the shoes to be more expensive.
Hokas are expensive because: 
They are made of high-quality material. 
They implement EVA or Profly midsoles which are quite costly.
They are extremely long-lasting.
Extra padding is provided. 
A wide rocker midsole was used in the design.
Amazing protection against chronic pain.
Are Hoka Shoes Good For Walking?
Hokas are extremely versatile shoes that can be used for a variety of activities such as running, lifestyle, and walking. Even though Hokas are big, they are surprisingly light shoes.
Yes, they are also excellent walking shoes. You can walk short and long distances while wearing Hoka shoes. The Hoka One One Bondi 7 is one of the best all-day walking shoes. The first thing you should look for in a walking shoe is how much cushioning it has. And, as you may be aware, Hoka is well-known for providing cushioning and support to your feet. They are popular among people who must move around all day at work or who enjoy walking or jogging. You'll never know how you managed to complete a long walk in such a short amount of time with Hoka.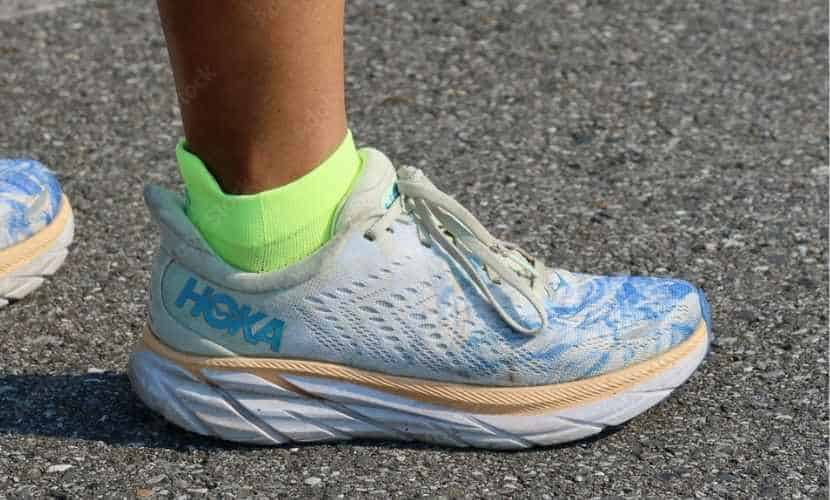 Are Hoka Good For Flat Feet?
Yes, Hoka Shoes are ideal for people with flat feet.
The ample cushioning found in Hoka shoes support flat feet and can help prevent associated lower body problems.
In a summary of running shoes published by Runner's World at the beginning of 2021, the publication stated that Hokas offered the optimal blend of cushioning and stiffness to maintain a sensation of support for low or collapsed arches. 
This is especially true of the Gaviota and Arahi models, the latter of which has a more rigid midsole than the former to provide even more incredible support.
Are Hoka Shoes Good For Hiking?
Hiking requires you to walk through rough terrain, pebbles, water, and dirty and dusty areas. So you'll need a pair of shoes that you can rely on both after and before hiking. Before because the shoes must have the proper features to withstand the rough terrain, and after because you must clean them quickly. 
So, based on my hiking experience with Hoka, I can say that they were great hiking pairs. I had to just put them on, and as I hiked, dirt accumulated, making my Hoka look dirty. I was terrified when I returned from the adventure. I had to hand-wash them in cold water with detergent. And after cleaning, my Hoka looked brand new.
If you're a hiker looking for something with a little more padding, look into Hoka sneakers. Hoka shoes stand out from the other hiking shoes thanks to their extra-large midsoles and noticeable rocker. These features assist your feet in rolling into the next step.
The amount of grip on the bottom of the shoes will need to be increased if the terrain becomes more loose, bumpy, or steep, but the Hoka shoes will be able to handle the terrain regardless of its characteristics.
Are Hoka Shoes Good For Plantar Fasciitis?
If you have plantar fasciitis and have to stand all day on your feet, you'll want a shoe with enough padding and arch support to alleviate any soreness, and a pair of Hoka will be the best choice.
The same characteristics that make Hokas a good choice for people with high arches also make them a good choice for people who have plantar fasciitis.
It would be beneficial to try Hoka One One shoes because their level of cushioning is among the best in the industry.
The Bondi, also known as the "clown shoe," is one of the styles that is frequently recommended for treating plantar fasciitis due to its obvious impact protection.
The thick base is also more solid, which can help to support your feet and alleviate the symptoms of plantar fasciitis.
Are Hoka Shoes True To Size?
Hoka comes in a variety of sizes rather than just one. While some claim that they run true to size, others claim that they run small, and many claims that the toe area is a bit narrower and that they had to size up when purchasing the Hoka. However, it has been observed that Hoka runs a half size larger. So, if you're looking for the perfect fit, go a half-size down.
The sizing is also determined by the model and the size of your feet. Hoka One One Bondi 6 and Hoka Challenger ATR 2 run large, while Hoka Speedgoat 2 runs true to size and Hoka Bondi 4 runs small.
Are Hoka Shoes Good For Bad Knees? 
The typical HOKA footwear design includes a significant amount of EVA foam in the heel and forefoot areas. This helps to disperse the impact of landing, lowering the likelihood of jarring your joints or causing knee pain. This shoe redefines the term "plush" and takes the top spot on our cushioning scale.
How Long Do Hoka Shoes Last?
A pair of Hoka shoes have an average lifespan of 250 to 500 miles, or 3 to 7 months if you run 300 miles per day, which is a fairly broad range. While some people might sprint more than 700 meters, others might only cover 300. 
The Hoka Clifton Edge outlasts all other Hoka shoes. Therefore, the Hoka Clifton Edge is the best option for those who want a long-distance running shoe that will last and provide maximum comfort throughout those long runs. This lightweight yet sturdy shoe has ample padding to keep your feet comfortable without adding extra weight.
Final Verdict
During my research for this Hoka shoe review, I was pleasantly surprised to learn that the company ships to countries all over the world. You can tailor the website to your specific destination. 
Furthermore, you have the option of requesting a refund or exchanging the item for a different one at no additional cost within the first thirty days of purchase. Simply visiting their website is all that is required to get started.
More Articles: