Crocs are unmatched in terms of durability. They are waterproof and suitable for all seasons. But you might be wondering if are crocs comfortable in the first place.
Crocs have been storming the footwear industry since they first appeared a few years ago. Their obvious appeal befuddles those who haven't worn them before.
To keep things short. Crocs are highly comfortable and come in a wide variety at low prices. Crocs are comfortable because of the support, cushioning, breathability, and toe room they provide. Croslite (a closed cell resin) utilized in the manufacture of crocs is extremely soft, non-toxic, and cushioning. Croslite helps to prevent bacterial growth and keeps your feet odor-free.
The fact that they are lightweight and that you can put them on and take them off adds to their comfort. The important thing to remember while purchasing crocs is to buy the correct size or go up a size. You can always go size up, which will provide you more toe room and allow you to effortlessly wiggle your feet within the crocs.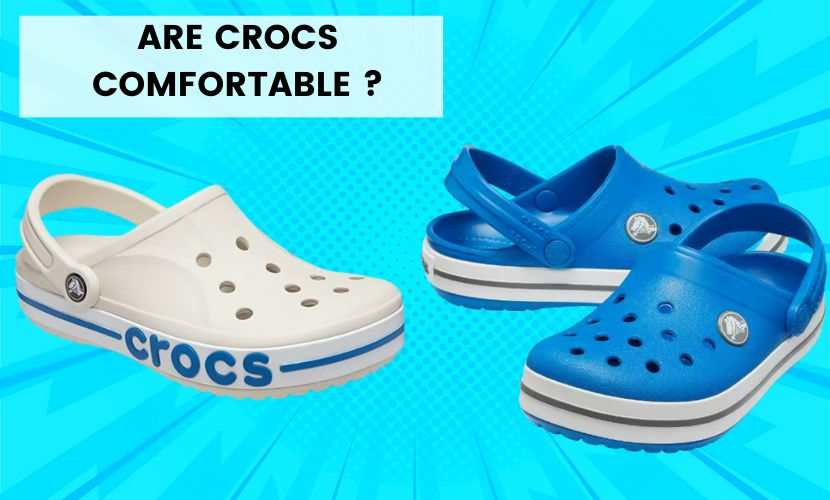 Are Crocs Comfortable?
Crocs are extremely comfortable shoes. They are among the most comfortable and reasonably priced shoes on the market today. "Iconic Crocs Comfort" is a trademark guarantee that comes with every pair of Crocs.
It's rare to hear someone wearing Crocs say that their shoes hurt, are uncomfortable, or otherwise irritate them.
What Makes Them So Comfortable?
Crocs are quite comfy due to a variety of factors. In a nutshell, the features that provide them with comfort are as follows:
Materials
Crocs are constructed from Croslite, a proprietary closed-cell resin foam. Croslite is mark-proof, which means it won't scuff up your floors, is soft and sturdy, easy to clean, and flexible enough to bend in half without becoming torn or otherwise ruined.
Weight
Crocs are also quite lightweight. Each pair weighs a fraction of what a pair of sneakers or sandals do, making them suitable not just for traveling and carrying, but also for everyday use. They are slightly heavier than thongs or flip flops but lighter than any other type of shoe.
They typically weigh between 300g and 500g, depending on the type of Crocs.
Design
Crocs' design also has an impact on how comfy they are. The unique air holes found on practically every Crocs shoe are excellent for ventilation and keeping feet cool and dry during hot summer days. This natural sweat-control strategy works wonders for cleanliness and keeping your feet odor-free.
If you step in a puddle or wear your Crocs into the lake instead of water shoes (another fantastic usage for them! ), these holes function as drainage holes for water and other debris.
Crocs' roomy size is an added plus in terms of comfort. Crocs are designed to fit even the widest of feet comfortably. They are designed to fit firmly and securely while also allowing the toes to move freely.
Sizing
Crocs are available in a variety of sizes ranging from children's to adults, with certain lines of the famous shoe going as large as a Men's size 13.
Read more on: Are Vans Good For Skateboarding?
Are Fuzzy Crocs Comfortable?
When the temperature drops and things get chilly, fuzzy Crocs are ideal. Their extra-soft, fluffy lining adds to the cushioning and overall comfort. They are far more comfortable than regular, unlined versions of everyone's favorite shoe.
When paired along with warm socks, fuzzy Crocs can be worn during the winter seasons as slippers or outdoor shoes, providing that the ground isn't covered in snow.
Can You Wear Crocs To Work?
In some circumstances, Crocs can be worn to work. However, when determining whether or not to wear your new Crocs to work, keep in mind that they are neither business-casual nor business-formal in any way. They are fairly casual shoes that do not go with a suit or formal attire.
Businesses that demand a lot of physical activity or work outside in nature are more likely to accept Crocs as shoes; they have several advantages in both circumstances. Crocs are also likely to be accepted as ordinary footwear in casual, informal office employment where you're seated at a desk all day or otherwise out of sight of clients.
Crocs may not be permitted in jobs requiring the use of hazardous chemicals, power tools or sharp machinery, or kitchen/food service for safety reasons.
Whether your company has explicitly said that Crocs are permitted, it's a good idea to double-check with management before wearing your Crocs to work. If you're allowed to wear them, it's always a good idea to have an extra pair of shoes with you just in case, such as a pair of sneakers or another work-appropriate shoe.
Read more on: Do Doc Martens Stretch or Not?
Are Crocs Comfortable For Nurses?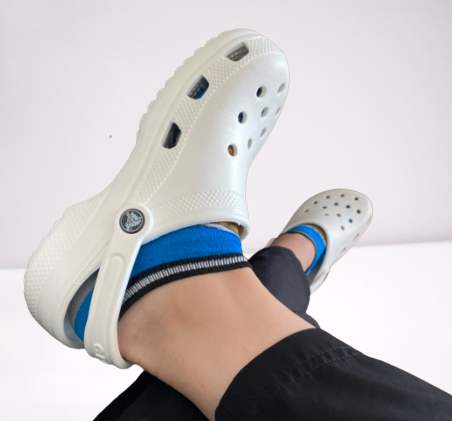 When it comes to being on your feet for 8-12 hours a day, as nurses do, Crocs are an excellent choice for comfort. As previously said, they are lightweight and do not add bulk to the foot. They're also breathable, which is great for keeping your feet cool.
Crocs lines with added arch support are considered to be extremely comfortable for busy professions such as nurses. They cushion the foot and absorb some of the shocks that come with walking 8 hours a day, which can help with foot pain, callous formation, and other concerns.
Are Crocs Comfortable For Walking?
Crocs are comfortable for walking for the same reasons that they are for nurses. However, because of the holes on the sides, they may not be the ideal choice for trekking or walking through brush or forests, as small sticks, twigs, and other debris can easily find their way into your shoe and become a nuisance.
They are, nonetheless, a wonderful choice for daily walks around the neighborhood.
Also read: Why Are Yeezys So Expensive And Popular?
Are Crocs Comfortable For Kids?
Crocs are a favorite shoe among children of all ages. They're especially good for toddlers because they're simple for them to put on and take off.
They may also be washed as often as needed and air dried without the use of a dryer because of the materials they are composed of. This is especially useful during the summer months when kids are outside playing and getting messy.
Do Crocs Have A Good Grip?
When you look at the bottom of a pair of Crocs, you'll see that they have a lot of grips. Their ridges and grooves are deep and cover the majority of the shoe's bottom surface. This offers them the same degree of traction as costly training shoes without the exorbitant price tag.
Crocs do not claim that their shoes are completely non-slip or that they will withstand snow, but they do make a concerted effort to make each of their Crocs lines as strong and non-slip as possible.
Do Crocs Provide Heel Support?
Crocs provide heel support. In fact, for a shoe constructed of flexible plastic and lightweight material, they feature more heel support than you'd expect.
However, the type of Crocs you buy will be determined by how much heel support your pair has.
Because Crocs has such a diverse shoe collection, it's rather easy to locate one or two designs that fit your foot if you need a lot of heel support. Crocs meant for the hospitality industry, such as the Bistro Clog, provide added heel support.
They are designed for wearers who will be on their feet for long hours and are thus comfortable enough to support the feet during long shifts.
Which Crocs Are Most Comfortable?
Crocs are all quite comfortable. However, there are several styles and lines that go above and beyond the typical Crocs shoe standards.
Any of the designs with LiteRide insoles is regarded as the "most comfortable." Among them are some examples:
LiteRide Clogs
LiteRide Stretch Sandals
Crocs-on-the-Clock LiteRide
Neria Pro II LiteRide Clogs
There are many shoes like crocs that offer the same level of comfort as crocs, such as Amjio, Chaco, Dansko, and many others.
If you have very pronounced arches and you find that even the LiteRide Crocs don't have enough support for you, you can also consider using an additional insole inside your Crocs. Crocs are roomy enough that an insole can be easily added to almost any pair.
Conclusion: Are Crocs Comfortable?
Yes, Crocs are very comfortable. Whether you get the original Crocs or something more specialized, your Crocs will be one of the most comfortable pairs of shoes you own.
Crocs offer a lot of amazing characteristics, from their breathable construction to their non-slip bottoms, that make them both comfortable and functional – and ideal for the whole family.
More Articles: