What distinguishes Fuzzy Crocs from regular Crocs? More comfort! Despite their love-hate relationship, Croc owners always have more than one pair of Crocs, including the Classic Lined ones.
But, because the fur on these Crocs is delicate, no one wants to ruin them by cleaning them incorrectly. So, how exactly do you clean Crocs with Fur?
You can clean your Fuzzy Crocs in the same manner as you clean other Crocs. The fur lining should be cleaned gently with household cleaners such as soap, detergent, or baking soda. And keeping your Crocs fresh means keeping them as dry and fragrant as possible.
Let's look at how to clean fuzzy Crocs by removing the odor that makes you dizzy.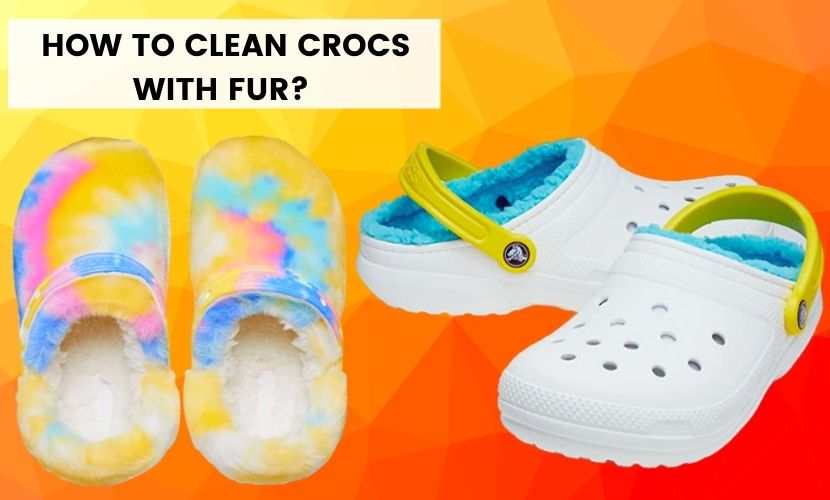 Can You Wash Crocs With Fur?
Crocs offer two types of fur Crocs: Classic Fur Sure and Fuzzy Crocs. The Fur Sure Crocs have fur lining on both the inside and outside of the clog, whereas the Fuzzy Clogs only have fur lining on the inside. And it is the fur lining that prevents such Crocs from being completely waterproof.
Is it possible to wash Crocs with fur? You certainly can. Because the linings inside are irremovable, you can gently wash them with soap and warm water and then dry them.
Read more on: Are Crocs Closed Toe Shoes?
What Do You Need To Clean Crocs With Fur?
To clean Crocs with fur, you need to grab a few things you can easily find lying around your house:
Detergent (Method 1)
Brush
Fabric Conditioner
Dishwashing Soap (Method 2)
Baking Soda (Method 3)
Shiner.
Three Methods To Clean Crocs With Fur
Let me demonstrate three methods for cleaning Fuzzy Crocs. When you read them, you'll notice that they're similar to those I've described for other shoes.
Method One: Detergent
Fill a bucket with cold water and add detergent to the water according to your feasibility.
Mix the detergent and water, then soak your Crocs in it for a few minutes.
Next, rinse the crocs with warm water without scrubbing. 
Wipe and dry the crocs properly with a towel.
In the third step, if your Crocs are extremely dirty and scrubbing is required, you can remove scuffs on the outside with a soft brush or magic eraser. Do not scrub the Fuzzy liners inside!
Also check out: Why are Crocs So Expensive?
Method Two: Soap
Grab a pair of Crocs and dampen them in the sink.
Squeeze some dishwashing liquid inside the Crocs.
Tilt your Crocs slightly to ensure that the soap is evenly distributed.
Re-run the water to create suds.
Using a soft brush, gently scrub the liners to straighten them.
Rinse the Crocs again with water and pat them with a dry towel.
Method Three: Baking Soda
Take two containers and fill one with water and the other with baking soda.
Take a paper towel and fold it twice.
Wet the paper towel and then sprinkle it with baking soda.
Gently rub the Crocs with this paper towel to remove any dirt. Then repeat for the interior liners.
Take a shoe shiner and rub it over the Crocs.
To remove the excess dirt, take a hand vacuum cleaner and run it inside the Crocs.
The final step is to air dry the crocs. 
This method works best for white shoes.
Note:
Before washing your Crocs, remove any pins.
If your liners are removable, remove and wash them separately using the same methods.
You can always conclude any method by applying a fabric conditioner to the sherpa liner to give it a fresh and fragrant appearance.
Can You Wash Fuzzy Crocs In The Washing Machine?
Since Croslite is heat sensitive, I do not recommend washing any Crocs, including Fuzzy, in the washing machine. However, after conducting some research, I discovered that users were washing them with constraints. So, if you want to try washing Fuzzy Crocs, here's how:
Inspect your Crocs thoroughly to ensure that there is no solid material that could harm your washing machine.
Put your Crocs in a laundry bag or pillowcase, then put the bag in the washer with the detergent/vanish and water.
Set the washing machine to low heat settings, ensuring the temperature doesn't exceed 30 degrees Celsius. 
Wash them for a few minutes and cycle.
To keep the Crocs in shape, stuff them with paper.
Nevertheless, I suggest you wash Fuzzy Crocs in the washing machine if it's your last option.
Read more on: Do Crocs Shrink?
Can You Remove Fuzz From Crocs?
The fact that the fuzz inside fuzzy Crocs is irremovable is a significant disadvantage. So, if you're used to replacing insoles in other shoes, it's not the same with Crocs, and you have to wash them right away, even if they're stuck.
However, not all Fuzzy Crocs are the same. The Fur Sure Crocs, for example, have fur on the outside, which you can remove by detaching them from the clips. However, you must proceed with caution or the fur will tear.
How To Get Rid Of Smell From Fuzzy Crocs? 
Since the fur in Crocs is sherpa or faux fabric, it can easily smell musty with time and sweat. So, how do you get rid of this stench? Here's how it's done:
Apply Vinegar & Baking Soda Paste.
Simply make a paste of equal parts baking soda and vinegar in water and apply it to the footbed of your Crocs. Wait for the layer to dry before rinsing it off. Because baking soda is alkaline and vinegar is acidic, they will both wash away bacteria and fungi.
Keep Away All Sorts Of Moisture.
Bacteria adore water and require it to thrive. To prevent bacteria from growing, keep your Crocs as dry as a bone, especially after washing. For recurrent dryness, I recommend storing silica bags or other desiccating agents inside your Crocs.
Store Them The Right Way.
In addition to using silica pouches, keep your Crocs in a clean, dry place. I prefer putting them in a dark cabinet or drawer.
How To Dry Crocs After Washing?
Since heat can shrink and damage Crocs, never dry them with a dryer, blow dryer, or place them under the sun. I'll list some options. But before trying any hack, make sure you thoroughly clean your Crocs with a dry towel.
Place the Crocs against a 45-degree wall in a cool, dry place.
Hang the Crocs on a clothing line or near a window, away from direct sunlight.
Place the Crocs on a shoe tree near a fan, in the open air, or both.
Take a pair of hooks, attach one end to each Croc and the other to a pedestal fan, and turn it on.
You can also pair any of the above methods by putting newspaper balls or rolled-up towels inside the Crocs to hasten the drying process. For newspapers, I recommend replacing the drenched ones timely with new ones.
As for the removable fur liners, I recommend pegging them on a clothing line for drying.
Read more about: Are Crocs Comfortable?
Wrap Up: How To Clean Crocs With Fur?
Washing and caring for Crocs with fur is simple if you clean and scrub them gently. By combining simple household items with lukewarm water, you can manually wash your Crocs. However, I would recommend that you focus more on storing them correctly and less on washing them regularly, as the quality may suffer in the long run due to washing.
More Article: