Did you know? Crocs were named after crocodiles due to their crocodile-like amphibious nature of living in any environment. So, with that in mind, can I swim in my Crocs? Are Crocs waterproof, and can they get wet?
Crocs can get wet. The Croslite material protects them from water damage but does not keep them from getting wet. Some Crocs are waterproof and water resistant and will always be labeled as such. 
But can you dry Crocs? And how do you pick the best Crocs for your next beach trip? To find out, read the entire guide.
Also check out: Are Crocs Closed Toe Shoes?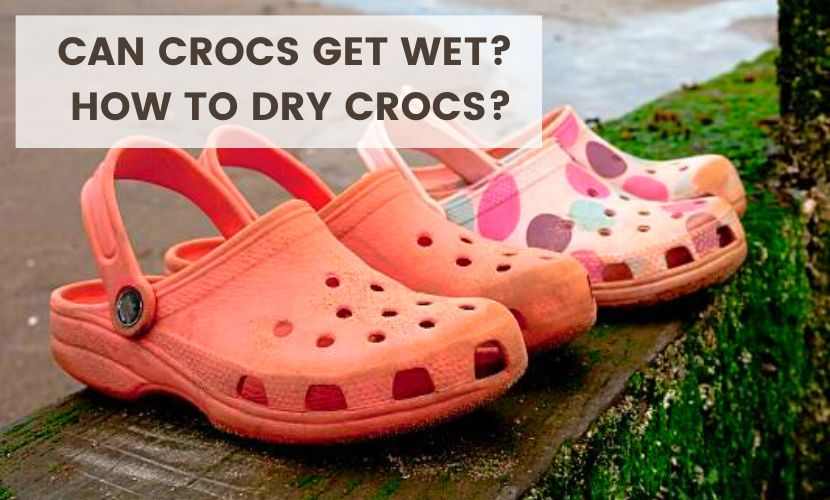 Can Crocs Get Wet?
What do you expect from a shoe made of polymer material (Croslite), 13 holes with air pockets under the toe section? Will it always be completely dry? So, yes, Crocs can get wet.
However, if they are wet, you can always dry them. Crocs, due to their construction, will show little to no water stains. The best part about wearing crocs to the beach is that they protect your feet from sharp stones, shells, and other water elements.
The other amazing fact about crocs is that if you wear them in water and remove them, your feet will dry quickly. This is due to the breathability provided by holes in the crocs, which allow air to flow and dry the feet by removing moisture.
Read more: Why are Crocs So Expensive?
Are Crocs Waterproof Or Water Resistant?
Crocs have waterproof and water-resistant shoes, but not all Crocs are waterproof. However, the regular (Classic) crocs made of Croslite are somewhat water resistant due to the non-absorbent closed-cell resin material. 
As a result, it can get wet but quickly dries up. However, you should not immerse them in water or rain for an extended period. In general, crocs are water-resistant but not waterproof.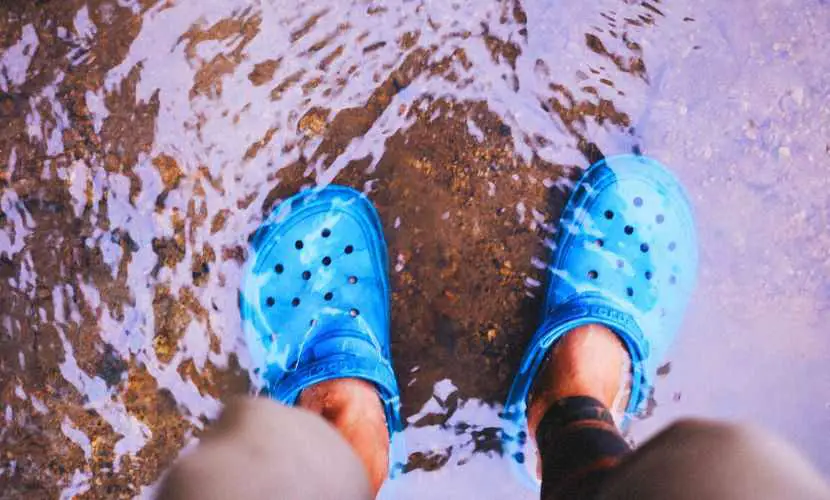 How To Dry Crocs? 
The best way to dry Crocs is to let them air dry naturally. You can also speed up the natural drying process by placing your Crocs near a fan or hanging them in a well-ventilated area. 
However, avoid drying your Crocs in a dryer or using a blow dryer. Crocs are heat sensitive and shrink when heated.
Also check out: Are Crocs Supposed To Be Loose?
How Do I Waterproof My Crocs? 
So, if your Crocs take longer to dry or you have non-waterproof Crocs like Fuzzy Crocs, it's time to waterproof them. 
Simply brush off excess dust from your Crocs and clean them with soap and water. Next, grab a waterproofing spray and spray it all over the Crocs. Let it air dry for a while. 
Are Crocs Good Water Shoes?
Water shoes are specifically designed to be worn when your feet are submerged. A good water shoe has flexibility, mesh, and self-draining technology to keep water out. 
So, if you know Crocs, you know exactly how these details describe Crocs. Yes, Crocs can be used as water shoes because they are easy to dry and have enough traction to stay put underwater.
Can You Wear Crocs In A Rainy Season?
Crocs feature rain shoes that can be worn during any rainy season. Unlike regular shoes, which are damaged in the rain, Crocs' rubber-like Crosilite surface allows them to be showered without being ripped off. 
Even though they dry quickly, you should avoid wearing them for long periods in the rain because rainwater penetrates through the holes in the Crocs and soaks up your feet, and prolonged exposure to rainwater can cause skin maceration.
Also check out: Are Crocs Comfortable?
Can Fuzzy Crocs Get Wet? 
Fuzzy Crocs are Classic Crocs lined with a layer of fuzz that keeps your feet warm in all seasons. However, unlike the Croslite upper, the fuzzy liner is not water resistant, and water entering through the holes can quickly turn them wet.
As a result, Fuzzy Crocs can get wet. Since the fuzzy liners aren't removable, you must wash them gently with warm water and soap.
Can Light-Up Crocs Get Wet?
Light-up Crocs are fun clogs with LED lights at the bottom. Unfortunately, because these Crocs aren't water resistant, they can get wet. You should not, however, be concerned about the batteries being damaged by water.
The batteries are well embedded and covered inside the Crocs, making them less susceptible to water damage. However, this does not imply that you should submerge them in deep water for long hours, as the crocs can be damaged.
Do Crocs Get Slippery When Wet?
Yes, Crocs become slippery when wet. Why? Because not all Crocs are slip-resistant, only a few are non-slip. However, the non-slip Crocs that are available are not 100% slip-resistant. Even though the non-slip Croc shoes are ASTM F1677 certified.
The difference between non-slip and slip-resistance shoes is that non-slip shoes are more cushioned. Slip-resistant shoes, on the other hand, are made with EVA. However, both keep people away from slipping. It means that slip-resistant will keep you from tripping as long as the treads are attached with soles and you walk carefully. However, if it's a regular Crocs shoe, it will become slippery when wet, making you more prone to slips and falls.
Bistro Crocs, for example, are non-slip due to the  Crocs Lock™ slip-resistant thread used to develop these amazing work shoes, which helps prevent tripping on a wet surface. Similarly, Work Crocs are slip-resistant.
How To Make Crocs Less Slippery?
Since Classic Crocs lack traction treads in the sole and slip-resistant Crocs lose them with wear, you can make them slip-resistant by doing the following tricks:
Using sandpaper, scuff the soles to make them rough enough to hold friction.
Or else, Scuff your Crocs by walking in them or rubbing them against rough, rocky pathways.
In the winter, you can try putting ice grips on the bottom of your Crocs. These grips are replaceable and are probably the quickest way to add traction to your Crocs' soles in slippery, icy conditions.
Alternatively, for a long-term solution, try making irregular tread patterns under your Crocs soles with a glue gun and letting them dry to solidify.
Purchase and apply Crocs anti-slip grit tape. Alternatively, you can use duct tape to add an extra layer of grit beneath your Crocs, but only if it sounds appealing to your eyes.
Lastly, you can use a Croc Grip Spray to add a transparent, anti-slip layer. Simply clean your Crocs and spray them according to the label instructions.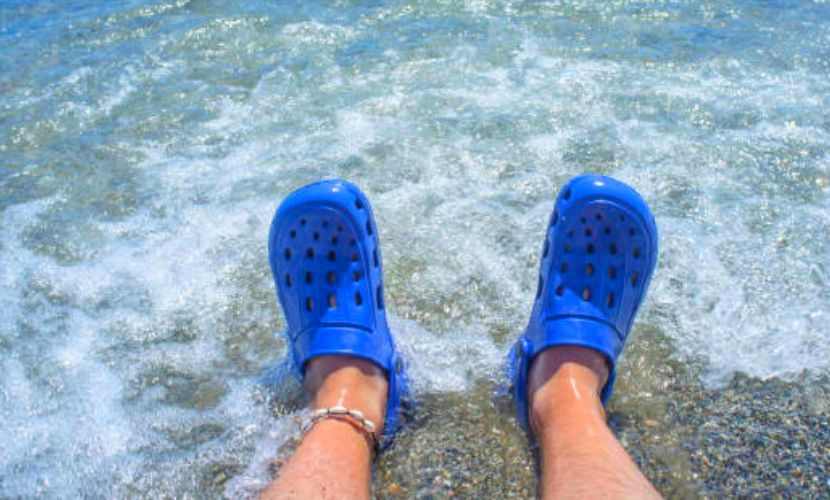 Are Crocs Good Beach Shoes? 
Yes, Crocs are great beach shoes because they dry quickly. Furthermore, they are lightweight, breathable, and comfortable, and do not make feet soggy. And whatever sand, water, or debris gets inside your Crocs is quickly swept out through the holes.
However, even Crocs Beach shoes aren't suitable for long durations in the water. Since the tongue is made of fabric, it does not dry as quickly as the rubber outsole. Also, the shoe slips off and sinks quickly in water, so be careful when taking them out of the water, as Crocs can rip off when taken out.
Can Crocs LiteRide Get Wet? Are They Waterproof?
Unlike Classic Crocs, which have holes all over the sandals, Crocs Literide has much fewer holes, and they are only on the upper with a size much smaller than Croslite.
Despite its closed-cell technology, Crocs Literide can get wet. However, the shoes are generally water resistant. Crocs Literide dries quickly due to its meshy, ventilating surface.
What Are Some Waterproof Crocs?
Crocs feature swift water collection shoes which are popular among hikers as water shoes. You also try out mesh, buoyant Crocs sandals, and shoes as water shoes. Some examples include LiteRide, Crocs work shoes, the Classic Crocband clog, Swiftwater mesh wave sandal, Boat line Beach Crocs, etc.
Crocs Water Shoes for Men
Are you still undecided about which Crocs to wear as water shoes? Then I've got your back! Here are a few options for men:
Crocs Men's Swiftwater Mesh Wave Sandal Water Shoe
Crocs Men's Swiftwater sandals are designed with a siped outsole to soak up water and keep them dry. The pair is a suitable replacement for water shoes due to its EVA-built, flexible sole and sporty design, but not for a long duration. 
Pros
The mesh upper provides excellent breathability.
Lightweight.
It has good traction.
Cons
Loose straps increase the risk of heel slippage and floating of Crocs in water.
Not very comfortable, especially for people with high arches.
There are no adjustments available, making it unsuitable for people with high arches.
Not very durable.
Crocs Men's 14327 Beach Line Boat Shoe
This type of Crocs, like most shoes, is made of Croslite, has good traction, and is ideal for hiking and boating. The design tells a very professional and stylish story at the same time. It also has water drainage ports and is very water-friendly.
Pros
Comfortable
Fits perfectly
Appealing appearance
Cons
Slip easily from the heel
Sink significantly in sand and water and rip off while pulling them out.
Some users find foam tongue uncomfortable.
Crocs Water Shoes for Women
The same Crocs water shoe category applies to both men and women. Here's another:
Crocs Women's Literide Pacer Lace-up Sneakers
These LiteRide sneakers have Crosilte outsoles and Matlite uppers. The Matlite provides an extremely soft feel to the feet. Because they are LiteRide, they can also be worn as water shoes due to the EVA material.
Pros
Very soft and cushioned.
Good for plantar fasciitis.
Cons
Uncomfortable in the long run.
Heel slippage.
Sweaty.
Which Crocs You Should Not Wear in Water?
Since most customers have mixed reviews regarding waterproof Crocs, you must decide what works best for your routine when heading out on the water.
For me, it's the Fuzzy Crocs. However, I do not recommend wearing them in water because they are not water-resistant.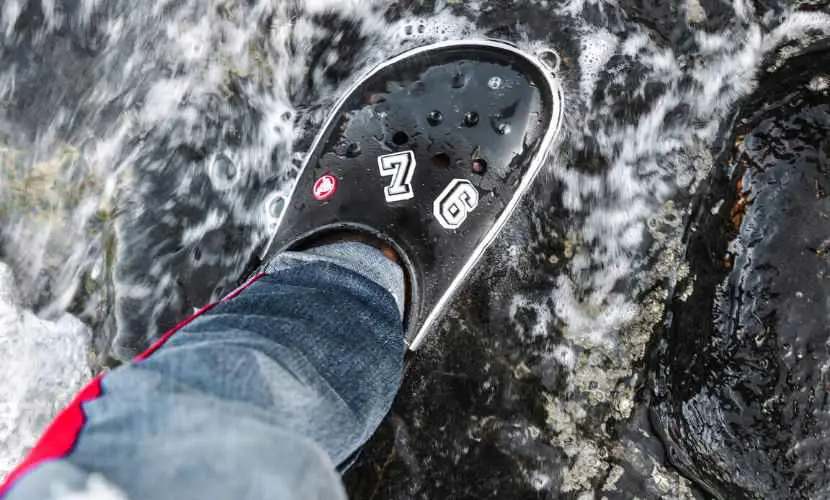 Bottomline
Crocs feature various types of shoes and are primarily composed of a water-resistant material called Croslite, but they aren't waterproof. And since they mainly contain holes and some have fabric inside, they can get wet. Crocs come in waterproof and water-resistant styles, as well as beach and boat shoes. As a result, you can wear them as water shoes.
Some Crocs, such as Fuzzy, are not waterproof. You can, however, waterproof your Crocs. Crocs are also very easy to keep clean and dry. They float on water and are comfortable. However, wearing them for long periods in the water can make them slippery, and their floating nature may cause you to lose them in the water due to heel slips.
More Articles: