Brooks running shoes are admired by all levels of runners, from beginners to seasoned endurance athletes. Because running is Brooks' only area of expertise, which means that every element is geared toward making your runs more enjoyable.
Yes brooks are excellent for running long distances. Brook shoes are really good because they employ BioMoGo DNA technology to furnish customizable cushioning and comfort across the shoe's sole. This means the insole will adjust to the foot and jogging style. Furthermore, the BioMoGo DNA insole biodegrades in dumps 50 times faster than regular EVA.
Brooks running shoes provide maximal arch support and impact protection, which are both incredibly useful in relieving and treating plantar fasciitis. Furthermore, Brooks running shoes have built-in support from both sides of the heel to help prevent unnecessary foot motion. This article will discuss the features of Brooks, why they are so comfy, who can wear them, and why they are so pricey.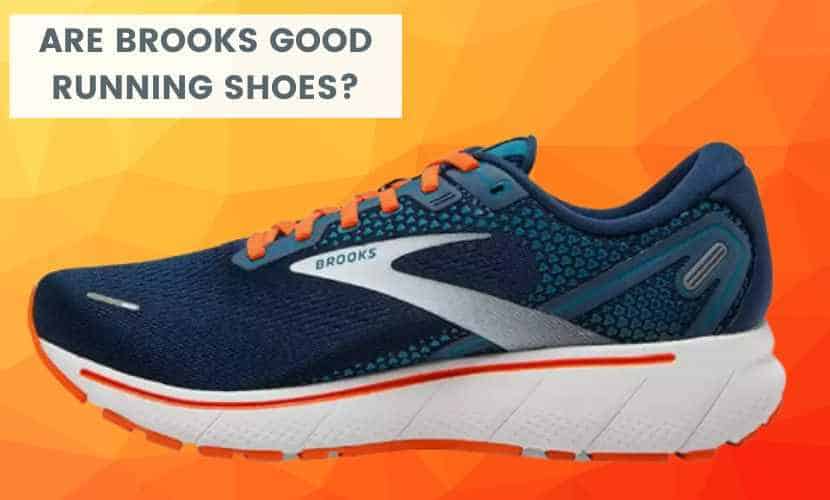 Features Of Brooks Running Shoes
One of the most reputable names in the world of running footwear is Brooks. Over the course of its more than century-long history in the footwear industry, Brooks has consistently set the standard for innovation within the running shoe industry. The GTS 17, which is officially known as the Adrenaline GTS-17, is the company's "flagship" shoe and exemplifies the highest level of craftsmanship available.
The adaptable Ghost and the fearsome Adrenaline are both owned by the Seattle-based running firm, which is considered to be one of the most successful brands in the market. Every runner has a pair of Brooks running shoes that are ideal for runners, ranging from casual, everyday trainers to marathon shoes that compete for podium spots and everything in between. Brook shoes are best for:
Stability 
Long Distance
Budget 
Cushion 
Everyday Training 
Speedwork 
Daily/Long Distance Trail Running 
Road Running, etc. 
Why Are Brook Shoes So Comfortable?
Brooks shoes are so comfortable because the sole of a Brooks shoe is constructed with BioMoGo DNA technology, which provides amazing comfort and support to the runner.
The Brooks has a long history of receiving praise as a supportive shoe that is both comfortable and dependable. The reliable cushioning and the construction of the shoe are two features that appeal to runners.
The redesigned midsole that was included in the most recent iteration of the Brooks takes things one step further. The cushioning in the midsole is made up entirely of DNA LOFT, making it the plushest midsole cushioning that Brooks has ever produced. In earlier iterations of the Brooks, DNA LOFT & BioMoGo DNA foam were both incorporated.
Read on: New Balance Vs Hoka
Are Brooks Shoes Good For Walking? 
Shoes that are designed for running are also great for walking.
They are lightweight, and they offer just the right amount of heel lift to make walking feel both natural and comfortable. They are intended to encourage movement in a forward direction!
Assuming that the shoes are a good fit for you from the beginning, you should have no trouble using them for walking.
In addition to its broad line of running shoes, Brooks is also famous for its walking shoes, which are distinguished by their great padding, comfort, and elegance, making them ideal for wearing while strolling through the city.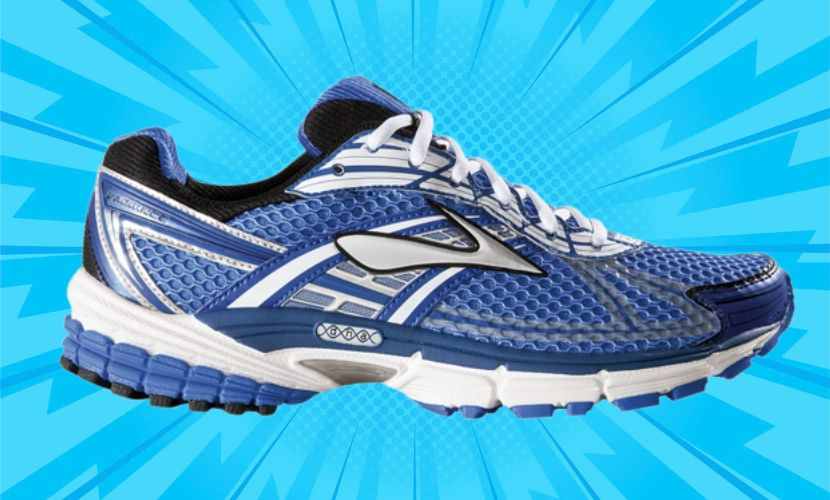 5 Best Brooks Running Shoes Comparison 
| | | | | | | | |
| --- | --- | --- | --- | --- | --- | --- | --- |
| Shoes | Core Score | Pace | Weight | Breathable | Distance | Cushioning  | Arch Type |
| Brooks Adrenaline GTS 21 | 92% | Daily Running | 295g | Yes | Long Distance  | Plush (3/3) | Low |
| Brooks Glycerin GTS 19 | 91% | Daily Running | 303g | Yes | Marathon | Plush (3/3) | Low |
| Brooks Hyperion Elite 2 | 87% | Competition | 215g | Yes | Marathon | Plush (3/3) | High |
| Brooks Launch 7 | 86% | Speed Training | 255g | Yes | Long Distance | Balance (2/3)  | High |
| Brooks Ghost 14 | 93% | Daily Running  | 280g | No | Long Distance | Plush (3/3) | High |
Why Are Brooks So Popular? 
The fact that they are constructed using high-quality components is the primary justification for this claim. Additionally, they are hand-made, which indicates that the shoes are manufactured with a great deal of attention and care paid to the specifics of the design.
In addition, Brooks Shoes are quite well-liked among runners, which means that they frequently run out of stock very rapidly.
Why Are Brooks Shoes So Expensive?
Brooks shoes are costly because of the creative designs, exceptional comfort, durability, and sophistication they provide.
They have an incredible lifespan, they are extremely comfortable and adaptable because of the excellent breathability they provide; all of their models have exceptional traction; and most importantly, their shoes speak to you when you wear them.
Running shoes are the only thing that Brooks manufactures as a product line for their company. This indicates that they have a significant amount of experience in the development and production of shoes that are tailored exclusively for running. Additionally, they use higher-priced materials than competing manufacturers, which drives up the price of their footwear.
Top 5 Brooks Shoes Price Comparison 
| | |
| --- | --- |
| Shoes | Price |
| Brooks Adrenaline GTS 21 | $109.95 |
| Brooks Glycerin GTS 19 | $119.95 |
| Brooks Hyperion Elite 2 | $200 |
| Brooks Hyperion Tempo | $150 |
| Brooks Ghost 14 | $109.95 |
Are Brooks Good For Plantar Fasciitis?
Yes, you can wear Brooks shoes if you have plantar fasciitis. 
When someone has plantar fasciitis, they require extra stiffness in the bottom of their shoe as well as padding on the forefoot. This is to reduce the impact on the heel, which is where the discomfort linked with plantar fasciitis is felt. For someone who suffers from this ailment, the best type of shoe to wear is one that has a firm cushion or a rocker's bottom.
The Brooks Adrenaline GTS model is an excellent choice, to begin with, as a means to assist with the alleviation of plantar fasciitis. The Adrenaline GTS has a drop of 12 millimeters from the heel to the front of the shoe, which shifts your weight distribution to the ball of the foot and away from the plantar fascia in the heel. 
Which Brooks Shoes Are Best For Plantar Fasciitis? 
Adrenaline GTS
Glycerine GTS 
Dyad 
Ghost 
Trace 
Glycerine
Beast 
Ariel 
Addiction
Are Brooks Shoes Good For Flat Feet? 
Brooks shoes are really good for flat feet as they are one of the most reputable names in the world of running shoes, Brooks also produces high-quality sneakers that are suitable for both men and women who have flat feet.
Can I Stand All Day Wearing Brooks? 
When wearing Brooks shoes, you should be fine standing for 6-8 hours. The Brooks Ghost 14 is a popular running shoe due to its timeless design, dependable performance, and comfortable ride. People who stand for extended periods of time (whether at work or in their hobbies) will benefit most from this type of shoe.
Are Brooks Shoes Good For Nurses? 
Supportive and comfortable, Brooks shoes are widely recognized as the gold standard in the industry. Nurses and doctors have evaluated the footwear by putting it through its paces.
Furthermore, Brooks shoes are widely regarded as being among the most long-lasting and sturdy options available.
Read more on: Do Vans Stretch? 5 Easiest Way To Break In Vans
Do Brooks Shoes Have Any Return/Refund Policy? 
Yes, they have! The company is so confident in the quality of its products that they provide a no-questions-asked refund policy within the first 90 days. And remember, you have a full calendar year to return your shoes if you aren't satisfied with them.
You are welcome to get in touch with Brook's support center if you have any inquiries regarding the shoe brand. Their staff of customer service representatives is accessible to assist customers Monday to Friday, between 6:00 AM and 5:00 PM (PST).
Final Verdict: Are Brooks Good Running Shoes?
Brooks is the industry leader in casual and outdoor footwear. They're as adorable as a button, as well-made as a rock, and about the same price as any other decent pair of running shoes. Brooks is a safe bet if you're looking for a new pair of shoes.
In my opinion, any version of the Ghost and the Glycerin is fantastic. The absolutely adorable packaging is another reason to buy a pair of Brooks.
More Articles: