Serving one of the comfiest shoes since the 1930s, Birkenstocks have always been sensational footwear. But despite the popularity, a very common complaint about wearing Birkenstocks is their blackening. Why does this happen? So, Why do Birkenstocks turn black?
Our feet contain a lot of oils that are released through sweating. So when Birkenstocks material comes into contact with them, it causes it to darken. Why? It's because the Birkenstock footbed is made up of cork, jute, latex, and leather. These materials, especially leather and jute, tend to turn black when exposed to oils.
But can you overcome this unpleasant situation by yourself at home? Read further to acknowledge the complete guide regarding this issue.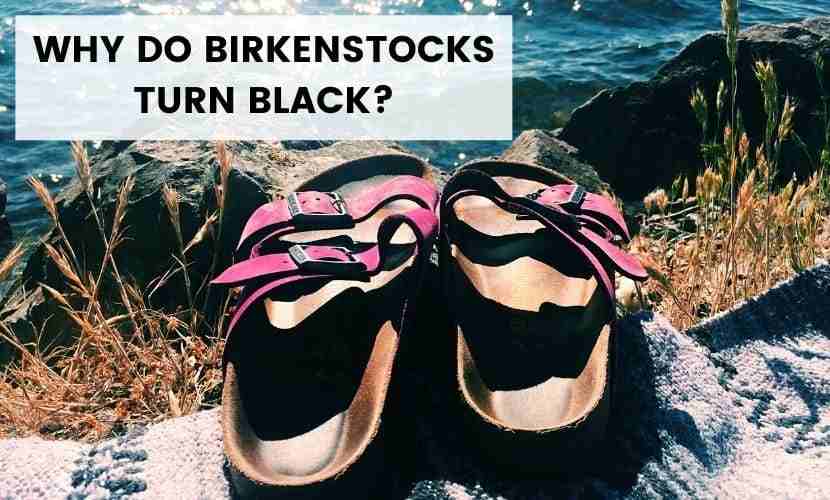 Can Birkenstocks Get Moldy?
Yes, they can get moldy only if you stop wearing them. But what is this mold, and how does it invade Birkenstocks? 
Well, mold is a fungus that grows and spreads in the presence of moisture. Mold appears on shoes due to:
Humid environment
When kept indoors for a longer time (i.e. dark places)
Improper drying
This mold not only gives an unpleasant feeling but can become a source of spores that are poisonous when inhaled! So, if by any chance you get them on your Birkenstocks, never ignore them.
You can remove this mold using the same method as mentioned below. Alternatively, you can try removing it with alcohol or any disinfectant. But make sure that you wear a mask while doing it.
Read more on Can Birkenstocks Get Wet?
Why Do My Birkenstocks Smell?
Even though Birkenstocks are famous for their smell and comfort, many people complain that their Birkenstocks become smelly after some time. 
It can occur due to:
Sweating of feet
Moisture
Wearing them overtime
To remove the smell, you can try using the same cleaning method with baking soda and spray some fragrance onto it.
You can even leave a silicon bag inside your Birkenstocks if not in use. It will absorb all the moisture and hence prevent it from smelling. 
Also, avoid wearing them if your feet are wet.
How Long Does It Take Birkenstocks To Mold To Your Feet?
Birkenstocks are famous for their molding nature, which means taking the shape and size of your feet on its footbed.
The jute, latex, and cortex of this shoe can absorb the heat and moisture from your feet. As a result, it causes the footbed to melt a bit and hence mold according to your feet.
It takes approximately seven days to break into birks after wearing them regularly. 
However, this duration may vary from individual to individual, depending on the width, size, style, and arch height of the shoe and feet.
Can You Replace Soles On Birkenstocks?
When exposed to extreme moisture and temperatures, the soles of Birkenstocks are likely to get damaged. In addition, when soles become uneven, they reduce the shelflife of the sandals, mainly the footbeds.
Therefore, it is necessary to check whether the soles need a replacement or not. Yes, you heard that right! You can replace your Birkenstocks soles. 
In fact, the company itself offers a repair service for replacing soles. But if you are someone who wears the tips and heels first, you need to check for toe and heel replacements first. You need to ensure their replacement before your sole starts to wear away.
So, if the tread pattern is not visible to you on your sole, or if the sole is shed by greater than three quarters, it's time to go for a replacement.
You can even apply a layer of cork sealant to protect the cork from wearing away.
Read about: Are Birkenstocks Worth It?
How Do You Remove Black Stain From Birkenstocks?
Now we know precisely why Birkenstocks turn black and how you can stop them from turning into ones again. But what if you are having the old black ones now, is there any solution for that?
Yes. Luckily, Birkenstocks are very easy to clean:
Step One: Adding Baking Soda and Water
In a bowl, add one part of baking soda, two parts of water, and mix the two. 
Step Two: Adding Dishwashing Liquid
Add a squirt of dishwashing liquid into it and mix again.
Step Three: Dipping
Dip an old toothbrush into this mixture and use it to clean the footbed.
Step Four: Brushing
Start brushing the footbed by using circular motions to scrub out the dirt effectively. 
Step Five: Wiping
Leave them overnight, and then wipe off the soapy texture with a damp towel the next day.
Step Six: Drying
Leave your Birkenstocks to dry. They may take four to five days to dry completely.
Voila! You will have Birkenstocks, just as new as you bought them.
How Do You Break In Birks?
It's effortless to break into birks.
Order the correct size for your feet.
Open the straps, wear the shoe, and fix the straps around your feet.
Wear them as your routine, and you will notice them mold according to your shoe within a week of wearing them.
Should You Size Up Or Down In Birkenstocks?
In most cases, Birkenstocks run true to size. However, you need to try them out to ensure if you need a size up or down for wearing.
Here's what you need to check while trying them out:
There should be at least a quarter-inch gap behind your heels and in front of your toes.
While moving your feet, they should not be hitting the footbed's edge.
The footbed should be perfectly sized for your feet.
Adjust the straps and ensure if the fit is roomy or comfortable enough.
Read more on: Do Birkenstocks Stretch?
Are Birkenstocks Good For Your Feet?
Birkenstocks are not only popular for their classy and decent look but also offer great health benefits for feet.
They are embedded with an orthopedic insole which relieves common feet problems by cushioning them.
Birkenstocks give a firm positioning and solid support to your feet.
Unlike many other footwears, Birkenstocks provide a lesser chance of getting calluses, ingrown toenails, bunions, and foot pain.
They help in reducing the pressure on your feet. 
It has a deep heel cup that gives stability to your feet due to natural padding.
Provides a better circulation of blood to your feet.
The toe bar helps in flexing and gripping the toes for better balance.
Final words: Why Do Birkenstocks Turn Black?
Birkenstocks are made of materials that turn black due to oil exposure. This oil comes in the form of sweat and secretions of feet after wearing the shoes. But the best part is that you compensate for this con by cleaning the footbed with baking soda and detergent or replacing it with a new one.
Keeping them away from heat and moisture and wearing socks can help prevent Birkenstocks from turning black.
Moreover, Birkenstocks can get smelly and moldy too, but this can be reversed and prevented by using alcohol and fragrance spray with silicone bags.
You May Also Like To Read About: