Ariat is a name you're likely to recognize if you're a cowboy or an admirer of the cowboy style. Ariat is popular cowboy boots and clothing brand that specializes in outfitting the world's cowboys with stylish footwear that they can be proud to wear. 
In this article, I'll tell you whether are Ariat boots of good quality and comfortable for your feet or not. I've worn Ariat boots and continue to enjoy wearing them because of their cowboy design.
Ariat boots are quite an investment, with a medium-high price tag. As a result, they are intended to be quite sturdy and endure a long time. But, more importantly, are they really comfortable? Are they worth the hype they've been getting? Are they as good as they seem?
Are Ariat Boots Good?
Ariat boots are high-quality cowboy boots made of good-quality leather uppers, mid-calf shafts, rubberized insoles, and dura thread soles with square toe designs. Ariat boots are the best cowboy boots for horseback riding and can be used at work as they are super durable and comfortable. They are one of the long-lasting boots, lasting for more than 5 to 15 years.
I've gone ahead and researched to answer these and other questions related to Ariat boots. You can make an informed decision about the quality of Ariat boots based on what I have discovered and am about to share with you right now.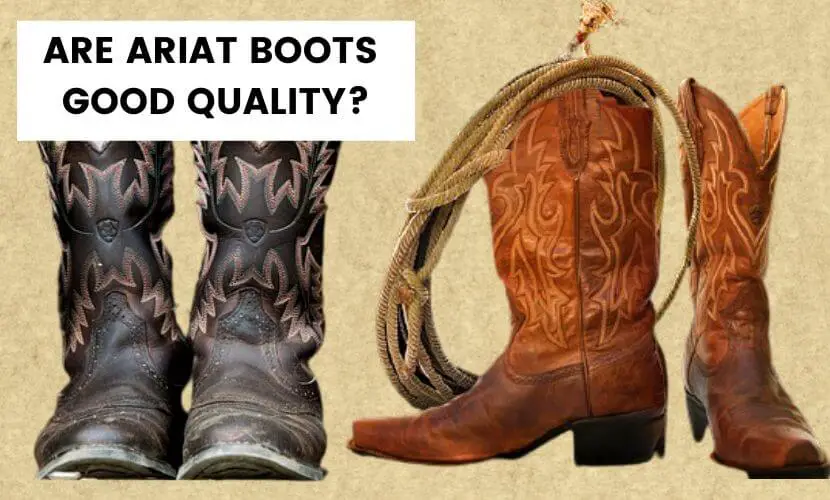 Are Ariat Boots Made In the USA? 
Beth Cross and Pam Parker founded Ariat boots in Union City, California, in 1993, and the company is still headquartered there today.
The majority of Ariat boots are not manufactured in the United States. The company's primary design facility is in the United States, but the majority of its large manufacturing facilities are not. Their manufacturing companies, on the other hand, can be found in China, Mexico, and Italy.
This isn't necessarily surprising, since it's become quite trendy to outsource manufacturing for western boots, due to this the industry saw a domestic production decrease of 40% between 1997 and 2002. Today, this number continues to decline at a slow and steady pace. 
To find out where a specific pair of boots was made, you must call the manufacturer or look inside the shoe tongue, where it will tell you which country it was made in. Otherwise, there's no way of knowing where an Ariat boot came from since the specifics are not outwardly disclosed. 
Are Ariat Boots True to Size? 
Click any image to check the price on Amazon
Like most boots, Ariat boots are designed to cater to a range of foot sizes. This being said, though, they can run a little larger than expected.
It's generally recommended to buy your regular size or half a size smaller than what you would usually wear. When you're trying Ariat boots on to find the correct size, do so while sitting and then stand up to position your foot properly on the sole of the boot. But, if you have wide feet, choose the same size as shown in the chart to avoid getting boots that are too small for your feet.
A modest bit of lift in the heel is to be expected, which just means that they are flexing properly. Furthermore, after wearing your Ariats for a while, they will appear to loosen up, this also indicates that you have the correct size, as the boots mold to the shape of your feet with frequent wear in just a couple of days.
Ariat boots may still be the most comfortable pair of boots in your collection if you have wider or narrower feet.  Ariats offers shoes in sizes ranging from narrow (B) to extra-wide (EE) depending on the style of boot you want, with regular being the most popular width type and the most widely available.
Read more on Are Frye Boots Waterproof or not?
Are Ariat Boots Comfortable? 
Yes, Ariat boots are super comfortable.
Ariat boots are well-known for providing their wearers with a high level of comfort. That being said, it's safe to assume that every new pair of Ariats you add to your roster will be just as comfortable as the ones you already have.
They're so comfortable because they're made of leather upper, dura tread sole, mid-calf shaft, squared toe shape, and advanced technologies that promote comfort and durability. More specifically, Ariats have cushioned soles and footbeds with shock absorption technology.  On the exterior, they appear rugged, yet your feet will be engulfed in soft comfort on the inside.
The leather used to craft the boots is soft and pliable, with a slight amount of stretch that caters to wider feet and calves, preventing pinching, circulation problems, and general discomfort associated with the fit. 
Are Ariat Boots Real Leather?
Ariat offers a range of footwear that's made with several different materials but when it comes to their boots, they are almost always made with genuine leather.
Ariat takes great pride in using high-quality leather materials, which is why it makes sense that their leather boots aren't made of "pleather" or any other kind of leather knockoff material. Because of their material, most Ariat boots have a very distinct leather smell and are incredibly porous to the touch.
You can be sure that your Ariat boots are genuine leather if you buy them straight from the seller. If you purchase them from a different vendor, though, you run the danger of getting fake leather Ariat boots that aren't Ariat brand boots at all.
This is what makes it so important to know how to distinguish fake leather from real leather based on texture, smell, and cost. 
Read more on Are Crocs Closed Toe Shoes?
Are Ariat Boots Worth the Money?
To check the price on Amazon, click on the image.
Yes, Ariat boots are worth every penny as they are extremely durable and are also good work boots.
The answer to this question is really based on personal preference and opinion. There are, of course, factors that go into boots that are generally thought of as being worth the money. These include durability, design, and comfort among several other less crucial factors. 
The consensus, though, is that Ariat boots are indeed worth their asking price. They are durable enough to last many years, boast a stylish design, and are some of the most comfortable western boots on today's market thanks to their EVA soles and heavy internal padding.
I claimed they're tough, and they are, but we wouldn't recommend wearing them in six feet of snow or during a particularly brutal Northern winter. They are, nevertheless, ideal for winter use in temperate locations with less snowfall and warmer winter temperatures.
As they're boots, and they're not made to be particularly breathable, you shouldn't expect them not to make your feet sweat. So, if that's a factor in determining whether or not a pair of boots is "worth the money," then you should consider other brand boots. The sweaty-foot element, on the other hand, is a given for most people and has no bearing on the boot's value.
Are Ariat Boots Good Quality? 
Just because a boot is stylish and appealing to the eye doesn't mean that it's good quality. Fortunately, Ariat boots are both. 
Ariat boots are not only made using quality leather but they're also constructed in a way that has them maintaining their shape and stability for years. Some of the boots go through up to 150 individual steps during the crafting process, which ensures the shoe's fit, comfort, and durability.
Thanks to this intense process, Ariat boots have very few reports of quality control issues. They are very unlikely to come apart at the seams or to have the soles separate from the bottom of the boot, even when they're worn for 8-10 hours per day. 
Read more about Lucchese boots? Everything You Need To Know
Are Ariat Boots Waterproof? 
Traditional cowboy boots aren't made to withstand water and aren't typically waterproof unless a waterproofing spray is applied after purchase. Many of Ariat's cowboy boots, however, are waterproof or, at the very least, water-resistant, which sets them apart from the other brands on today's market. 
Leather boots, in general, are not waterproof as they are porous, which allows water to seep through. Ariat boots have a fine leather upper with a durable waterproofing coating added to the boots.
They've been made to endure water and other wet conditions, keeping the wearer's feet dry and comfortable. This waterproof design also serves as boot protection, since it keeps the boots from staining and damage caused by splashing water. It also protects against the damaging effects of salt, which can result in unattractive markings and premature wear.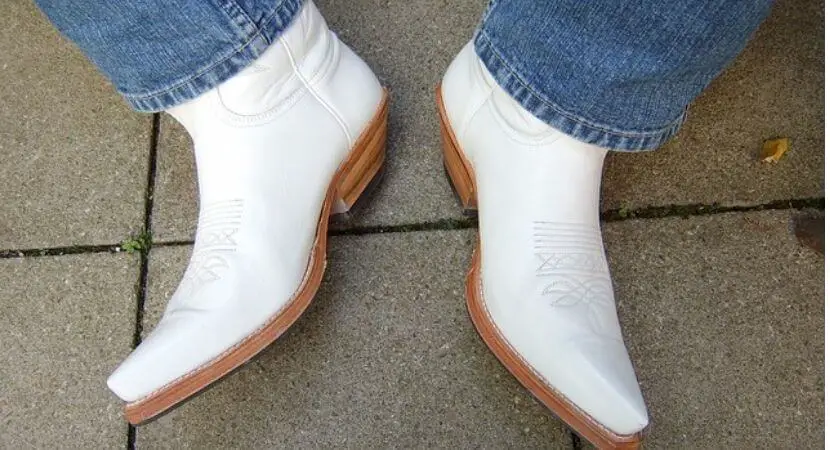 How Long Do Ariat Boots Last? 
The way a boot is manufactured, what it's composed of, and how it's cared for determines how long it lasts, including Ariat boots. Ariat boots, on the other hand, have been known to last substantially longer than other brands when properly cared for.
The majority of Ariat boots owners claimed their boots lasted anywhere from 5 to 15 years, depending on how well they were cared for.
To help your Ariats last as long as possible, consider the following tips:
Clean your boots with a moist cloth or brush after each usage to remove any dirt or scuff marks.
Polish the shoes properly after wearing them every time this helps the boots to stay dry and last longer than usual.
If your Ariat boots are wet, the first thing you should do is remove the insole and dry them by inserting a paper towel inside the boots. Never put the boots in direct heat as this may cause them to crack and tear apart.
After your boots are dry. You can then use a leather conditioner on the boots using a cloth or sponge and rub the leather conditioner all over the boots properly.
After applying leather conditioner you can then polish your boots and try to rotate the polish under the boots to make it absorbed all over the boots. Then you can store them in a dry location and see that fresh air can flow through the boots or else the boots will before smelly if it is stored in a place where air cannot circulate properly.
You're going to get a lot more use out of them if you avoid wearing them in conditions that you just know aren't ideal for them, as well as if you take time to maintain them using polish and leather-friendly oils. 
Final Thoughts: Are Ariat Boots Good
Ariat boots are a favorite of western-loving men and women all over the world. These cowboy boots are extremely adaptable and comfortable to wear at work. From horseback riding to wearing them for fashion, these boots are versatile and long-lasting. They are made both in and outside of the United States, are long-lasting and made of high-quality leather,  and are water-resistant boots.
The best part, however, is how long they last, as previously stated, a pair of well-maintained Ariats can last up to 15 years.  So, is Ariat a good brand? Yes, they are. I have never used any boots that are as good as Ariat's.
You May Also Like Read On: