Despite being the most comfortable footwear, it's difficult to keep a large stock of Birkenstocks. The only justification for this is the high cost.
Birks, like any other good pair of shoes, are quite pricey. Generally, the price range lies between $30 to $200.
But why are Birkenstocks so expensive? To clarify, they are handmade, supportive for foot arches, conform to feet, and, most importantly, last for a long time. It is for this cause that podiatrists recommend them for foot ailments.
But are Birkenstocks worth it? Read till the end to pop your bubble of curiosity.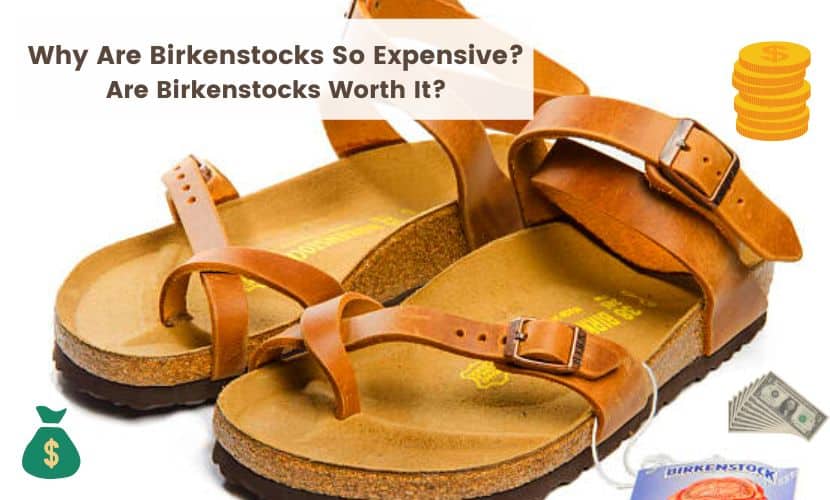 Why are Birkenstocks so expensive?
The average price of Birkenstocks starts from $100. And for a shoe serving since 1774 and still winning awards in the 21 century like "The Company of the Year 2021", there must be something special about them. 
So, here are some reasons that justify their reason for being that costly:
1. Handmade
Birkenstocks are the result of both handcrafting and automation. However, because it takes approximately 100 expert hands to manufacture a beautiful Birk, hand craftsmanship deserves all of the cash.
Why? Since handmade products go through an intimate phase, they are more expensive.
For obvious reasons, Birkenstocks haven't disclosed their techniques, but they follow European craftsmanship, which is also considered luxurious.
2. Manufacturing Takes Ages
Did you know? Every pair of Birkenstocks goes through 17 stages of work steps. And on average, it takes around six weeks to produce a regular shoe. So, when you compare this period with a shoe going through 17 stages, the worth becomes different. 
Extracting latex from trees and removing its water for increasing rubber content, grinding bottle corks, making jute fabric, etc., takes ample time and labor. Hence, every working second is worth every penny.
3. Material Costs An Arm And Leg
Birkenstocks' major objective is to be both eco-chic and eco-friendly. Birkenstocks employs organic and recyclable raw materials to achieve these qualities. Birkenstocks are made from a variety of sustainable raw materials, including:
Tree latex for making adhesives and cork sealants
Upcycled wine bottle cork and paper for footbed and packaging, respectively.
Artificial EVA to make polymer
Eco-friendly inks for labeling
Premium quality Leather, for example, wool felt, suede, nubuck, etc.
Jute fibers that are toasted peeled, furnished, and cleaned
As a result, extracting these organic materials or recycling available items costs a lot of energy and money, which no top-notch quality can compromise.
4. Maintain Foot Health
Birkenstocks' unique feature is the footbed. The footbed is what makes Birkenstocks stand out in terms of health. Here's how:
Having a footbed means no moisture. Furthermore, minimal wetness means fewer microbial growth, fungus, and bunions.
The footbed has been designed to provide arch support.
The materials (cork, latex, suede, etc.) utilized in the footbed are less allergic.
5. You Can Wear Them For Next 30 Years
Purchasing any deary goods will cause you to cry only once. However, a low-cost one will occasionally weep for you. The same is true for Birkenstocks, for they last a very long time.
So, for a sandal with a 30-year guarantee, you just have to spend your money once in your life. But, honestly, investing in something highly durable is no less than investing in gold.
6. Size Is Not An issue
Purchasing a costly pair of shoes in the wrong size may drive anyone insane. Birkenstocks, on the other hand, do not have this problem. They are not only available in a variety of sizes, but they are typically unisex.
Most importantly, they adhere to normal European sizes around the world.
Read also: Can Birkenstocks Get Wet?
What makes Birkenstocks so expensive?
We have already discussed in the previous section why Birkenstocks are expensive. So, to recap, here's what we have to say about why Birkenstocks are so expensive:
Birkenstocks employs superior quality sustainable raw materials processed using pure European hand craftsmanship. They are durable, extremely comfortable, adapt to the shape of the foot, and are medically advised. Thus, Birkenstock has every reason to be pricey footwear.
Is It Worth Buying Birkenstocks?
You now understand and accept why Birkenstocks are so pricey. But, as a serious customer, you may have the same question: Are Birkenstocks worth it or not? Should I go for them or not?
Yes! It's worth spending 100+ bucks on Birkenstocks. It's like buying a pair once and leaving the shopping cart forever. Why? Because, as previously stated, they are highly durable and comfortable. 
You won't regret it after buying a pair. In short, buying Birkenstocks is like saving the extra 100 bucks on the shoe you have to take for recurring cobbler sessions. 
Read Also: Why Do Birkenstocks Turn Black?
What's so special about Birkenstocks?
Despite the high prices, Birkenstocks' sales revenue grows by double digits each year. So, what's so special about Birkenstocks? Let's discuss:
1. Go-to Choice of Podiatrist
They aid in the treatment of plantar fasciitis. Plantar fasciitis occurs when the heels become inflamed and painful. It is caused by excessive pressure on the arches of the feet.
To walk comfortably in such conditions, you'll need a footbed like Birkenstocks. The term "footbed" was coined by the corporation itself. The layers of cork, jute, and suede create the bed your feet require. It means that it will support all the three arches of the feet, preparing them for pain-free strolls.
And since Birkenstocks are breathable, they also make the best choice for diabetic footwear.
2. It's Like You Are Stepping in Sand…
Upcycled bottle corks are used to make Birkenstocks. Cork footbed adds a win-win feature to Birkenstocks due to its shock-absorbing, waterproof, and molding qualities. The heat and pressure created by walking allow the shoe to adapt to the feet.
It indicates that the footbed is sufficient to provide comfort, conform to the contour of your feet, and protect you from external injury. As a result, wearing Birkenstocks is like walking barefoot in the sand.
Read Also: Are Chacos Waterproof Or Not?
Why are Birkenstocks so popular?
Fashion statements take between 20 and 40 years to evolve. And, despite keeping the same style since the 1970s, why are Birkenstocks still popular in town? What makes them so appealing to celebrities such as Gigi Hadid, Kendall Jenner, and Jessica Alba?
Everyone has their reason for wearing Birkenstocks. But the most common reason that makes Birkenstocks immensely popular is what we have already summarized. Here are a few more reasons:
Birkenstocks are fashionable, functional, and primarily unisex.
They are best for summers, and even wearing them in winter with socks is considered fashionable.
Though damage to Birkenstocks is negligible, they are extremely easy to repair if damaged.
And you already know the other main reasons why Birkenstocks are popular, i.e., high durability, quality, sustainability, and health.
Bottom line: Are Birkenstocks worth it?
To summarize, Birkenstocks are worth every penny. They deserve all the appreciation for being a high-end product in the global footwear market. Birks fans adore them for their unending comfort, longevity, sustainability, quality, and fashion statement.
Not only that, but Birkenstocks have historically strong roots and consequently a devoted client base. They can also be worn in every season, anyplace, and under any condition, including diabetes and plantar fasciitis.
As a result, if you're saving up for your first pair of Birkenstocks, we recommend you don't hesitate.
Related articles: