Birkenstock sandals are extremely comfortable and versatile. Due to their adaptable colors and designs, you can wear them with any outfit in any season.
If you own a pair of Birkenstocks or are considering purchasing one, and you live in a rainy or watery area, you may have many questions such as: are Birkenstocks waterproof, can Birkenstocks get wet, do they get wet, are they good for beaches, can you wear them in wet regions, can you dry them if they get wet, are they good for rain, and do birks get wet or not if worn in a pool or other watery area?
Yes, Birkenstocks do get wet. When exposed to rain or in a moist environment, the non-waterproof variants of Birkenstocks can get wet easily. They are similar to regular non-waterproof shoes you wear, the reason being if a pair of Birkenstocks is left exposed in a moist environment or comes in contact with water, it will eventually become wet. Birkenstocks have suede leather on the top surface, which absorbs water if it isn't waterproofed properly.
Even though Birkenstocks are not designed to be worn in water, you should not be worried if they get wet by accident. If your Birkenstocks get wet, all you have to do is let them air dry at a mild temperature.
This article has everything you need to know about your Birkenstock queries, including whether they are waterproof or not.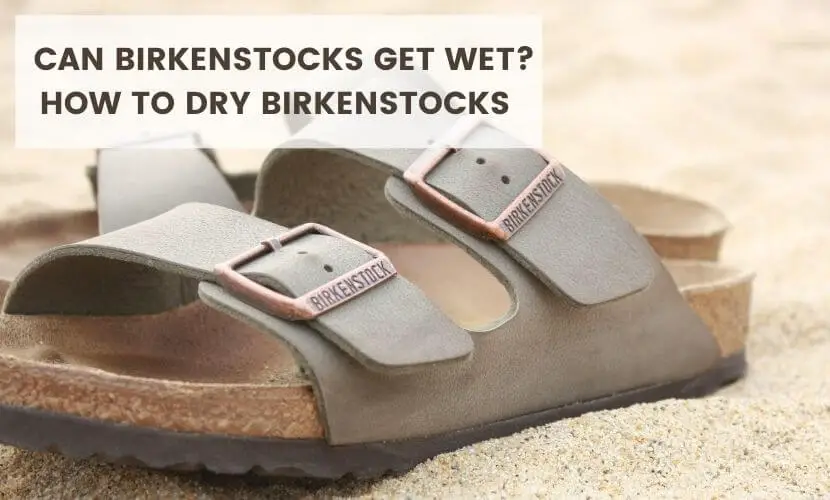 Can Birkenstocks Really Get Wet?
In a wet condition, the cork footbed of Birkenstocks can absorb water. Birkenstocks are also made of suede leather, which can get wet if it comes into contact with water.
When I know it's going to rain, I don't wear Birkenstocks. Rain has soaked my Birkenstocks countless times. In order to restore and maintain the shoe's appearance, I simply need to let them air dry under a mild sun.
If you want to get Birkenstocks, you should also get the Birkenstock care kit so that you can maintain them as needed. If you're primarily looking for waterproof birks, avoid those with leather insoles. Because leather absorbs water faster than suede or canvas.
What Happens When Birkenstocks Get Wet?
If you happen to accidentally drop your shoes or sandals in the water when playing any water games, you notice it gets heavy. That's because of the suede leather absorption, which increases their weight.
Even though the cork sole is water-resistant, it will absorb water in a soaking wet environment. Wearing Birkenstocks while wet will also cause the surface where the foot is inserted to become deformed.
Read more on Why Do Birkenstocks Turn Black?
Can You Wear Birkenstocks in the Rain?
Yes, waterproof Birkenstocks made with EVA foam outsoles make them water-resistant and can be worn in the rain. However, it's essential to avoid wearing Birkenstocks in the rain, as this can gradually deteriorate the shoe's quality. Many people might think that once their Birkenstock gets wet it's ruined, but that's not true.
There are numerous methods for waterproofing them, including placing them in a properly ventilated area where air can flow through them and allow them to dry quickly. The other method is to use a cork sealer to seal the tiny holes in the Birkenstock midsoles and prevent water from passing through.
Also, the cork material that Birkenstock is made of is water-resistant, which contributes to protecting them from the effects of water. If you are considering wearing Birkenstock in the rain, wax polishing them is a helpful trick for waterproofing them further.
Can You Wear Birkenstocks to the Beach?
Yes, wearing Birkenstocks around the beach is perfectly fine. However, before going to the beach, use a cork sealer to waterproof them to prevent water from getting through if the waves accidentally hit your birks.
Even though water and sand are likely to enter your Birkenstocks while walking around the beach, it will not be a problem if they are cleaned after use. After going to the beach, you can use the cleaning method outlined below to remove sand and waterproof your Birkenstocks.
And, because Birkenstocks can be customized to match almost any outfit, it's the best fashion choice for going to the beach with confidence. If you're looking for the perfect outfit, pair your Birkenstocks with a loose t-shirt and jean shorts.
Do Birkenstocks Get Smelly After They are Wet?
Yes, soaking your Birkenstocks for a long period of time will cause them to stink. This is because when they get wet, mold grows inside them, causing a foul odor.
To avoid your Birkenstocks from getting smelly when wet, implement positive cleaning maintenance tips to keep them fresh. Even if your Birkenstocks are waterproof, wearing them in a wet environment will get a small amount of water in them, which can cause them to smell if not cleaned. Try to ventilate them so that fresh air can circulate through the birks, which reduces the foul odor and mold growth.
Can You Wear Birkenstocks to the Shower?
No, they aren't designed to be worn to the shower. Even though most Birkenstocks sandals and shoes are waterproof, it's not advisable to wear them to the shower. 
Wearing your Birkenstocks to the shower every day will damage them gradually. Even with regular maintenance, excess water inside them can make them get smelly as they get moldy.
How to Fix Birkenstocks After They Are Wet?
When wearing Birkenstocks or any other brand of shoes, it's bound to get wet once in a while. So, if you have wetted and want to get them fixed, here's what you need to do:
Get the Birkenstock maintenance kit, spray the Birkenstocks cleaner on the shoes before brushing the dirt away. If there's an excess stain, you can spray the stain repellent from the kit on the affected areas, while gradually brushing the shoe to remove them.
If you don't have the maintenance, you can make use of soap and water to clean off the stains and dirt from them. Use a soft cotton cloth to clean off the dirt from the shoe.
Don't use too much force when cleaning your Birkenstock to keep its features and finishes.
Apply cork sealer all over the midsole region of the Birkenstocks to waterproof them and prevent water from entering through the tiny holes. You should keep in mind that the cork sealer will wear off after a while, so you'll have to repeat the process.
It's true that whenever shoes get wet, the first thought of anyone is to heat them to remove the water buildup. However, this can completely ruin your shoes because excessive heat reduces the quality of the Birkenstocks material. And don't forget that the cork soles of Birkenstocks are vulnerable to heat. Don't keep your shoes in the direct sunlight.
Keep your shoes where there's enough air and mild sunlight to dry them.
Are Birkenstocks Waterproof?
Birkenstock offers both waterproof and non-waterproof styles. Birkenstock waterproof styles are made of EVA (Ethylene Vinyl Acetate), which protects them from the effects of water. Most Birkenstocks shoes will gradually lose their quality in extremely wet conditions.
The waterproof Birkenstocks are machine washable and easy to maintain. There is also a wide variety of colors to choose from. The waterproof Birkenstocks are extremely lightweight due to the material used in their construction. When you wear them, you may have the sensation of walking on foam. The cushioning is excellent for preventing blisters on your feet!
Do Birkenstocks Run Big or Small in Sizing?
Birkenstock runs normally on sizing. It doesn't run big or small on foot. I got the normal size 8 that I usually wear, and it fits perfectly without any difficulty.
Also, you can easily adjust the size of most Birkenstocks shoes and sandals based on your preference. While most people might suggest you go down half a full size to get the perfect fit, it's important to order based on your normal shoe size.
Final Thoughts- Can Birkenstocks Get Wet?
The lightweight cork sole of Birkenstocks provides excellent foot support. You won't have to worry about wearing them in the rainy season if you select the waterproof style. To avoid the shoe becoming smelly when wet, purchase the Birkenstocks care kit to clean and maintain it after each use.
You May Also Like: