Hey Dude is one of the most flexible and comfortable footwear brands that is currently leading the footwear market.
These shoes are extremely comfortable and versatile as they are made of cotton and canvas. Hey Dudes, founded in 2008, makes some of the best loafers and slip-on style shoes.
They produce high-quality shoes made of breathable canvas with a cushioned footbed for added breathability. They have soft fabric linings, foam midsole, and EVA(Ethyl Vinyl Acetate) outsole. 
Hey Dudes shoes are extremely lightweight, weighing only 5 to 6 oz. Hey Dudes are available in a variety of colors and have a very classy appearance.
The ultra-lightweight outsole allows this shoe to flex and fold with ease. They are sometimes even better than Sanuks and are most recommended for people with wide feet. Hey Dude guarantees that they are made of 100% cotton, making these shoes extremely breathable. The best thing about Hey Dudes is that they are affordable and have a low price range.
But, with all of these features, we have a lot of questions about how comfy hey dudes are, what kind of socks to wear with them, do you wear socks with hey dudes or not, can you wash them in the washing machine or not and many more.
So, Do you wear socks with Hey Dudes Or Not?
Hey Dude shoes can be worn with or without socks. They're also suitable for wearing barefoot. They have a flexible and cushioned footbed that keeps your feet firm and breathable whether you wear them with or without socks. The cotton and canvas material of Hey Dudes allows air to circulate through them, making them ideal for wearing without socks too.
However, to be on the safer side and to prevent foot problems such as fungal infections, blisters, bunions, or bruises. It is highly recommended to wear socks with Hey Dudes.
In this post, we'll go over everything you need to know about Hey dude, including whether or not you can wear them with socks, what to wear with hey dudes, and which hey dudes are best without socks.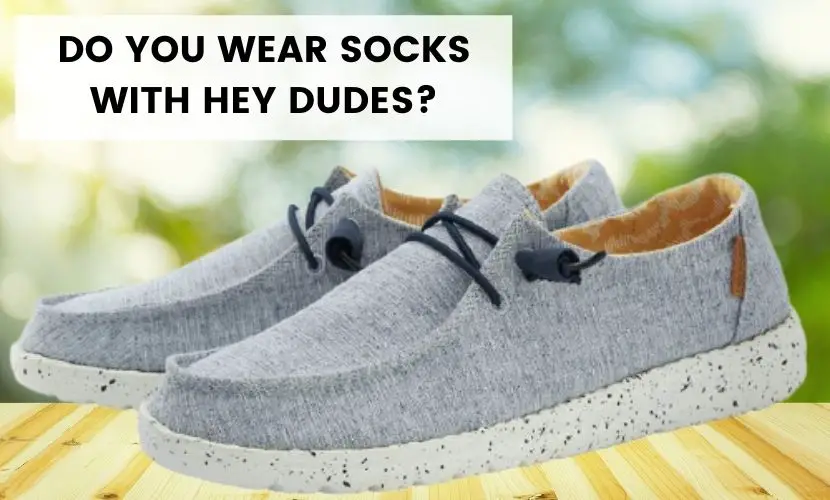 Is It Necessary to Wear Socks When Wearing Hey Dudes? 
Socks are essential for protecting your feet from friction, fungal infection, and blisters caused by shoes. Socks can help prevent your feet from freezing if you stay in places where it is extremely cold.
If you only wear shoes without socks, you are likely allowing some cold to penetrate your feet but not completely. Shoes do not absorb moisture either, but socks do.
Hey Dudes are extremely lightweight and comfortable. However, wearing socks with them adds an extra layer of protection to your feet, thus wearing socks with Hey Dudes is recommended but not essential.
If you can keep your feet dry and care for them while wearing Hey Dudes without socks, then you will not have any foot problems. In summer, socks can stink. With their dual lacing options, Hey Dudes makes it simple to wear them with or without low-cut socks.
4 Features of Hey Dudes That Make It Ideal for Wearing Without Socks
Extremely Lightweight 
Hey Dudes is one of the most lightweight shoes you've ever worn. They weigh an average of 5 to 6 oz (150 to 170 g), making them the lightest shoes when compared to other shoes that weigh more than 9 to 10 oz ( 270 to 290 grams).
Hey Dude's lightweight design is due to their shoe construction, which includes an EVA outsole, a light foam midsole, and a coated textile upper. Hey Dude is so light because they feature flex and fold technology as well as ultralight insoles.
Elastic Upper 
Hey Dudes have a highly praised flexible and elastic upper. Hey Dude Wally Canvas has a cotton canvas upper while Hey Dude Wally Sox Classic has a stretchy textile upper.
This upper helps to stretch the feet when necessary to elongate and shape the shoes to your feet. They are typically constructed with a canvas, knit, or stretchy upper.
The Hey Dudes upper provides you with the benefit of not having to worry about blisters, bunions, or bruises while wearing them all day. The cotton upper improves the breathability, protection, and flexibility of your feet.
Superior Cushioning
Hey Dude's built-in flex and fold technology is key for the foot cushioning. They also have foam memory insoles and ultra-light soles, making them extremely cushioned for your feet.
They also have a cushioned footbed and a soft fabric lining, which add to the Hey Dude's comfort. They're also ideal for individuals with wide feet, as they allow your toes to bend and improve foot movement without restriction. 
Easy-Fitting 
Hey Dude shoes also don't have the same snug fit as lace-up shoes do. Elastic straps across the heel and sides of the Hey Dudes provide additional traction. They come with laces, although the purpose of the lacing is to aid with minor adjustments.
Hey Dudes are ideal for all types of feet, including wide feet. They are extremely comfortable and include elastic bands that provide a secure hold on the heels and sides. They offer a smooth fit along the heel side and a light grip to keep the shoes in place while walking or jogging. Due to the ease of fit, they can be worn all day without causing any foot problems
Why You Should Wear Hey Dudes With Socks?
Wearing socks with shoes provides several advantages, including protecting your feet from foot infection and disease.
The following are some of the advantages of wearing socks with shoes:
It keeps your feet warm by preventing cold air from penetrating through the socks.
It functions as an extra layer of protection over your shoes and helps to eliminate foul odors produced by sweat glands.
Maintains the firmness of your feet and reduces rubbing between your feet and your shoes.
Help avoid fungal growth and also protect the feet from blisters, abrasions, scars, bunions, and bruises.
Absorbs moisture and provides extra cushioning to the feet.
Socks also keep your feet from cracking and itching. 
They also coordinate along with the outfit you wear.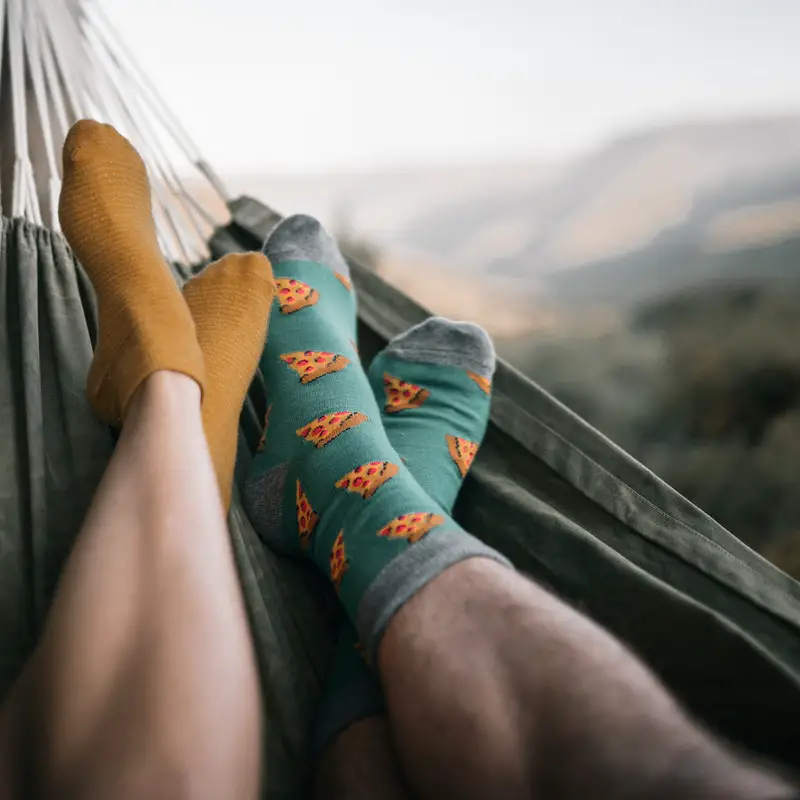 Which Hey Dudes Shoes Are Best To Wear Without Socks?
So, you have decided to go sockless with Hey Dudes Shoes but can you wear all hey dudes without socks? Yes, you can but there are few which will fit perfectly without socks. 
Hey Dude Men's Wally Woven Loafer 
Hey Dude Men's Wally Loafer is a pair of ultrasoft, extremely comfortable, and high-quality shoes. They are made of fabric and can be worn with or without socks. They have a soft oxford lining made of cloth. They have a removable insole that is cushioned with memory foam to provide excellent foot comfort.
Hey Dude Men's Wally also has a dual lacing option for re-adjusting the shoes to fit the foot. They are extremely light, with an upper made of woven textile material. The removable insoles aid in the reduction of sweat and odor caused by prolonged use.
They are extremely versatile and can be worn with virtually any outfit. These shoes are made in the low-top chukka style. And the shoes weigh approximately 6 oz (170 grams). They are also machine washable and long-lasting. Hey Dude Men's Wally Loafer is reasonably priced.
Hey Dudes Women's Wendy Funk 
Hey Dudes Women's Wendy Funk comes in a variety of color options and is one of the best women's Hey Dudes shoes you can wear with any outfit. These shoes are completely lightweight and stylish. They have a lot of features in addition to their attractive design. They are the best shoes if you want lightweight shoes for daily use, then go with Hey Dudes Women's Wendy. 
They're made of fabric with synthetic soles. The upper is made of textile material, which gives your outfit a modern look. When wearing these shoes, the movement of the feet improves because they provide flexibility and comfort at the same time.
They also have a removable insole, which aids in the preservation of the shoe. As they are visually appealing, these shoes are completely versatile and can be worn daily.
However, they are not intended for heavy-duty use. Whether you wear them with or without socks, they provide the finest fit for your feet.
Hey Dudes Women's Wendy Chambray
Wendy Chambray by Hey Dudes is made of cotton and has received positive feedback from customers. It has one of the most appealing and stylish design shoes. These shoes are also extremely light, weighing only about 5 oz (150 grams). They have cushioned memory foam, which adds to the comfort of these shoes.   
They have dual lacing options that allow you to adjust the laces to suit your feet. This shoes upper is made of cotton and canvas and features flex and fold technology.
They are ideal for gifting because of their high versatility, attractive design, and comfort. If you are a half size, it is best to go up a size when purchasing Hey Dudes Women's Wendy Chambray. If you intend to wear them without socks, they will not let you down.
Hey Dudes Men's Wally Sox Loafer
Hey Dudes Sox Loafer is one of the top-rated Hey Dudes shoes for men. They are one of the lightest and most comfortable shoes you could ever wear. They are made of high-quality materials, with cotton and canvas uppers. They are one of the most comfortable and flexible shoes available, thanks to cutting-edge technology such as Flexing and Folding system.
They are very light, weighing about 5.5 oz (156 grams). The textured knit fabric provides comfort and allows air to easily circulate through them. Hey Dude Sox Loafer is a chukka style shoe with a low top.
They have cushioned memory foam insoles that provide a high level of comfort and flexibility. They have an ultralight outsole that bends with the movement of the foot. They also have a dual lacing system that allows you to adjust the shoe. As a result, they are best suited for sockless wear and can be worn with any outfit.
What Socks To Wear With Hey Dude Shoes?
As previously stated, Hey Dude can be worn with socks. Light shorts and shirts are the perfect outfits to pair with Hey Dudes. But which socks are the best compliment for Hey Dudes?
Socks for Men
Men's Low Cut Non-Slip Boat Socks 
For Men's best to go with low-cut non-slip socks, these socks help to keep your feet firm and lock the heel tightly. They are soft and made of cotton which will keep your feet cool all day long. The best part of these socks is that they go along with other shoes and sneakers as well. Check the current price here. 
Men's Jormatt Genuine No Show Socks
Jormatt Genuine Socks are best paired with low-cut shoes like loafers, sneakers, dress shoes, and boat shoes. The rear grip of these shoes tightly grips the feet without allowing them to fall apart into the shoes.
They are the most comfortable, long-lasting, and versatile socks you will ever wear. These socks are neither too thick nor too thin, making them an ideal match for Hey Dude Shoes.
To see the price on Amazon, click on the image.
Socks for Women
Women's Eedor Thin Flat Boat Line Socks 
These shocks are extremely thin and feature an elastic band that easily slides on the heel, as well as a silicone grip that keeps the socks and feet in place.
The manufacturer made it comfortable by combining 80 percent cotton and 20 percent spandex to make it breathable, soft, and comfortable, as well as stretch with the feet. They are available in three sizes and different color variants.
Women's Pareberry Thick Low Cut Flat Non-Slip Boat Line Socks 
The silicone grip on the Pareberry Socks prevents the socks from falling apart from the feet. They're made of 85 percent cotton, 1.5 percent spandex, and 13.5 percent polyester.
Cotton allows for breathability and comfort. They are thick cushion socks that are made thick to prevent the top of the socks from breaking or having any holes in them.
They are available in five different colors: black, white, beige, grey, and light grey. If you're going for a gentle stroll with Hey Dude, these socks will come in handy and will provide you with the most comfortable experience you've ever had.
To see the price on Amazon, click on the image.
Final Words: Do You Wear Socks With Hey Dudes?
As Hey dudes are becoming more popular due to their versatility and comfort. Many thoughts cross our minds while wearing them, such as whether or not they can be worn with socks.
Yes, we can wear them with socks. They are both comfortable to wear with socks or barefoot. A flexible and cushioned footbed holds your feet in a sturdy yet breathable position, regardless of whether you wear socks or not. Air may circulate through Hey Dudes cotton and canvas material, so you can wear them without socks.
However, it is recommended that socks be worn to maintain healthy feet and avoid diseases and foot infections.
Read more on: