With a history of crafting reliable footwear from 1966 to becoming an official sponsor for the American Rodeo Championship 2022, once again, Durango boots proved again why winners wear them.
But what else makes Durango boots so special? Here's what we've got to say about it. Durango boots, unlike typical western boots, are all-in-one boots with full-grain leather and additional protective features. Durango's 'Dur' stands for durability, and you'll be able to wear them for years.
Are Durango boots, on the other hand, worth every penny? Why should you consider them for your next pair of boots? Read till the end to know it all.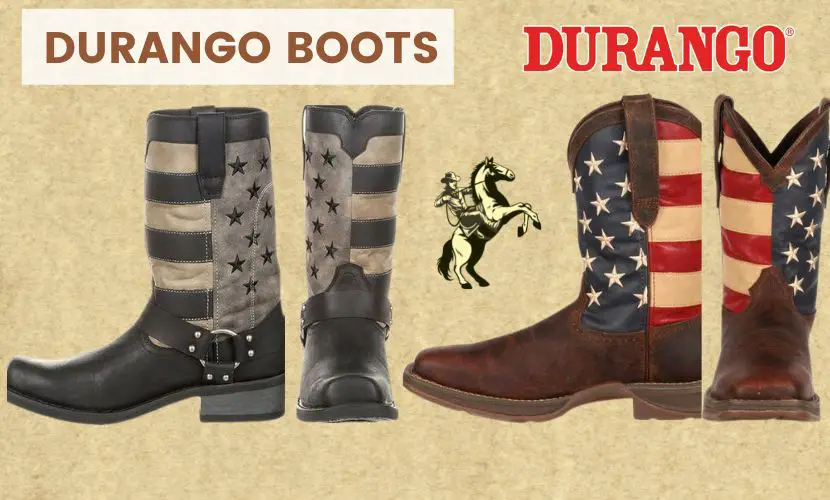 Are Durango Boots Made in America?
Seeing other cowboy boots having roots in America and Durango's American flag boots, you must be curious if Durango boots are US-made. Some, but not all, Durango boots are made in America. In fact, most Durango boots are manufactured in China. The company did this to save labor and factory costs without compromising quality.
Moreover, the headquarter of Durango's parent company, i.e., Rocky Brands, is based in Nelsonville, Ohio. 
Are Durango Boots Good?
For a boot serving premium quality for 50 years, 'good' is a small word to describe. And what makes Durango boots more than being good? Let's discuss:
Durango has a removable cushioned footbed that provides arch support and can be used with custom orthotics.
They're both cowboy and work boots, and they're comfortable to wear for long periods of time.
Durango features rolled and tempered steel shanks providing additional stability and support.
The full-grain leather and double-row welt stitch provide the right combination of style and durability.
Read more on: Are Ariat Boots Good?
Are Durango Boots Comfortable?
"I have never had a more comfortable pair of boots in my entire life, folks!" says Johnny Hiland, a famous guitarist, when reviewing Durango boots on ThatGuitardedGuy.
Like Johnny, many customers agree that Durango boots are exceptionally comfortable. And what makes them comfortable? Here's the secret:
Durango boots feature a Durango Suspension System composed of four components to provide all-day comfort.
Durango's steel shank and cushioned footbed give a win-win situation for comfort.
The rugged rubber outsole is great for providing traction.
Thus, Durango boots will never let you down when it comes to providing comfort.
How Do Durango Boots Fit?
Ideally, if your boots fit snugly and allow a minimal movement of toes, they are the right fit. And that's how a pair of perfectly-sized Durango boots should fit.
So, to find the perfect fit for a Durango boot that offers the same features, you should go for a half-size down than your regular US size, as they run big.
Alternatively, you could use shoe padding or thick socks in conjunction with your regular boot size. Durango boots are known for being really comfortable, and you'll give them five stars in either situation.
Read more on: Are Timberland Boots Comfortable?
How to Clean Durango Boots?
Even though Durango boots are a top-notch choice for heavy jobs and tough outdoor activities, such activities cover them with unavoidable dirt and dust. But the best part is that Durango boots are super easy to clean and maintain; here's the easiest procedure:
Take a damp cloth and rub any dirt or mud on your lower boots.
Use a soft brush to remove any scuff marks on the boot. You can also use an old toothbrush to remove stubborn dirt particles.
Air-dry your boots and avoid direct heat to prevent cracking (remove the insoles if they are super saturated with water).
Apart from cleaning, you should condition your boots every three to six months with a good quality leather conditioner. To apply the conditioner, just dab some on a dry sponge, and start applying from the bottom of the boot in circular motions. If the boot feels dry, reapply to the conditioner for moisturizing.
However, one must avoid using mink oil to condition Durango boots, as mink oil rends to reduce the shine of the leather. But if anyhow you have used mink oil on your boots, then it can be removed by doing the following steps:
Take a clean and dry piece of cloth and blot the oil with it.
Next, dust some talcum powder on the rubbed part to adsorb the excess oil.
Wipe off the powder gently.
Finally, spray the part with a hair spray until your boots are as good as new.
What Are Durango Boots Made of?
Unlike most other cowboy boots made explicitly of leather, every inch of Durango boots tells a different material story. Most Durango boots are manufactured using different types of full-grain leather-like full quill ostrich, goat, and cow leather. 
The foot is full-grain leather, while the collar is faux. If steel-toed, they comply with ASTM F2413 protective toe classification, which absorbs electric shock.
Durango features a multi-durometer rubber outsole to protect the boot from slips and oil and add extra flexibility and heat resistance. Not just that, the rolled, anti-torsion, fiberglass shank, and dual-density midsole give Durango the extra stability it deserves.
Moreover, the Durango® X-Treme Comfort Footbed™ technology built with memory foam is enough to provide comfort all day.
Are Durango Boots Leather?
Yes, Durango boots are made of full-grain leather, a type where the hide goes immediately for tanning after removing its hair.
So, by leaving the grained surface unbuffed, the full-grain leather is not only retained with an oil-absorbing property but is also blessed with a durability that can last ten years. And that's why full-grain is the most durable type of leather. 
Comparatively, most other boots composed of top-grain leather, the type which is buffed before tanning, are less durable and oil-free. And that's why Durango boots take all the browny points among other ordinary leather boots.
Read more on: Lucchese boots? Everything You Need To Know
Can Durango Boots Be Resoled?
Durango boots come with a one-year warranty. And if you are wondering if this warranty covers resoling Durango, then the answer is no. Rocky brands don't offer resoling services for its boots.
However, you can ask a local cobbler to resole them, but the decision would be risky.
Do Durango Boots Run Big or Small?
Durango boots run big. And to get the right size that fits feet snugly and not tightly, you should go for a half-size up.
For example, if your standard boot size is 8.5, size 8 will be your ideal size.
Are Durango Boots Waterproof?
Yes, most Durango boots like MAVERICK XP are waterproof. They are coated with a water-proof layer composed of polyurethane, called Gortex. Since this layer is PFC-free, it makes the boots even more environmentally friendly.
However, this waterproof layer only exists for six months of purchase, and you will have to respray the boots.
Durango also features a rubber outsole that keeps the boots free from oil and slips.
Are Durango Boots Worth the Money?
Compared with a high-end boot like Ariat, Durango boots are not entirely worth the money. And some customers have complained of toe-peeling after a few days.
But when you compare Durango with other high-end boots providing low comfort and durability at that price, Durango wins the race. It is because they have an 83% satisfactory rate and serve premium quality due to original leather, craftsmanship, and top-notch materials.
Wrap Up
Durango boots aren't ordinary and tick the checklist required for qualifying features for a top-notch boot.
They are made with full-grain leather of various types and you can wear the waterproof ones in the rain for 6 months. Unfortunately, you can not resole Durango boots but can remove the insoles for customization.
With Durango boots, you wouldn't need to buy work and cowboy boots separately and will experience style with durability and comfort.
Related Articles: