If you're a shoe connoisseur, you've probably heard of the classic Grenson shoes, which date back to the British fashion era. Even though they appear formal at first glance, you can wear them with casuals to add a modern-yet-chic touch to your ensemble.
Grenson shoes have a long history in formal wear and have never been considered out of style. However, if you want to know more than just the appearance of these classic shoes, read on to learn everything there is to know about them in this article!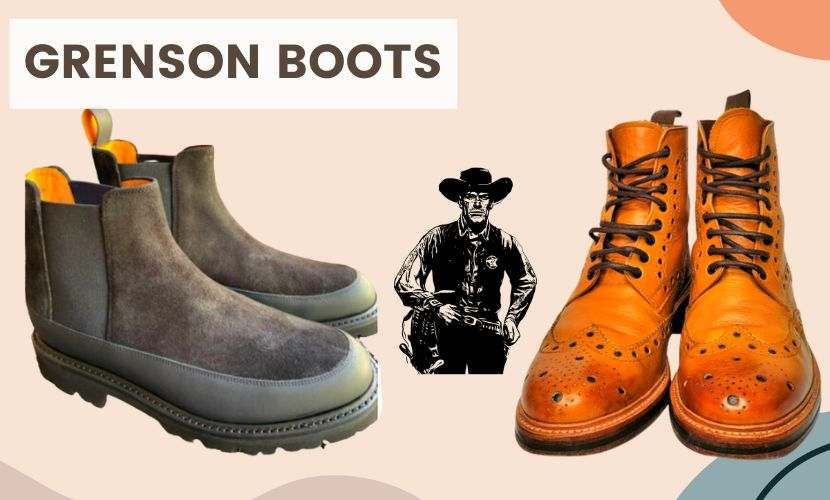 History of Grenson Shoes
Grenson, founded in 1866 by shoemaker Henry Grenson, is one of the world's oldest and most prestigious shoe brands.
After adapting to shifting fashion trends and the increasing globalization of the fashion industry, this forward-thinking company arrived at its unique look. It has classic silhouettes that have been updated with sophisticated, contemporary touches.
Grenson men's shoes have distinctive exaggerated soles and robust, two-toned color schemes; these shoes, which range from basic brogues to striking loafers, can be worn with both casual and formal outfits to gain instant style points.
Read also: Lucchese Boots? Everything You Need To Know
Are Grenson Boots Worth the Hype?
This is a brand that provides great value for money. The use of high-quality materials combined with the handiwork of experienced apprentices results in long-lasting items that are resistant to the effects of the elements, time, and the normal wear and tear of everyday use.
It is important to remember that the excellent price( price range is between $60 to $900) of this footwear is attributable to the use of high-quality materials. Instead of spending money unnecessarily, it would be wise to hold out for sale or put money aside until you can afford a pair.
Even though we understand how much work went into making the concept a reality, we still appreciate a good deal when we come across one.
Grenson Sizing Chart
Grenson should be ordered in your standard British shoe size. However, two things should be kept in mind:
If your feet are particularly narrow, you may need a half-size smaller shoe. This is especially important if the shoe is labeled as G fit.
When it comes to high street athletic trainers, most people wear a half size smaller than they normally would.
| | | | | |
| --- | --- | --- | --- | --- |
| US (MEN'S) | US (WOMEN'S) | UK(MEN'S) | EU(MEN'S) | LENGTH (CM) |
| 6 | 5.5 | 5 | 39 | 24 |
| 6.5 | 6 | 5.5 | 39.5 | 24.3 |
| 7 | 6.5 | 6 | 40 | 24.7 |
| 7.5 | 7 | 6.5 | 40.5 | 25 |
| 8 | 7.5 | 7 | 41 | 25.3 |
| 8.5 | 8 | 7.5 | 41.5 | 25.7 |
| 9 | 8.5 | 8 | 42 | 26 |
| 9.5 | 9 | 8.5 | 42.5 | 26.3 |
| 10 | 9.5 | 9 | 43 | 26.7 |
| 10.5 | 10 | 9.5 | 43.5 | 27 |
| 11 | 10.5 | 10 | 44 | 27.3 |
| 11.5 | | 10.5 | 44.5 | 27.7 |
| 12 | | 11 | 45 | 28 |
| 12.5 | | 11.5 | 45.5 | |
| 13 | | 12 | 46 | |
| 13.5 | | 12.5 | 46.5 | |
| 14 | | 13 | 47 | |
If your feet are very wide, you should order a size larger to get the most out of your shoes. Nonetheless, the 'F' fitting shoe is appropriate for the vast majority of men.
Most men don't mind the slightly wider 'G' fitting than the standard men's because a little extra room is preferable to too much. Almost all men will be perfectly fit by the G or F fit.
Also read about: Do Doc Martens Stretch or Not?
Are Grenson Boots Handmade?
Yes, Grenson boots are handmade. Grenson has been in the footwear manufacturing business since its inception in 1866. Except for their sneakers and the current sandal line, the rest of their shoe and boot line is "Goodyear Welted".
To create a single pair of shoes, almost 200 different procedures are performed over the course of 8 weeks. Shoes made using the "Goodyear Welted" method, which dates back to the 1800s, are more durable than those made using other methods.
There are numerous steps involved in making these shoes, but their durability and longevity are the most important factors in their success. Furthermore, this implies that the shoes may be resoled several times, making it an excellent long-term investment decision.
What are Grenson Shoes Made of?
The waxy calf leather used to make the Grenson Archie footwear appears to contribute to the overall sound quality of the shoes. The buttery-smooth caramel leather is the ideal canvas for embellishment and stitching.
Are Grenson Boots Suitable for Hiking?
Since they are noticeably lighter in weight than they appear to be, wearing Grenson Shoes will not leave you with the impression that your feet are being hampered. It follows that you can therefore do trekking with them. 
The Grenson Boot Company has a line of hiking boots since not all their boot models can be well utilized for hiking.
Grenson Models
Grenson is well-known for the high quality of its boots, and the company has produced numerous pairs over the years. Grenson offers a variety of men's and women's styles, all of which are crafted in the brand's signature traditional style while incorporating modern materials and design elements.
Chelsea Boots
For nearly 150 years, Grenson has been making men's Chelsea boots. The following is a rundown of several makes and models. Every one of these models is offered in a selection of colors, as well as many sizes.
Colin
Colin is a straightforward Chelsea boot that is easy to wear. They have a classic form but an elevated height for a trendy look that is both comfortable and chic, with a thick yet lightweight rubber sole in Peat suede.
Albie
These black leather Grenson Albie Chelsea boots come with a glossy finish and are equipped with elasticated side inserts as well as pull tabs for easy on and off.
Warner
Brown colorado leather is used for the uppers, and the hefty rawhide soles are used for the bottoms.
Declan
An elasticized panel and a modest block heel help make this classic design even more wearable. The heel tab at the back of this leather pair completes the look.
Men's Sneaker 52
These are the casual yet chic boots, made to wear with comfort and compliment your look. Being waterproof, these classics can be worn just about anywhere!
Formal Boots
To this day, the most popular and best-selling model of men's rigorous boots is Grenson. Listed below is a diverse selection of high-end models.
Fred
As Archie's brogue boot counterpart, Fred is a pair of men's brogue boots. He's the most fearsome footwear you can wear if you don't want to be bullied.
Shoe 1
A Toe-cap boot from the Edwardian era, shoe No.1 dates from circa 1912. A soft, high-shine leather known as "Glace Kid" is utilized in the construction of this shoe.
Desmond
The Grenson Factory crafts the Desmond, a straightforward derby boot with a straight toecap. This boot is constructed entirely "skin to the box."
Shoe 9
The derby boots for men are made of leather that has been pickled to seem like walnut. In the Archive collection, Shop 9 is a re-creation of a shop from the 1930s.
Shoe 3
The words "GRENSON 1944" are printed on the inside of the leg of the original pair of these boots. This indicates that they were one of the numerous pairs of boots that Grenson produced for the war.
Dexter
Toe-to-toe lacing is standard on Dexter, a fashionable monkey boot with lengthy quarters. Ankle-high, polished dark brown bookbinder leather boots with a broad flat welt are manufactured on the 213 last with the short, round form and distinctive toe bump.
Joe
Cap Toe derby boot Joe is fashioned on the 201 last, one of the most popular lasts.
Using traditional black rusticalf grain leather, he has a cozy and comfortable fit thanks to the shearling lining on the legs. Joe is constructed with a half-Thames rubber sole and a leather waist and has subtle black Triple Welt stitching.
Dudley
Dudley is a basic derby boot with a prominent toe bump that is constructed on a short rounded last. It is crafted from polished antique pin grain leather and features a neutral flat leather welt and a hefty rubber sole.
Hiker Boots
For people who enjoy hiking, Grenson has produced a line of Hiker Boots that are specifically designed. These are some of the most popular types of hiking footwear.
Fielding
With cushioned ankles and tongues, the Fielding is a novel type of walking shoe. Durable, solid rubber Vibram commando soles encase his waterproofed smooth rugged calf and corduroy upper.
Brady
With its characteristic cross-over lacing, the Brady hiking boot makes a statement while being surprisingly light. Cigar-suede and shearling-lined, he's all the rage this year. He's wearing our Commando rubber sole in a thick, lightweight design on our 201 last.
Men's Sneaker 54
A hiking shoe, Sneaker 54 features a waterproof design and a Vibram Baltra sole. This shoe features a 60mm mesh lining and unique adhesive to prevent water from penetrating the shoe. The stitching is additionally coated with a special paste to keep water out.
Are Grenson Boots Comfortable?
As is the case with the vast majority of footwear, the shoes do not provide a sensation of flexibility on the very first use, and the Grenson Fred boots will have to be worn in for some time before they can be considered genuinely comfortable. Just after the initial four to six wear, it gets comfortable on your feet. You may soften new shoes by putting Vaseline on the places where you get blisters while you're still trying to flex your feet in.
Are Grenson Boots True to Size?
Apart from their attractive looks and classy complementation, Grenson boots are quite comfortable to wear. However, if the thought of sizing worries you – let me assure you. Having tried these boots myself, they are exactly what the company claims them to be. 
Fortunately, Grenson shoes run true to size, making the experience a breeze. If you doubt whether you'll fit in the styles, order a half-size smaller. For example, if you typically wore an EU 42.5, you should get an EU 42 instead.
Final Thoughts: Grenson Boots
Grenson is a shoe manufacturer that dates back to the earliest days, and the brand has become almost synonymous with quality footwear throughout the United Kingdom. Some people have the impression that they have been getting worse, but I believe that this is more likely due to unrealistic expectations on their own. To give you an idea of how much better than ordinary shoes these are, I would grade them a 9 out of 10.
Despite the fact that they have been manufactured in England and India (as shown by the letter G etched into the sole, as I indicated before), these shoes are stunning and expertly crafted. Nonetheless, my opinion might well be changed when the shoe starts aging in due course.
Grenson is unrivaled by any other brand at this price bracket. Thanks to the element of the discount, you will be able to get them for close to two hundred dollars, which would be an excellent bargain for a pair of shoes that are Goodyear welted.
More Articles: