Winters are all about coffee, soup, and Uggs, the perfect winter travel shoe. You can enjoy winters for over a decade with your perfectly fitted Uggs. However, this is only possible if you find the right fit. So, are Uggs supposed to be snug first and hug your feet? Should you go down a size and wait for the hug?
For full sizes, Uggs typically run true to size. If you're in between sizes, go down a half-size. It's because Uggs stretch a little over time. However, due to their relaxed fit, Uggs sheepskin leather slippers must be sized down.
Read till the end to find your perfect fit.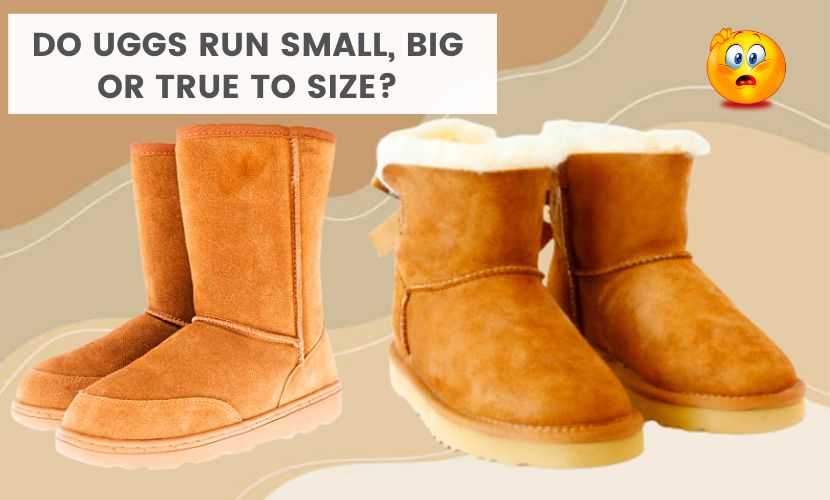 Do Uggs Boots Run True To Size?
Uggs, like sheepskin, stretch about half a size with wear. According to personal research and reviews, Uggs run true to size, while the slippers run large.
Even though sizing up for Uggs boots will eventually cause them to become too large and no longer provide the right, cozy fit.
Read more on: Do You Wear Socks With Uggs?
Do Uggs Boots Come In Half Sizes?
No, Uggs do not come in half sizes, nor do they have an equal length difference between sizes. So, if you wear half sizes, I recommend ordering one size down from your regular size in Ugg boots. 
For example, if you are a size 7.5, you should order a size 7 in Uggs. Yes, Uggs recommends the opposite on their website, but the reviews say it all.
How Are Uggs Supposed To Fit?

Uggs generally run true to size for most people, but there have been cases of individuals purchasing Uggs in their regular size and discovering that they run a little larger. These could be due to a variety of factors, including foot shape. If you have narrow feet and buy Uggs in your regular size, you may end up needing to shrink them.
I remember getting my first Uggs two years ago; I usually wear a size 9 and, not knowing much about how they fit, I went with the size 9; however, they ran a bit large and I had to shrink them with a hair dryer.
Uggs, as you may know, is made of sheepskin with a leather coating. Because leather and sheepskin stretch with wear, it is best to go half a size down.
You will generally get a loose fit, but if you get the correct size of Uggs, you will experience a firm grip and a bit of a snug fit at the toe part. However, the overall level of comfort provided by Uggs is comparable to other boots I have worn over the years.
Uggs can be worn barefoot to enjoy the warmth and comfort provided by the sheepskin. They offer excellent arch support and foot support.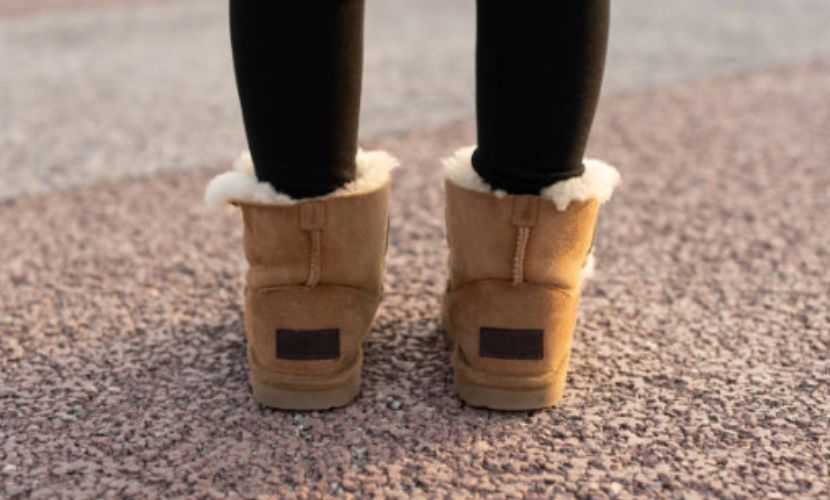 Narrow Vs Wide Feet: How Uggs Fit?
Uggs for narrow feet people will run true to size or slightly larger if you order your regular size. Because Uggs run true to size or half a size big, narrow feet people will find them to be more true to size and enjoy the foot support they provide. I have narrow feet, so the regular-size Uggs were a little too big for me. So, to get a perfect fit, try on a size or half-size small first, and if it still doesn't fit and feels snug, go with your regular size.
For Wide feet, Uggs will run true to size and not small if you go with regular size. For example, if the foot size is 9 Uk then go with 9 Uk size for Uggs. While writing this article, I came across some people who had wide feet but wore their regular-size Uggs. They were astounded to discover how comfortable these Uggs Boots were.
Check out: Are Ugg Boots Waterproof?
Uggs Sizing Chart
Here are some size charts for unisex and children's Uggs wearers to help you decide which Uggs size to get.
Adult Uggs Size Chart:
| | | | | |
| --- | --- | --- | --- | --- |
| AU Women | AU Men | Barefoot length | UK | EUR |
| 4 | 3 | 21.8 cm | 2.5 | 35 |
| 5 | 4 | 22.6 cm | 3 | 36.5 |
| 6 | 5 | 23.5 cm | 4 | 37.5 |
| 7 | 6 | 24.3 cm | 5 | 38 |
| 8 | 7 | 25.1 cm | 6 | 39 |
| 9 | 8 | 26 cm | 7 | 40-41 |
| 10 | 9 | 26.8 cm | 8 | 42 |
| 11 | 10 | 27.7 cm | 9 | 43 |
| 12 | 11 | 28.5 cm | 10 | 44 |
| 13 | 12 | 29.3 cm | 11 | 45 |
| 14 | 13 | 30.1 cm | 12 | 46.5 |
Uggs Kids' chart
| | | | | |
| --- | --- | --- | --- | --- |
| Uggs Size | Barefoot length | AU/US | UK | EURO |
| 7 | 14.4 cm | 7 | 6 | 23 |
| 8 | 15.2 cm | 8 | 7 | 24/25 |
| 9 | 15.9 cm | 9 | 8 | 25/26 |
| 10 | 16.6 cm | 10 | 9 | 27 |
| 11 | 17.3 cm | 11 | 10 | 28/29 |
| 12 | 18 cm | 12 | 11 | 30 |
| 13 | 18.7 cm | 13 | 12 | 31 |
| 1 | 19.5 cm | 1 | 13 | 32 |
| 2 | 20.2 cm | 2 | 1 | 33 |
| 3 | 20.9 cm | 3 | 2 | 34 |
What To Do If  My Uggs Run Small?
It takes about a month for Uggs to stretch or the fur to flatten. So, even when stretched naturally, Uggs don't get any longer and only get half a size roomier/wider.
However, if your Uggs are still too tight after all of your patience, or if you want to speed up the process, you can try the following methods:
Tip 1: Try Vinegar
Vinegar contracts leather tissues by dehydrating them and can be used to shrink your Uggs the same way. So, here's how you do it:
Dilute the vinegar with equal parts water. DO NOT CONTINUE THE PROCESS WITH RAW/UNDILUTED VINEGAR.
Grab some old pairs of socks and dip them in the solution.
Remove the soaked socks and carefully tuck them inside the Uggs without wringing.
Leave the boots for around two hours.
After two hours, remove the socks and leave your boots to dry in a ventilated area, away from sun and heat.
Ensure that you don't use a new pair of socks for this method, as the procedure will damage them excessively. Alternatively, you can also use the same method without the vinegar.
Tip 2: Shoe Stretching Spray
The best part about shoe stretching sprays is that a dash goes a long way-thanks to rubbing alcohol. However, when stretching your Uggs with a shoe stretching spray, make sure that it matches your Uggs. So, I would recommend stretching Uggs with a suede spray in the following manner:
Take your clean pair of Uggs and spray the inside where you need the stretch.
Put on a pair of thick socks and wear your Uggs around for 20-30 minutes while they are still wet.
You can also pair this method with the shoe stretcher.
Tip 3: Shoe Stretcher
Shoe stretchers are essential when it comes to stretching footwear, particularly boots. So, here's how to stretch Uggs with this simple tool:
Place your unexpanded shoe stretcher at the end of the toe area of your Uggs.
Start expanding the stretcher until the leather shows the desired tautness.
Leave them like this for at least eight hours.
Repeat if needed.
You can also buy a calf stretcher to stretch the boot's calf in the same way. Make sure you don't tuck it into the toe box; instead, stop when you reach the calf.
Tip 4: Pair Up With Thick Socks
Thick socks add the necessary friction for breaking in shoes. As a result, wear your Uggs with socks to break the inertia of breaking in Uggs.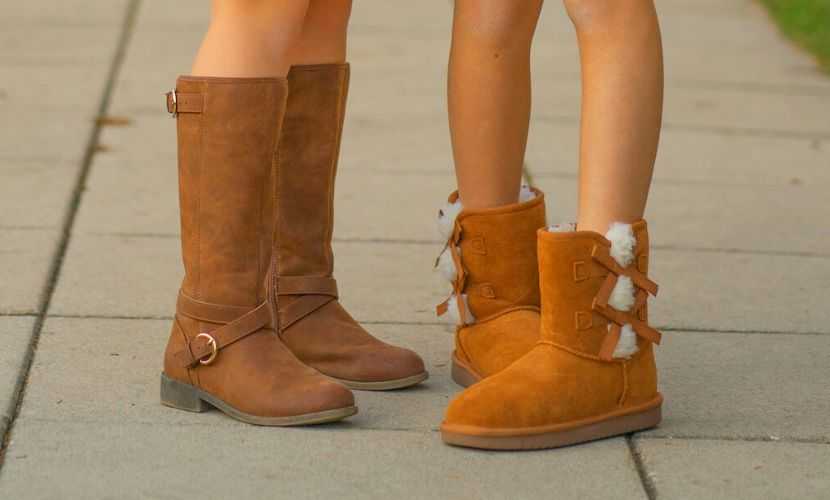 What To Do if My Uggs Run Big?
So, I encountered this incredulous image showing an accidentally shrunken pair of Uggs, and it blew my mind! On one end, it looks funny, but at the other end, it gave me an incredible idea of how heat shrinks Uggs:
Hence, if you find your Uggs big, you can shrink them using the tips below:
Tip 1: Hair dryer
Since heat damages sheepskin, using a hair dryer isn't ideal for shrinking Uggs. But we are shrinking them on purpose, right? So, if done rightly, you can shrink Uggs on your desired areas without a mess. And here is the right method:
Fill some hot water in a spray bottle (heat-proof) or dampen a sponge in hot water.
Spray/dampen the insides of your Ugg boots without wetting the upper. This is necessary, as moisture damages suede badly.
Start by spraying at around a 6-inch distance until the boots are soggy enough.
Turn on your blow dryer to low-medium heat settings, and keep the same distance, blow dry the areas you would like to stretch. 
Cool them slightly to a bearable temperature and wear them to check the shrinkage. 
Repeat the entire process if required.
It's a slow process and will require multiple tries to get the desired shrunk Uggs. 
Tip 2: Pair them with thick socks
Yes, you can wear your thick socks in both situations, regardless of whether your Uggs are large or small.
Pairing Uggs with thick socks will fill in any extra space and prevent heel slippage. However, it is only a temporary solution for your big Uggs.
What Is The Difference Between Size 8 And Size 8 b(m) In Uggs?
If you've asked this question, you've most likely purchased your Uggs from the American registered company, UGG®, rather than the Australian one (since 1974).
The B width in Uggs is the standard width for women, while the D width is for men. While 'm' denotes a medium fit. So, in this case, eight and (8m) are the same thing, i.e., standard women's size 8. In contrast, I've never seen such sizing for Uggs Australia (since 1974).
Bottomline: Do Uggs Run Small, Big Or True To Size?
Ugg boots fit true to size, whereas Ugg slippers run large. Though Ugg boots appear snug at first, the snugness fades after about a month of wearing them. It happens as a result of fur beading and suede leather stretching.
In either case, you can stretch and shrink Uggs by hand using the methods described in this guide. Yes, they do not have half sizes, so you must size down if you fall into this category.
More Articles: