You may be wondering if Uggs are waterproof after seeing celebs like Lily Allen enjoy wearing them on snow.
The question that may be troubling your mind is whether or not are ugg boots waterproof. Regrettably, the answer is both yes and no. Ugg boots, like traditional boots, are not waterproof. They can, however, be waterproofed by using a waterproofing spray. Although waterproof UGGs have a waterproof layer, they are not intended for prolonged exposure to rain or snow. Furthermore, the layer sheds after a few months of use.
 So, if UGGs aren't completely waterproof, how can you waterproof them? This guide will clear your confusion.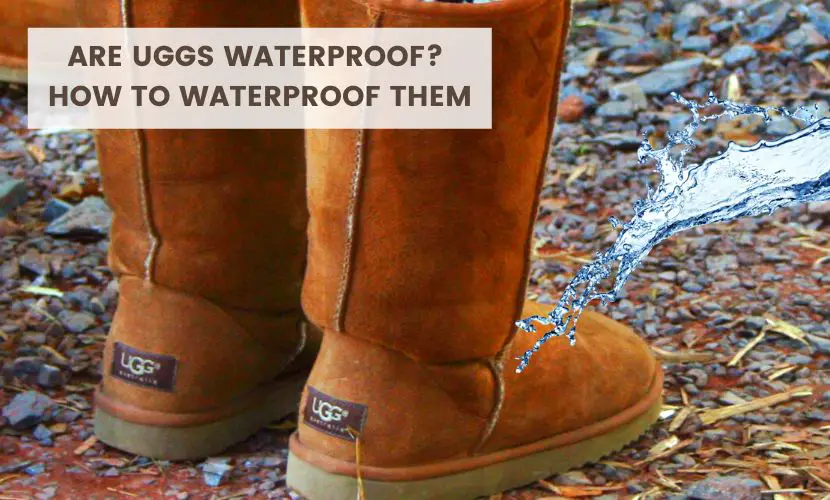 Can UGG Boots Get Wet?
You've probably heard that sheepskin has natural water resistance. And, because Uggs are made of sheepskin, can they get wet?
Since Uggs are not completely waterproof, they can get wet. The distinction between water repellency and waterproofness is that water repellency does not allow water to enter. The waterproof property, on the other hand, keeps water away from the surface.
To add fuel to the fire, this water repellency is only effective for 6 months. As a result, they will gradually become wetter overall.
Read more on: Do You Wear Socks With Uggs?
 What Happens If Your UGG Boots Get Wet?
You are now aware that non-waterproof Ugg boots can become wet. But what if you get your Ugg boots wet?
Uggs, as previously stated, are less waterproof and naturally water-resistant. When Ugg boots get wet, the surface will become stained with water, while the inside of the boot will remain dry.
And, since this water repellency is limited, you will have to work hard to regain it.
Do I Need To Spray UGG Boots?
You are now aware that the Uggs have limited water repellency and are not waterproof. So the question is, do I really need to spray my Ugg boots?
Yes, you should spray your Ugg boots as soon as you take them out of the box. Surprisingly, that is what the company recommends.
It would be best if you sprayed your Ugg boots with a good quality suede-safe spray. And we don't recommend getting an inexpensive, local spray for your sensitive pair of Ugg boots for this reason. So, for the best and safest results, go with those from the Ugg store.
How Often Should You Spray Water Repellent On Your Ugg Boots?
Ideally, you should spray your old UGGS at least once a year to regain water repellency. However, if you're getting a new pair of boots, spray them right away.
However, for waterproof UGGS, you must spray after six months of purchase because the layer disappears after that time.
Read about: Are Ariat Boots Good?
Can You Wear Uggs In The Rain?
UGGs will get wet if worn in the rain. If you intend to go out, it's best to wear Waterproof UGGS. However, if your UGGS become overly saturated with water, they will stain and make your toes wet. As a result, you can't wear them for long periods of time in the rain.
How To Waterproof UGGS?
The only way to keep your Uggs waterproof is to use a waterproof or water repellent spray. Now that you know which water repellent sprays are ideal for you, let's look at how to use them.
So, to waterproof UGGs, you'll need:
Water repellent spray
Suede Conditioner and cleaner
Clean Cotton Cloth
Newspaper
Tape
Suede brush
Suede Eraser (Optional)
Cold Water
Sponge
Baking Soda (Optional)
Now that you've gathered all of the necessary materials, here's how to waterproof UGGS:
Step 1: Prepare Your Uggs
To prevent any dirt or dust come in contact with the spray material:
Ensure that your UGGS are clean and stainless. You can use a damp cloth/sponge to wipe off dirt or make a diluted baking soda solution to clean the UGGs.
Use a suede brush to scrub off the stains and dirt gently.
Dry them thoroughly and apply the conditioner for finishing.
Step 2: Apply The First Coat
Use tape on decorations before applying the first coat of spray to prevent discoloration. Next, place Uggs on the newspaper and spray the entire boot from at least 8 inches away.
Step 3: Drying
Allow 30 minutes for the first coat to dry (by air).
Step 4: Apply The Second Coat And Dry Again
Apply a second coat of spray after the first layer has dried. Next, place your UGGS in a well-ventilated area and allow them to air-dry overnight, away from direct sunlight.
Finally, brush up lightly to add some finishing touches.
Best waterproof spray for Uggs
Despite spraying correctly, poor quality or ill-reputed waterproof sprays have a history of damaging suede, peeling it off, and staining shoes. So, if you don't want that to happen to your UGGs, here's a list to assist you:
1. UGG Shoe Care Kit
 Click on the image to check the price on Amazon
With thousands of other upkeep kits to choose from, you can never go wrong with this UGG product. Ugg shoe care kit is specifically designed for UGGS and is recommended for keeping them clean and stain-free.
Each kit includes a variety of products, including the high-quality waterproofing spray you've been eyeing. The kit also includes a conditioner (to remove stains), cleaner, renewing spray (to deodorize), bamboo brush, and a scruff eraser.
The entire kit is effective in keeping them water-resistant and in removing existing stains, resulting in a high-quality finish for Uggs.
 If you do not want to purchase the entire kit, you can buy the water repellent spray separately, which is enough for doing the job.
Pros
Keeps your Uggs fresh and salt-free, water-free, and stainless.
Removes old, stubborn stains, even from a 10-year-old shoe.
The brush has soft bristles that are ideal for cleaning suede.
Cons
Some customers have reported white stains on sprayed parts.
The product quantity is less than that stated on the packaging.
The material may become brittle.
2. Simple Shine's Shoe Protector Spray
 Click on the image to check the price on Amazon
If you want to add a quick waterproof layer to your Uggs that dries quickly, this Simple Shine spray is the way to go. It is expressly designed to protect suede material, making it useful for providing the necessary protection for your Uggs in snow and rain.
Customers, on the other hand, have complained about the packaging and have experienced damage after handling correctly.
Pros
Passes the water-resistance test.
Easy to apply.
Stainless.
Easy to set.
Cons
Leaves a white residue or film after application.
Fragile packaging.
3. Guard's Premium Water & Stain Repellent
Click on the image to check the price on Amazon
This best-selling water repellant has a massive reputation for waterproofing almost all types of shoes, especially Uggs. Each Guard Premium Water & stain repellent product comes with an aerosol spray for full coverage.
Secondly, it's non-toxic and won't turn your Uggs yellow after application. Third, it is trustworthy for waterproofing Uggs and delivers on its promises. However, if your UGGs are white, we don't recommend using it.
Pros
Cons
White UGGS can turn yellow.
It has a strong odor.
Wrap Up
Ugg boots are not completely waterproof. They can get wet, so use a water-repellent spray on your new or old UGGs. Even waterproof UGGS can get stains after prolonged water exposure because the waterproof layer sheds after six months.
Furthermore, wearing UGGS in the rain or snow for extended periods of time can stain and damage them.
Related Articles: