Did you know that? Blundstone boots have been manufactured for 150 years and were featured during World War II. For a boot with such a long history, it is to be anticipated that Blundstone boots can be worn in any season. You can wear Blundstone whether it's downpouring or sunny outside. 
So are Blundstones waterproof? Yes, but not all of them. The Gumboot and Thermal series from Blundstone have waterproof leather; the rest do not. All other Blundstone boots are made with water-resistant leather and natural leather, which is why they can withstand water as well.
But if you were only eyeing waterproof Blundstones and got a pair other than that, I'd suggest reading till the very end.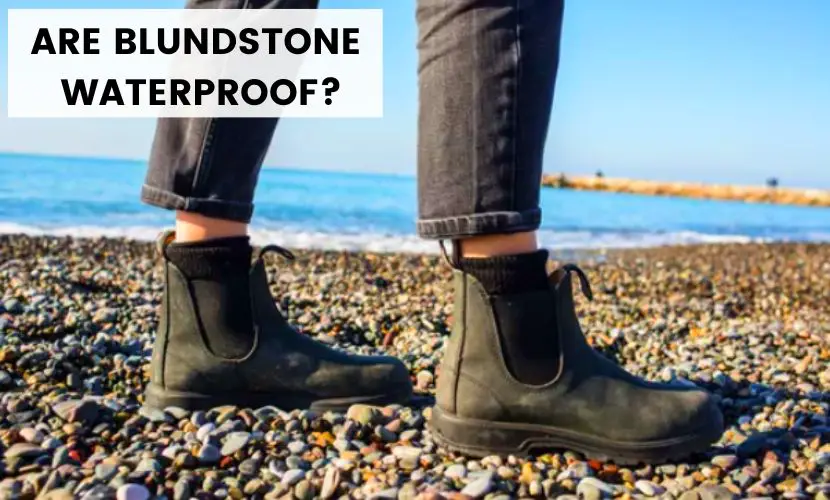 Are Blundstones Waterproof Or Water-Resistant?
As stated earlier, all Blundstone boots are water-resistant, but not all of them are waterproof. The primary reason is the leather.
Leather goes through a tanning process in general, whereas Blundstones go through a premium-oil leather tanning process. And theoretically, Oil-tanned leather is water, stain, and perspiration-resistant.
Blundstones also claims to have treated some of their leather boots with a water-resistant treatment. As a result, those models will be labeled with a three-drop water-resistant icon.
Blundstone boots can also repel water because of these features.
However, only the Gumboot and Thermal series are among the top Blundstone water-resistant/waterproof boots. The Gumboot is made of nitrile and PVC. Polyvinyl chloride (PVC) has long-lasting waterproof properties, which explains why it's used to make water pipes. The nitrile is not only waterproof but also oil and grease-resistant.
Thermal Blundstones, on the other hand, are made of Premium waterproof leather. As a result, both types of waterproof Blundstones will be labeled as Waterproof on the packaging.
Can You Wear Blundstones In The Rain?
Yes, you can wear Blundstones in the rain. You can wear your Blundstones in any weather or activity, including hiking, running, and strolling on sunny days. But for how long in the rain? That can vary.
Since Blundstone boots are water-resistant but not completely waterproof, they provide less water protection and I do not recommend wearing them for long periods in the rain. However, if your Blundstone has a waterproof label, you can wear them for several hours in the rain. Remember to waterproof them before going out in the rain if they are months old.
Will Water Stain Blundstones?
Blundstone boots are truly stain-resistant, regardless of the leather used, thanks to the oil-tanned method used instead of vegetable tanning. 
However, you must keep them conditioned and waterproofed to save them from water atrocities in the long run. Because any type of Blundstone can become stained with water if its water-resistant and waterproof properties/layers are lost.
Will Blundstone Protect Your Feet In Snow?
You can't wear your regular Blundstones in the snow because they don't provide enough traction to keep you from falling. They also do not keep your feet warm or insulated. They can, however, keep your feet dry to some extent. 
So, if you intend to wear Blundstones in the snow, I suggest Blundstones Winter boots. First, they are completely waterproof and have a Thinsulate lining to keep body heat in. Second, they are tough and suitable for rough terrain, with a classic Contoured EVA lined with sheep wool.
How Often Should I Waterproof My Boots?
I've never seen a shoe with a waterproof layer last forever, and Blundstone boots are no exception; you must waterproof them again. So, try replenishing the waterproof layer every three months. And if you live in a humid climate, I recommend doing it more frequently. Not only will it get your boots ready for the rain again, but it will also keep them shinier, damage-free, and supple.
However, make certain that the insides are also waterproofed.
How Can I Waterproof My Blundstone Boots?
Using a waterproof or water-repellent spray is the best way to waterproof your Blundstones. And for the best results, I recommend using the one provided by Blundstones or a high-quality nubuck spray. Here's where you should begin:
Remove your Blundstones laces and insoles, if present. Before you begin, make sure your Blundstones are clean.
Apply a generous amount of water-resistant protector/cream/spray to the boot. Check that the water-repellent or waterproof spray matches the material of your boots.
Dry your Blundstones under the fan or in a ventilated area without using any heat.
Put everything back together so that there are no creases.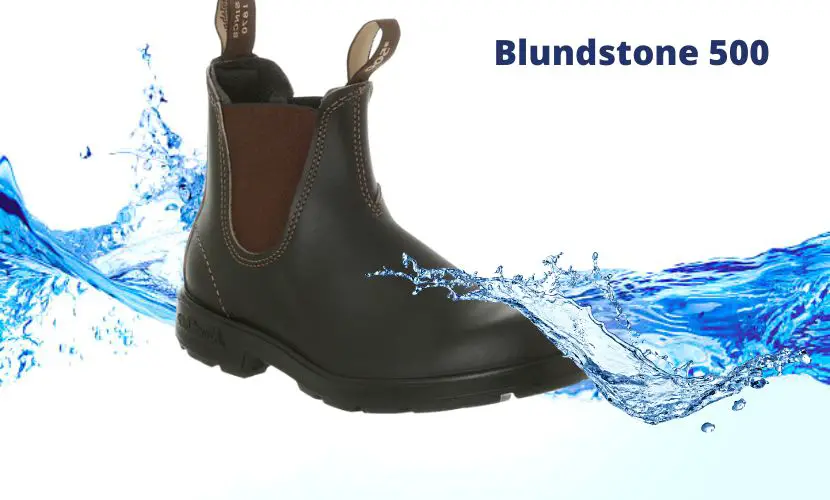 Waterproofing Your Blundstones: Dos and Don'ts
Waterproofing Blundstones necessitates special care and attention, and you cannot begin the process on your own. Here are some things to avoid before waterproofing your Blundstones:
Avoid wax protectors, as they can diminish the texture and luster of your suede and leather Blundstones.
Make certain that your waterproof polish is specifically for shoes and not clothing.
Although mink oil is an excellent protector, it should be used with caution on Blundstones because it can stain them.
If your shoes have a mesh interior, avoid spraying them. The spray droplets could close the mesh areas, rendering them useless.
Silicone sprays should be avoided because their droplets do not penetrate the Blundstone and are intended for use in extremely hot climates. So, if you use this spray to waterproof your Blundstones and wear them in cold weather, the silicone layer will tear your soles apart in temperatures below 40 degrees Celsius. 
Which Blundstone Boots Are Waterproof?
1) Blundstone BL566
Blundstone BL566 is a great choice for anyone looking for waterproof shoes. It's sturdy, comfortable, and water-resistant. Due to the Thinsulate insulation layer, shearling footbeds, and shock and slip-proof system, they are designed to withstand all types of weather. They also have a good reputation for being long-lasting, rain-resistant, and snowshoes. Many customers, however, recommend completely waterproofing them before use.
| | |
| --- | --- |
| Pros | Cons |
| Comfortable | Sizing issues and not true to size. Even if your feet size lies within half-size and have wide feet, you must size up. |
| Durable | Isn't the color shown in the pictures when ordered and is more on the dirty-grayish side. |
| Waterproof as claimed  | Not easy to remove/low slip-on |
2) Blundstone BL989 Chelsea boots 
The style of the BL989 work boots is incredible, serving as both a work boot and a steel toe at the same time! It's shockproof, made of TPU, and extremely comfortable. And the acid-resistant outsole provides all-terrain traction for a day on the water.
| | |
| --- | --- |
| Pros | Cons |
| Lightweight water-resistant upper. | Expensive. |
| Airflow and water-wicking system. | Not many people prefer the Chelsea style. |
| XRD pad for ball protection and comfort. | |
3) Blundstone Unisex-Adult 510
Another wonderful piece of waterproof Blundstones for men and women. They're also popular due to the built-in shockproof system (SPS) and thick waterproof layer, as well as the Cambrelle moisture-wicking footbed. Furthermore, the dual-density outsole is visible for providing the cushioned walk that we all require in snow and rain.
| | |
| --- | --- |
| Pros | Cons |
| Minimalist design, with everything, confined. | The newer versions aren't as good as the previous ones. |
| Easy to slip on. | Not much durable. |
| Perfect for winter. | Sizing is an issue. |
| Comfortable. | Not slip-resistant. |
Conclusion
Not all Blundstones are waterproof, and those that are aren't completely. However, because all Blundstones are made of tanned leather and some go through a water-resistant stage, you can call all Blundstones water-resistant, but not entirely. However, to maintain quality, all Blundstones must be waterproofed at any stage of their life. In addition, I recommend using a waterproofing spray/cream/polish that matches the material of your Blundstones.
More Articles: