Whether you like them or despise them, winter isn't complete without coffee mugs and Uggs. When you go to buy your first pair you will always find mixed reviews about their size. So, do Uggs stretch or remain firm?
Uggs stretch because of the sheepskin and fleece that were used in their production. However, they will only stretch in width and not in height. So, in reality, they do not stretch but rather flatten out up to half a size after breaking in.
Let's take a look at how your Uggs should stretch, fit, and break with wear.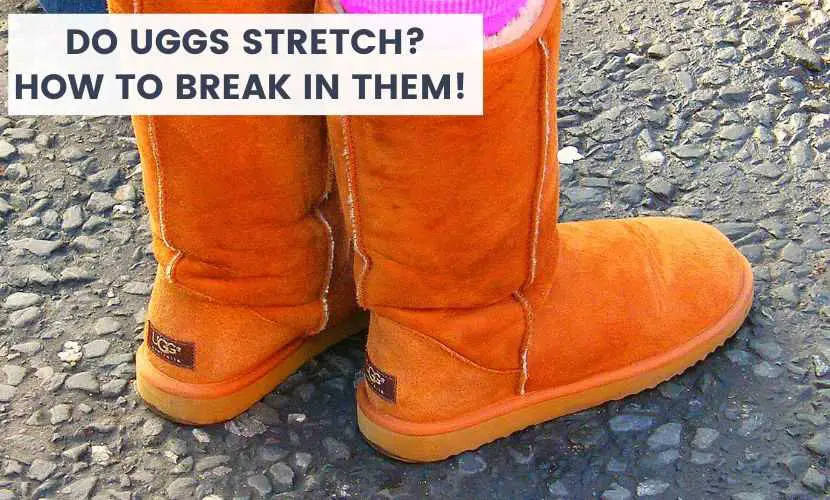 Do Uggs Stretch?
Uggs are lined with two layers of sheepskin, one on the inside and one on the outside. The boots are also lined with fleece and have an interior sheepskin lining. As a general rule, sheepskin and fleece stretch or flatten naturally.
So sheepskin stretches about half a size and fleeces up to 30%. However, only the interior sheepskin lining flattens out, not the outside. That is why Uggs stretch and conform to your feet over time.
Check out: Do Uggs Run Small, Big Or True To Size?
How To Break In Uggs Boots?
Nobody enjoys having to wait for their new boots to break in, and the same goes for Uggs (since we don't have all winter to wait). So, how can you speed up the process of breaking in your new Uggs? Here are a few approaches:
Wear your Uggs with thick socks around the house.
Fill two ziplock bags with water and double them before placing one inside each Ugg. Then, place your Uggs in the freezer overnight to expand them because water expands when it freezes.
Grab some potatoes (wrapped) or newspaper balls and tuck them inside your Uggs for a day.
Use a suede shoe stretching spray and spray on the areas you want your Uggs to stretch. Alternatively, you can use a diluted alcohol spray.
Use a boot stretcher to stretch your Uggs as desired.
Take them to a professional to have them stretched out.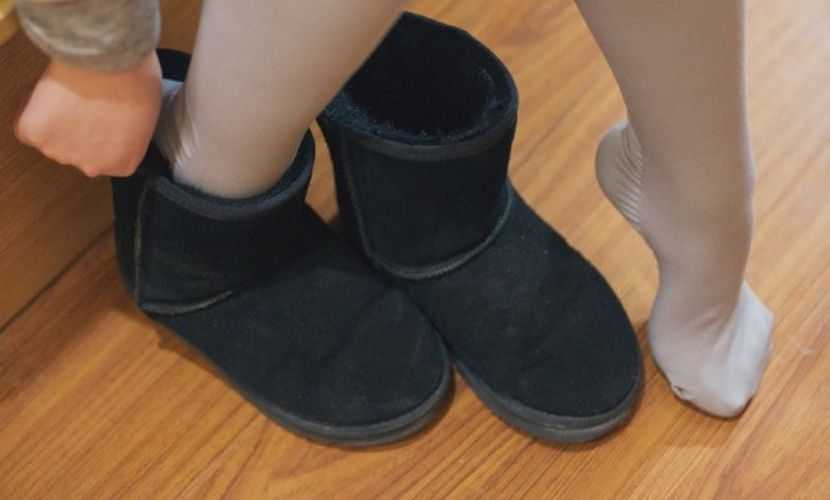 Are Uggs Supposed To Be Tight At First?
No, Uggs aren't supposed to be tight at first and are meant to give the impression of walking on clouds or being true to size. Despite these claims, I've seen users complain about them being too tight at first.
So, in conclusion, they can be tight at first, but not so tight that you want to throw them out. The sheepskin will stretch or flatten over time, increasing the width by a few millimeters. However, the shoes will never loosen lengthwise, so keep your toe room in mind.
Read more on: Ugg Vs Emu
How Tight Should New UGG Boots Be?
On the first try, your Uggs should fit snugly. Though Uggs are designed to be worn without socks, I recommend bringing a thick pair to the store when shopping for Uggs.
In the store, request two sizes of Uggs, one true to size and one a size larger. When you try them on with your socks, leave a half-inch gap from your toe to the end. This gives you the impression that the size is correct.
How Long Does It Take to Break In A Pair Of Uggs?
If you use the natural breaking method, it can take up to a month to break in your new Uggs. Alternatively, it means changing them in and out.
However, if you intentionally break them using the various methods discussed previously, you can break them within days. Uggs appear to be as comfortable as they felt from the upper once broken in.
Do Uggs Slippers Stretch?
Slippers should, of course, have a roomier, more comfortable fit. And, in terms of Ugg slippers, they should fit you comfortably and snugly. 
Yes, the slippers are made of sheepskin and will stretch like Uggs Boots. Because they will feel tight at first if you buy a size that is true to your measurements. So, if you have wider feet, I recommend going a size up.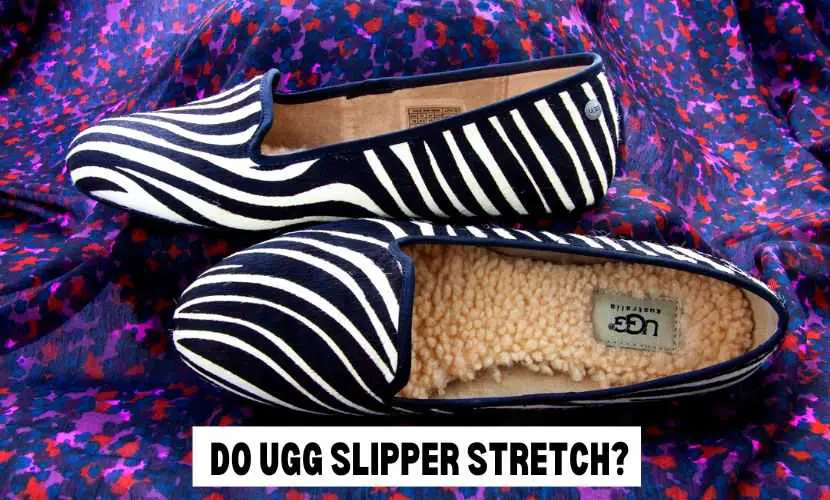 Do Koolaburra Uggs Stretch?
The new subsidiary of Uggs (now 4+ years old), the Koolaburra, gives us major cool kookaburra color vibes with its soft, durable, and fluffy boots. But like the classic ones, do Koolaburra Uggs stretch? Firstly, the Australian Uggs manufacturers do not feature the Koolaburra boots; this subsidiary is of the UGG®, which is U.S. based. 
So, don't mix the two companies. About the stretch, yes, Koolaburra Uggs stretch and require breaking in. This includes their slippers, particularly Lezly Ugg slippers.
Do Uggs Stretch In The Calf?
Even if you stretch your foot to break in Uggs, you won't be able to tuck your trousers into your Classic Ugg boots if the calves are too tight. Because the calves of Uggs are made of the same material as the boots, you're probably wondering if Uggs stretch in the calf. Yes, Uggs stretch in the calf as well, especially after prolonged use.
Thus, if your calves, like the bottom, appear tight to you, you can use the previously described methods for stretching Uggs with your calves targeted this time.
Check out: Ugg Vs Bearpaw
Do Uggs Broaden In Length?
The top of the Ugg or the instep will stretch, but not the sole. As a result, if your toes come into contact with the seam or the end of the sole, they will not stretch. 
As a result, you should check for any discomfort at the bottom and assume that it will not go away. Uggs, in short, will not stretch in length.
Do Uggs Stretch In Width?
Yes, that's the only way Uggs stretch or compress. The sheepskin and the fleece will flatten and adjust the tow size, which would only be for around half a size increment in the instep's width.
Do Ultra Mini Uggs Stretch?
These ultra mini Uggs, as the name implies, are much smaller than traditional long boots and have a small foot placement opening. As a result, many people find them difficult to put on. They are, however, comfortable once your foot is inside. Nonetheless, I've seen people split their sizes 50/50.
Some people believe they are true to size and width, while others recommend ordering a size down. However, because they are sheepskin, I recommend ordering a size down because the wool will compress over time. But again, remember that the ultra mini uggs are from the American range, while the Australian Uggs feature only mini ones.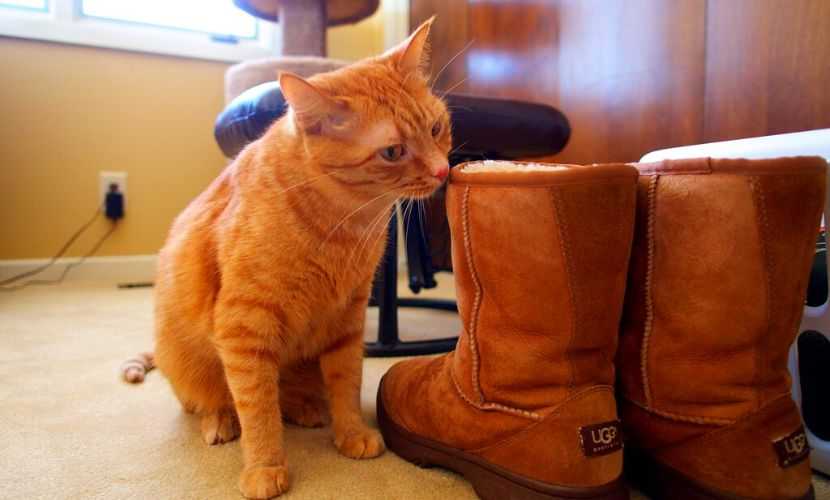 How Do You Keep UGGs From Slouching?
Perhaps the biggest bane that Uggs enthusiasts face is their slouching. The calves do not remain taut over time as you purchased them. So, how do you keep your UGGs from sagging? Here are a few pointers:
Put a boot stretcher

or a shoe shaper in your Uggs when not in use.
Put them on a shoe tree.
Stuff the boots with some newspapers or paper towel balls.
Pair a boot band or boot bra with your Uggs whenever you wear them.
Put a metallic or plastic strip inside your Uggs.
Keep the Uggs separate from other items, such as under a pile of clothes or shoes.
Final Words: Do Uggs stretch?
The appropriate words would be compressed or flattened. And, yes, Uggs do stretch in that way. But only by half a size in width and not in length. 
They take about four weeks to break, but the methods mentioned above can speed up the process. And no matter what, Uggs will only stretch half a size.
More Articles: