Sperry was founded in 1935 by Paul Sperry, an American inventor and sailor. The company was initially known as "Sperry Top-Sider," They were the first to manufacture boat shoes, which are still famous today. Sperry has become a household brand for its comfortable and fashionable, high-quality shoes. The company has grown to include a variety of styles and types of footwear for men, women, and children.
Though not explicitly waterproof, Sperry shoes are designed to withstand exposure to water. Their origins can be traced back to slippery boat decks, so they are equipped to handle water and will eventually dry out. In fact, the appearance of Sperry shoes often improves after they've been wet, as they develop a unique patina that enhances their character. With their non-slip soles, Sperry shoes are an excellent option for those seeking footwear capable of navigating damp and slippery environments.
Look no further than Sperry for a versatile shoe that can be worn in any weather or terrain. Sperry shoes combine comfort and style, but the real issue is: whether they are waterproof and non-slip.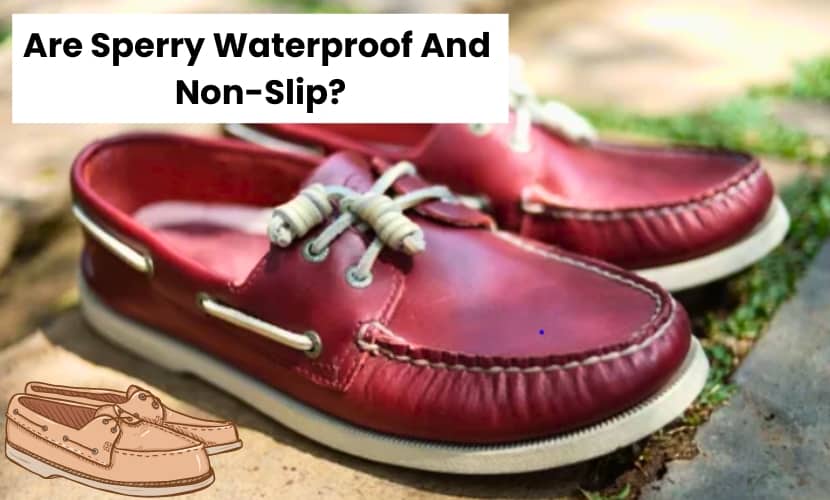 Are Sperry Waterproof And Non-Slip?
Sperry's shoes work exceptionally well in terms of waterproofing and non-slip properties. Of course, these shoes are not waterproof, but the high-quality leather used to make Sperry shoes is water-friendly and lightweight, making them ideal for indoor and outdoor use. 
Furthermore, the unique siping design improves grip on wet surfaces and avoids slipping on slippery surfaces such as wet rocks or decks.
In summation, while Sperry boat shoes are not waterproof, they are well-known for their water-friendly and non-slip properties. They are made of high-quality leather and have Wave-SipingTM technology for improved traction on wet surfaces. They also have a 360° lacing system that keeps your feet safe and adds a fashionable touch. With proper care and maintenance, you can ensure that your Sperry boat shoes will provide years of comfortable and slip-resistant use.
Check out: Are Sperry Shoes Good?
Sperry's Waterproof Technology
Famed for their affinity with water, Sperry shoes boast a water-resistant construction, but just how waterproof are they? 
Sperry integrates a fusion of hydrophobic materials and sealed seams to guarantee dry feet in damp environments.
Hydrophobic Materials
Sperry employs a range of materials in their footwear that exhibit a natural aversion to water. For instance, many Sperry shoes feature leather or canvas uppers, both of which are less prone to water absorption. Moreover, some Sperry shoes undergo a water-repellent treatment(hydrophobic treatment) to enhance their water resistance.
A crucial water-repellent component found in Sperry shoes is the rubber outsole. Specially designed, the rubber in Sperry shoes offers outstanding traction on slippery surfaces and simultaneously repels water, ensuring dry feet.
Sealed Seams
An integral aspect of Sperry's water-resistant innovation lies in their watertight seams. These seams are produced by applying a unique adhesive tape to the shoe's seam, effectively stopping water from infiltrating the minuscule gaps between stitches.
Watertight seams hold particular significance in footwear intended for full submersion in water, such as Sperry's boat shoes. Whether you're boating, hiking, or just walking in the rain, you can trust Sperry to keep your feet comfortable and dry.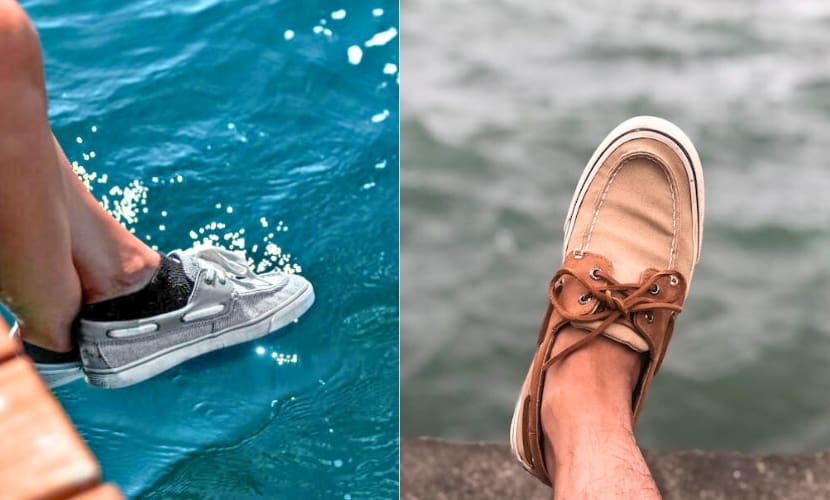 Sperry's Non-Slip Technology
Renowned for its quintessential boat shoes, Sperry delivers exceptional grip and traction on both wet and dry terrains. The brand's anti-slip technology distinguishes it from other shoe companies in the market. In this section, we'll delve into the two primary elements of Sperry's anti-slip innovation: the wave-siping outsole design and the adhesive rubber outsole.
Wave-Siping Sole Pattern
One of Sperry's most striking characteristics is its wave-siping outsole pattern. This exclusive, patented design comprises razor-sharp slits and grooves on the rubber outsole. These cuts and grooves effectively disperse water, ensuring optimal traction on slippery surfaces, such as boat decks.
The wave-siping sole pattern is not only practical but also fashionable. It bestows upon Sperry shoes a unique appearance that is immediately identifiable. This design has been integral to Sperry shoes since the brand's inception and remains a cornerstone of their anti-slip technology.
Adhesive Rubber Outsole
Alongside the wave-siping sole pattern, Sperry shoes boast an adhesive rubber outsole. This specially engineered rubber outsole delivers exceptional grip on both damp and dry terrains. The durable rubber also guarantees that the shoes endure for an extended period.
The adhesive rubber outsole is crafted to be pliable, enabling natural foot motion. This feature renders the shoes comfortable for prolonged wear, whether strolling on a boat deck or traversing dry land.
In summary, Sperry's anti-slip technology merges the wave-siping sole pattern and the adhesive rubber outsole. Together, these components offer unparalleled grip and traction control on wet and dry surfaces, making Sperry shoes an excellent choice for anyone who wants to stay safe and comfortable while walking on slippery surfaces.
What Is Unique About The Sperry?
Sperry is the way to go when finding the perfect boat shoes. Their signature non-marking sole makes them perfect for boat decks and any other surface you may walk on. Furthermore, this patented technology assures that you will not leave any scuff marks or unsightly residue on the surfaces you walk on. 
Another significant aspect of Sperry shoes is their water resistance. The leather upper and seam-sealed construction enables the shoe to dry quickly by preventing water from entering and preventing water from entering. Sperry shoes stand out among other boat shoes due to their ultimate combination of comfort and style. 
From traditional designs to modern color combinations, there's something for everyone in the wide range of Sperry shoes. So, whether you're looking for a classic white pair or a more daring yellow-and-blue combination, you will find the ideal pair of shoes to suit your style.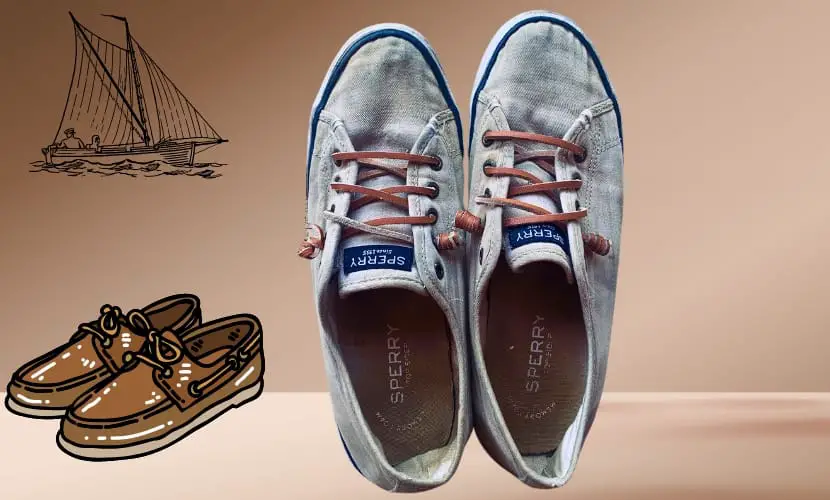 How To Dry Sperry?
Preserving the quality and durability of your Sperry shoes requires proper drying techniques. Adhere to these guidelines for effective drying of your Sperry shoes:
Remove excess water: If your Sperry shoes are drenched, carefully extract the excess water by pressing a dry towel onto the shoe's exterior. Refrain from squeezing or contorting the shoes, as this could harm their structure or components.
Stuff the shoes: Utilize crumpled newspapers, paper towels, or clean, dry fabrics to fill the interior of the shoes. This assists in drawing moisture from within and preserving their form as they dry.
Allow the shoes to air-dry: Situate your Sperry shoes in a location with good air circulation, avoiding direct sunlight and heat sources like heaters or radiators. Direct heat may harm the shoes' materials, leading to warping or shrinking. Permit them to dry at room temperature.
Replace the stuffed items: Swap out the stuffing materials every few hours or once they become moist. This promotes a quicker drying process and guarantees efficient moisture absorption from the shoes.
Employ a fan: To hasten the drying process, a fan can be used to circulate air around the shoes. Position the fan so that it directs air towards the shoes but not directly onto them, preventing potential damage from concentrated airflow.
Monitor for dryness: Depending on the materials and drying conditions, your Sperry shoes may take between 24 and 48 hours to dry completely. Periodically examine the shoes, and once they feel dry, remove the filler.
Reestablish the shape: Using your hands, gently reshape your Sperry shoes and insert cedar shoe trees or a comparable device if available. This helps regain their original shape and maintain their structure.
Treat the shoes (if leather): If your Sperry shoes are crafted from leather, conditioning them after drying is vital. Apply an appropriate leather conditioner or oil, following the manufacturer's guidelines, to avert stiffness or cracking of the leather.
Keep in mind that it is essential to avoid using direct heat sources or clothes dryers to dry your Sperry shoes, as doing so can damage the materials and diminish their longevity.
How To Wear Sperry?
When it comes to wearing Sperry shoes, the options are endless. So, whether you're heading to the ocean, the streets, or the town, Sperry can help you get there in style. 
You can choose boat shoes and moccasins when sporting Sperry for a casual excursion. Both styles look fantastic with shorts and a T-shirt. An Oxford shoe will complete your ensemble if you go to the workplace. 
Dress up your Sperrys for more formal events with dress pants and a blazer, such as weddings. You'll feel both relaxed and stylish no matter how you wear them.
Do Sperrys Come In Different Styles?
Yes! Sperrys are available in several styles, including classic boat shoes, stylish loafers, sneakers, and sandals. The most iconic type of Sperry shoe is the Authentic Original Boat Shoe, which has stayed virtually unchanged since 1935. This traditional design has a genuine leather upper with lacing details, a wave-siped rubber sole for traction, and rawhide laces for durability. 
Sperrys also offers a variety of contemporary styles that blend cutting-edge technology with time-honored craftsmanship. These designs often feature breathable mesh uppers, cushioned footbeds, adjustable straps, and shock-absorbing EVA outsoles. These features combine to make these shoes comfortable and valuable for all-day wear.
How To Care For Your Sperrys?
Taking care of your Sperrys is essential for keeping them looking and functioning at their best. Here are a few pointers to help you take care of your Sperrys: 
Clean your shoes on a regular schedule. This is particularly true if you wear them in wet or muddy conditions. Wipe away dirt with a damp towel and clean the non-slip rubber outsoles with a suede brush or crepe brush. Use a leather cleaner or conditioner to keep them appearing brand new.
Dry your shoes properly. If your boots get damp, remove them immediately and stuff them with newspaper or paper towels to absorb moisture. Please do not place them near a direct heat source, such as a heater or hairdryer, as this may cause the material to shrink or discolor.
Use water-repellent sprays. Using a water-repellent spray will help prevent the material from stains and water damage. Reapply every few months for the best defense.
Keep them out of direct sunshine. Direct sunlight can cause the leather to become brittle and cracked over time, so keep your Sperrys in a cold, dry location when not in use.
Following these easy guidelines, you can keep your Sperry waterproof and non-slip for many years!
What Are The Benefits Of Wearing Sperrys?
The advantages of wearing Sperry range from enhanced safety to stylish fashion. Sperrys have a non-slip sole, so you can walk or run confidently in wet circumstances. 
Sperrys also features the company's signature Wave-Siping technology, which offers better traction on wet surfaces. This makes them an excellent option for active people who enjoy spending time outside. Sperrys are also weather resistant. This allows you to stay safe while enjoying outdoor activities.
Sperrys are available in various styles and colors, allowing you to find the ideal pair to match your personality and lifestyle. There's something for everyone, from classic boat shoes to vibrant and bold sneakers. Plus, you'll appear stylish no matter what your style is!
Are Sperry's Authentic Original Boat Shoes Waterproof And Non-Slip?
Yes, and No, Sperry's Authentic Original Boat shoes are not waterproof but are slip resistant. The shoes have a unique Hydro-Grip rubber sole for superior traction in wet and dry situations. In addition, the shoes are made with full-grain leather and other water-resistant materials designed to make your shoe water friendly. 
This mix of characteristics makes Sperry's Authentic Original Boat shoes ideal for boating, sailing, and fishing. The shoes are also suitable for everyday use, whether strolling down the boardwalk or running errands.
Thanks to their unique design, Sperry's Authentic Original Boat shoes provide exceptional comfort and support. The cushioned footbed absorbs shock, while the supportive heel cup keeps your foot in position. Furthermore, the laces are designed to remain secure without being continuously re-tied, allowing you to wear them all day without discomfort. All of these features work together to produce a shoe that is both comfortable and secure.
Wrapping Up
In conclusion, Sperrys are not waterproof, but they are water-efficient and slip-resistant. They dry quickly and are a popular option for footwear due to their comfort, style, and affordability. Furthermore, they come in various styles and colors, making them ideal for any occasion.
When wearing Sperrys, it is essential to take care of them so that they last an extended period. Furthermore, their Authentic Original Boat Shoes are water-friendly and non-slip, providing additional safety and protection in wet conditions. With these features, you can confidently enjoy your Sperrys while remaining fashionable and safe.
Related Articles: