Do you want to be one of the 54% of people who have been saved by wearing non-slip shoes? You're most likely looking for something that is both comfortable and fashionable. And, given how popular Timberlands have always been, it's only fair to give them another chance. So, are Timberlands non-slip or slip-resistant?
Yes, most Timberlands are slip-resistant. They have enough traction to be used in slippery or snowy conditions. If you want a non-slip boot, Timberlands Pro are the best option. Non-slip properties are not limited to Timberland boots; sneakers and other shoes also have them. If your Timberlands aren't slip-resistant, scuff them, use traction spray, glue lugs, grip pads, or other methods to make them so.
Continue reading to find out everything there is to know about Non-slip Timberlands.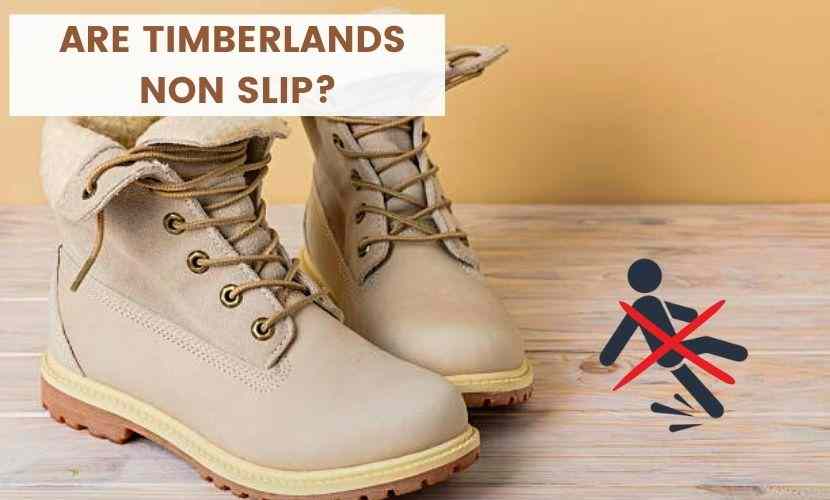 Are Timberlands Non-Slip/ Slip-Resistant?
Yes! Timberland's pro line includes slip-resistant boots and shoes. Timberlands manufactures and distributes slip-resistant hiking and work shoes. This is due not only to the slip-free PRO rubber, but also to certain features used by Timberland in its boots and shoes to improve anti-slip properties.
Fortunately, the least slippery footwear is Timberlands with a firm rubber sole and a traction cut. They provide excellent protection against slips in both damp and dry environments, both indoors and out.
Are All Timberlands Slip Resistant?
No, not all Timberlands are slip-resistant. Only the Timberland PRO series has non-slip features. It also includes boots, sneakers, and other footwear. So, if you want a pair of Timberlands, make sure they are slip-resistant before purchasing them.
Also read on: How To Fix Scratched Timberland Boots?
How Do You Know If Your Timberlands Are Non-Slip?
Since not all Timberlands are slip-resistant, Timberlands mentions whether or not some are. So, how do you find out? Here are some things to keep an eye out for: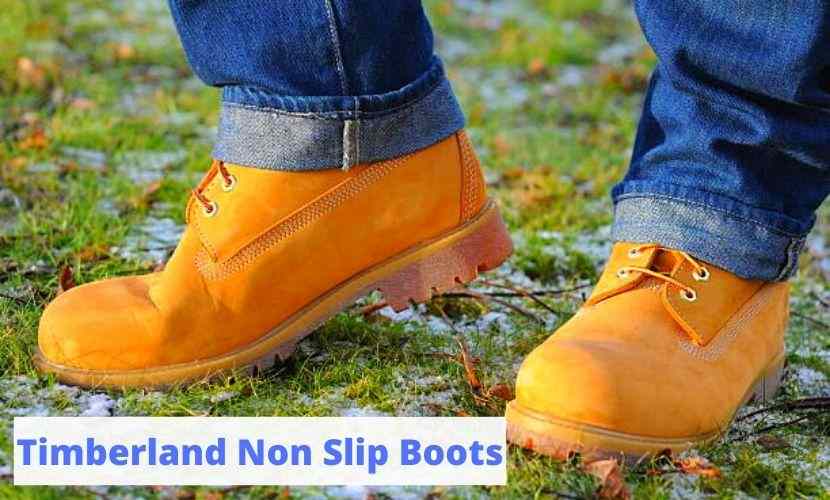 Product Title
When you buy Timberland shoes online, the title will usually state whether or not the shoes or boots are non-slip. However, the mention may vary depending on the website from which you purchase.
Product Description
If the product title does not mention it, you can always look for it in the product description:
Timberland PRO Rubber
The rubber, which serves as the primary outsole for many Timberland Pro series shoes, is not like any other type of rubber. It's specially designed to be slip, abrasion, and oil-free, with long-lasting and heat-resistant properties that set it apart from other non-Pro Timberlands.
Gripstick™ Rubber
The Gripstick™ Rubber provides traction for both dry and wet surfaces. Timberlands with this type of slip-free rubber contain a specific percentage of recycled rubber. And the percentage varies depending on the type of Timberland. This type of outsole provides trace-free traction and is intended to make more contact with surfaces.
L7 traction lug outsole
The L7 lug technology has a multi-directional edged design that is capable of effectively retaining traction, resistance, drainage, and abrasion. The design features GripStick Rubber in multiple lugs with square edges. It is specifically designed for New England's harsh winters and thus provides excellent traction on a variety of surfaces.
All-Weather TPU Outsole
The All-weather TPU outsole is another great feature that adds extra non-slip traction to withstand harsh winters. Thermoplastic urethane (TPU) is a naturally slip-resistant material. As a result, the sole has increased traction and flexibility in cold temperatures, particularly on frosted surfaces.
As previously stated, the signs benefit those who believe in Timberlands and their brands. However, if you don't trust Timberlands or suspect that yours are fake, there are other ways to determine whether your Timberlands are non-slip or not:
Non-slip shoes have an irregular tread pattern on the outsole (hexagonal, circular, etc.) to provide water-free floor friction for slip resistance. The higher the slip resistance, the smaller the pattern.
Hard soles are less prone to slipping than soft soles, but not always. For example, in the Timberland PRO wedge series, the sole is intentionally kept hard so that the shoe can feel the surface it is gripping.
Wear and check if your Timberlands are truly slip-resistant or not.
Are Timberlands Slippery On Ice Or Snow?
No, most Timberland outdoor work boots are designed with high traction features such as L7 lugs, GripStick, TPU, and Timber Pro rubber outsoles that provide the necessary grip when dealing with icefalls.
The Vibram Fire & Ice™ outsole is another cool feature that is specifically designed to provide excessive traction in extreme temperatures. As the name implies, it helps you kick off tough tracks in both icy and warm temperatures.
Some Timberlands are even referred to as Snow blades or winter boots. Timberland Men's Snowblades Warm Lined Mid Boot Snow, for example, received positive reviews.
Finally, most Timberlands are waterproof and water repellant, providing adequate insulation and anti-slip properties.
Timberlands with PrimaLoft Eco are ideal for wearing on snow or in cold weather because they keep your feet warm and are not damaged by snow. So, along with your feet, your boots are safe. Another benefit is that they provide enough traction to keep you from slipping out when moving around in the snow.
Since I've worn them in snow areas myself. They will keep your feet warm and snug, but remember to wear thick socks with them. The best thing about Timberland boots is that they keep snow out of them.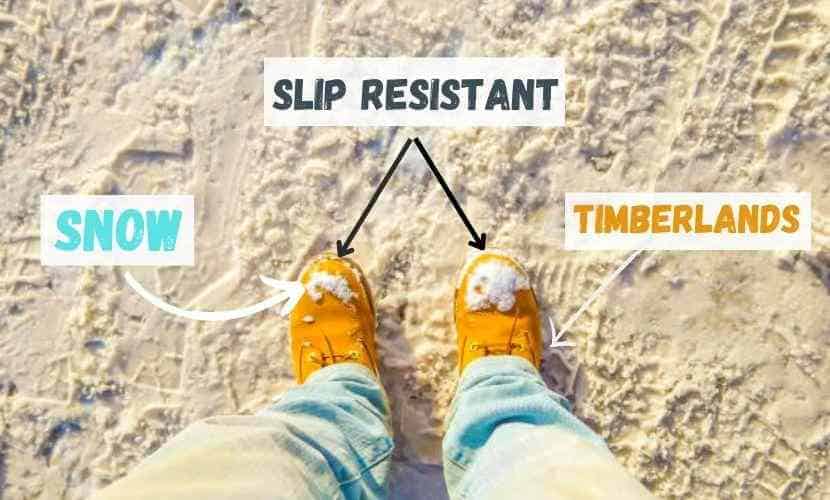 Are Black Timberlands Non-Slip?
It makes no difference what color the Timberlands are when it comes to providing slip resistance. So, if the pair is intended to provide anti-slip functionality, any colored boot, black or otherwise, would suffice.
Timberland PR 1064A Stockdale and Black Slip-On Women's Alloy Toe Shoe are two examples of black Timberlands with non-slip properties.
What Are The Best Timberland Non-Slip Women's Boots?
Here are our top three recommendations for women looking for non-slip Timberlands:
1. Timberland Women's White Ledge Mid Ankle Boot
These boots are ideal for improving your hiking game on any trail while also looking stylish. Along with other PRO features, these Timberlands include a BSFP Motion efficiency system, which tests movements such as supporting, braking, flexing, and propelling under applied pressure. And the lugs are aligned based on this pressure to provide improved traction and efficiency.
However, many customers have complained about the tongue and other parts falling off after use.
2. Timberland PRO Women's Direct Attach 6-Inch Steel Safety Toe Insulated Waterproof Industrial Work Boot
Remember this boot from our list of the best steel-toed Timberlands for women? They are non-slip and non-abrasive. Timber PRO rubber is responsible for bringing in the non-slip pros. However, many reviewers found them to be a bit snug.
3. Women's Chocorua Trail Mid Waterproof Hiking Boots
These hiking boots have a good reputation for their waterproof protection and classy hiking boot style. Along with the GoreTex membrane, the boots have a durable lug rubber outsole that repels water while also allowing it to slip away.
What are the best Timberland Non-Slip Men's Boots?
With so many options for the best non-slip Timberland boots, here's a list to save you time:
1. Timberland PRO Men's Slip-On Alloy Industrial Work Shoe
These men's slip-on shoes are comfortable and durable, with good traction for staying put in all industrial environments. They have a functional oil, slip, and abrasion-resistant outsole. Furthermore, the Timberlands are ideal for working in snow and icy conditions. Some users, however, complained that the shoes scuff easily.
2. Timberland Men's Boondock 6-Inch Composite Safety Toe Waterproof
These boots have the previously mentioned TPU outsole in addition to anti-fatigue and high durability properties. Furthermore, because the outsole has lugs with sharp traction, these boots are in high demand among workers looking for tough industrial boots.
However, users reported that these Timberlands were uncomfortable and soaked up in moist or wet conditions.
3. Timberland PRO Men's Pull-on Work Boots Industrial
This one is similar to the first in that it is constructed with a TPU outsole and an EVA midsole. These boots are ideal for working in extreme weather because of the enhanced cushioning effect with oil and slip resistance. Despite having a traction sole, the boots leave no marks on the floor when worn.
Read more on: Do Timberlands Stretch? How To Break In Them
How Do You Make Timberlands Non-Slip?
If your Timberlands aren't non-slip or you don't find them to be, we have some good news for you. Yes, you can make your Timberlands slip-resistant. How? Here are some options for you to consider:
Method 1: Use A Hot glue gun
I'm sure you've seen a hot glue gun used for almost all hacks revealed in 5-minute crafts, and yes, you can do it in five minutes. Simply take your hot glue gun and begin making spots or irregular patterns under the outsoles of your Timberlands. Then, allow the glue to dry completely. And there you have it! This method provides adequate traction until your boot is resoled.
Method 2: Scrape It Off
Scuffing or scraping shoes against a hard surface, such as concrete, creates the necessary friction to keep soles from slipping. Simply put on your Timberlands and walk on a hard surface to achieve the desired footing. Alternatively, you can use a nail filer or sandpaper to improve the traction of the required soles.
Method 3: Traction Spray
Traction sprays, as the name implies, provide the necessary adhesion your boots require when transitioning to being slip-free. There is no need for science. Simply follow the label instructions and spray your soles with a good traction spray. Then, before going outside, let your Timberlands completely dry.
Method 4: Rubber Glue And Sand
Sand has some grit to it, which you can use to build traction on your Timberlands. Simply apply a rubber glue and sand mixture to the soles and allow them to dry completely.
Method 5: Score The Sole
This has been going on for a long time. Simply score a diamond pattern at the bottom of the sole with a good-quality knife or pointed scissors.
Method 6: Install Grip Pads
If you want a non-slip solution that lasts longer than the spray, try grip pads. Grip/non-slip pads have pre-scored edges and combine the previously discussed techniques. Simply slip them into the soles of your Timberlands and you're ready to go.
Method 7: Use Hair Spray
Due to their tackiness, hair sprays are an excellent alternative to traction sprays. So, if you want a quick fix to make your boots non-slip, simply spray a generous coat on the soles and allow them to dry completely before digging in your Timberlands.
Method 8: Bandages Or Duct Tape
Bandages, duct tapes, and non slip tapes are all excellent life-saving hacks for making boots non-slip. Simply place a pair of either under the sole of the shoe. The extra layer they add is a significant source of traction for your Non-slip Timberlands.
Method 9: Puff Paint
Who knew a child's toy could be a lifesaver when it comes to preventing slips and falls? Yes, as the name implies, puff paint is used to create puffed or 3D objects. If you don't have a hot glue gun and want to be more creative, puff paints are a good option.
Simply paint a thin layer of any design you want on the bottom of your Timbs' soles and let it dry. When the paint dries, it hardens and forms a puffed, coarse surface. However, do not apply a thick layer as this will cause discomfort. After 4 days, the paint usually scrapes off, and you must replenish the layer to regain traction.
Other Methods: Get Them Resoled
If nothing else works or you're too afraid to try the tricks on your new Timberlands, take them to the cobbler and have them resoled. Boots can be easily resoled by inserting ones that provide additional traction and grit.
Wrap Up
Not all timberlands are non-slip. PRO series shoes, boots, and sneakers are slip-resistant and always labeled with a non-slip tag or description. Timberland non-slip technologies include the L7 traction lug outsole, Timberland PRO, and Gripstick rubber. You can also use the methods discussed in this article to make your Timberlands non-slip.
More Articles: