Over the years, there has been much debate about which shoes are best for sports like basketball and skating. There are no right or wrong answers, and different people will have different perspectives based on their own experiences. Many folks prefer Nike dunks for these sports because they provide additional comfort, cushioning, and padding.
Yes, Nike Dunks are great for skating and basketball. The reason for this is that Nike Dunks were originally designed for use in basketball. Nike Dunks' design and technology come from the Nike Terminator, Air Jordan 1, and Air Force 1. The shoes' design allows for easy movement; the basic things you need in basketball are pivoting and blocking, which Nike Dunks provide, making them great basketball shoes.
When it comes to skating, these shoes have been redesigned to accommodate skaters. Nike Dunks have the same outsole grip pattern as the Nike Air Jordan 1. That means you'll have the perfect grip on your skateboard without having to worry about tripping or falling. Nike Dunks have also improved the outsole in recent years by increasing the number of rings around the forefoot, increasing traction, and optimizing grip. So the comfort (due to EVA insoles), flexibility, lightweight feel, and cushioning that Nike Dunks provide make them an excellent choice for skating.
When choosing between Nike Dunks Low and Nike Dunks High for basketball and skating, I always recommend Nike Dunks Low because they are more responsive and lightweight. Nike Dunks High, on the other hand, is the opposite and can sometimes make it hard to move around while playing basketball or skating.
This article will reveal every important detail about Nike dunks that you should know before deciding whether or not to purchase them. So, let's go deeper!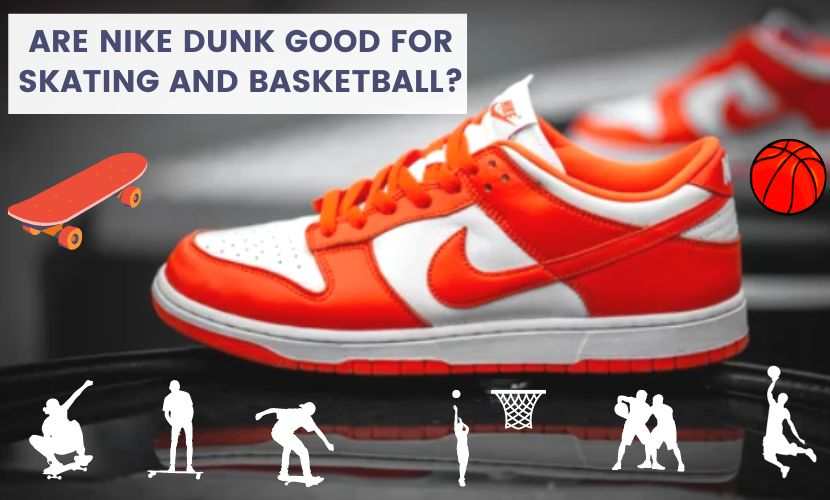 Are Nike Dunks Good for Basketball and Skating?
Nike dunks are popular basketball and skating sneakers. Nike introduced this fantastic footwear as excellent basketball shoes that are perfectly designed to help people play sports more efficiently. Nike dunks are well-made and provide good support and grip, making them an excellent choice for basketball and skating.
However, some skaters find the extra padding around the ankle to be bulky and uncomfortable, so it is important to try them on before purchasing. They also have a slim profile, which makes them ideal for doing tricks, which are popular among basketball players. What's the best part? Nike dunks come in a variety of colors and styles, so you can find a pair that matches your personality and will help you rock on game day!
Nike Dunks lows, as previously stated, are ideal for skaters and basketball players. However, there are two Nike Dunk models. Nike SB Dunks and regular Nike Dunks have their highs and lows.
The grooves on the bottom of the Nike Dunk Low and Nike SB Dunk Low differ significantly. The Nike Dunk Low lacks the grooves and fine lines found on the SB Dunk. So Nike SB Dunks are better for skateboarding than Nike Dunk Low because of the thread pattern, which provides grip and traction for a firm grip on the skateboard.
When it comes to basketball, you can choose either, but my personal favorite is the Nike Dunks Low.
Fact: Nike SB was introduced in 2002 and was specifically made for skateboarding. They have more padding and cushioning than standard Nike Dunks.
Check out: Do Nike Huaraches Run Small, Big Or True To Size?
What Type of Shoe is Nike Dunks?
Nike Dunk shoes were first introduced in 1985. They are designed to provide extra support and traction on the court and are frequently worn by professional and college players. Nike dunks are a type of basketball shoe designed for players who require extra ankle support. 
They are made of  lightweight, durable material, and the outsole usually has a herringbone pattern for added traction. Nike dunks come in a variety of colors and styles, and they can be found at most sporting goods stores, making it easy to find your favorite pair. A pair of Nike Dunks costs around $160, which is quite reasonable when compared to other shoes such as Yeezys.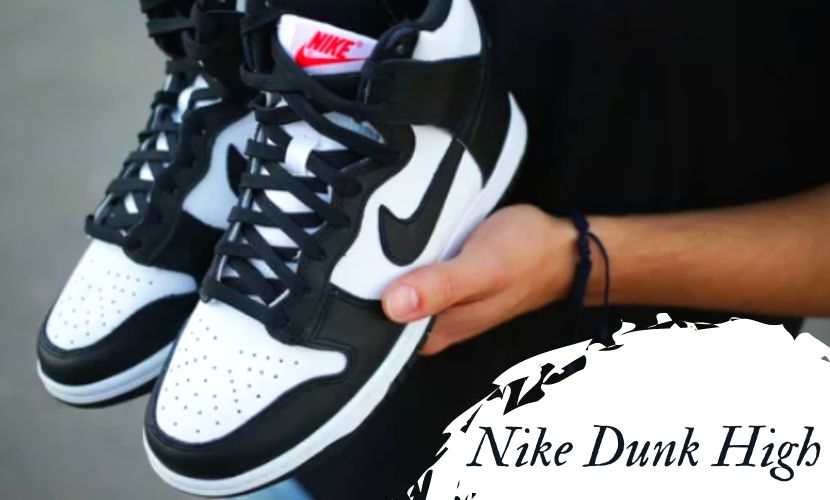 What Sport Can You Play with Nike Dunks?
Nike dunks can be used in a range of sports, including basketball, football, and tennis. They are adaptable and aid in the improvement of your game. When you wear Nike Dunks, you will notice an improvement in the movement of your feet. The outsole having thread pattern is designed to provide adequate traction and can be worn for both short and long-distance running. Nike Dunks are also stylish and comfortable, making them an excellent choice for any athlete.
They are versatile shoes with good traction and support on a variety of surfaces. So, whether you want to rock on a tennis court or ace the game of basketball, they should get along. Nike dunks are also generally comfortable to wear, making them an excellent choice for athletes looking for performance-enhancing footwear.
Also read more on: Are Nike Waffle One Good For Running?
Design of Nike Dunk
The design of Nike Dunks makes it stand out among other products of the same category. When it comes to Dunks, you should be confident that you are dealing with high-quality sneakers that prioritize customer comfort and modern fashion trends.  
To make it more clear, let's look at the design of Nike Dunks and the materials used in their production!
Outsole 
The outsole of most Nike Dunks is made of pure rubber that offers excellent comfort and stability to athletes on slippery and rough surfaces.
Midsole 
The Nike Dunks feature a full-length EVA midsole for added comfort and cushioning. The midsole is rigid and does not change the shape of your feet, which aids in the relief of painful cramps.
Upper 
Nike Dunks have a breathable and flexible leather upper that keeps sweat away from your feet. Furthermore, the toe box has perforations to keep you cool and active throughout your game.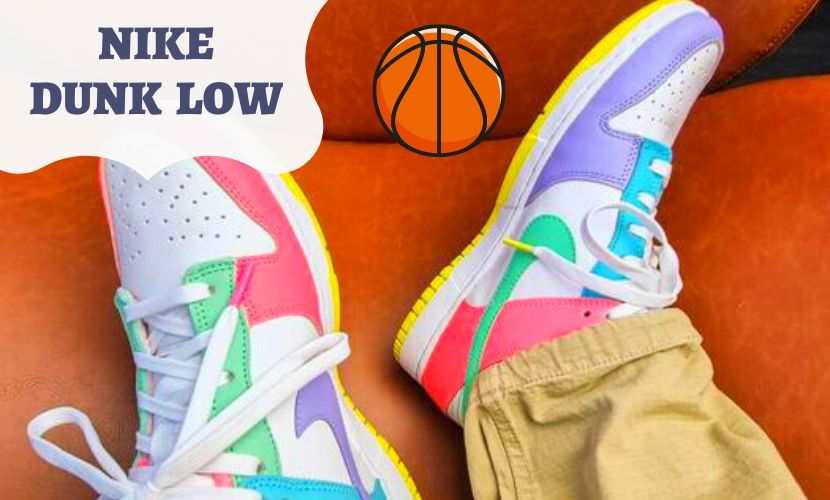 Can You Play Basketball with Nike SB Dunks?
Yes, you can play basketball while wearing Nike SB Dunks because they are specifically designed for basketball and provide excellent traction and support on the court. They are also extremely comfortable, making them an excellent choice for players of all skill levels. The bounce, cushioning, stability, and ankle support that you get with a pair of Nike Dunks help you excel in your game.
Are Nike SB Dunks Good for Skateboarding?
Due to their style and durability, Nike SB Dunks are frequently recommended for skateboarding. However, there are a few things to keep in mind when selecting Nike Dunks for skateboarding. 
The first is that Nike SB Dunks can be expensive, so make sure the model you get is suitable for skateboarding (go for SB Dunks Low).
Second, because Nike Dunks are designed for basketball, it may not provide the best support and protection when skateboarding, so choose Nike SB Dunks instead. Third, because Nike Dunks High is heavy, they may not be the best choice for tricks and flips. Overall, Nike SB Dunks are an excellent skateboarding shoe if you want a durable and stylish shoe and are designed for skaters. 
Read more on: How To Clean Air Force Ones?
Which Nike Dunk is Low or High for Skateboarding?
Some skaters prefer the low version of the Nike Dunk because it provides more stability and a better board feel, whereas others prefer the high version. After all, it provides more ankle support and style. It all comes down to what feels right for the individual skater. Nike dunks come in low and high versions, and both can be excellent skateboarding shoes.
The primary distinction between the two is the height of the shoe, as well as security and stability. The low version is ideal for skateboarders who want a shoe that is closer to the ground and provides more stability, whereas the high version is ideal for those who want a bit more height and support. It is ultimately up to the skateboarder to determine which version is best for them.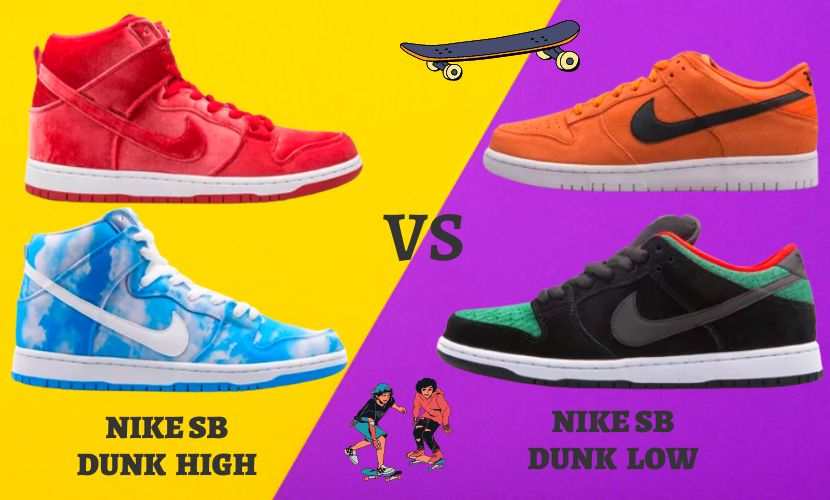 Dunks Low or High for Basketball?
Nike Dunks are the go-to shoe for not only sneakerheads but also anyone looking for fashionable footwear. When looking for the best Nike Dunks for basketball, you'll notice two categories: Dunks Low and Dunks High. There is no definitive answer to whether Nike Dunks  Low or High to be perfect for basketball. 
Some players prefer Dunks Low as their ultimate game booster, while others prefer Dunks High. It is ultimately up to the individual player to determine what works best for them.
However, there are a few factors to consider before deciding on Dunks low or high. The Dunks Low is lightweight, flexible, and provides you with efficient movement. These shoes have a small or low top, so check the rim height because Nike Dunks Low is a good option as the rim is set lower. 
Furthermore, Dunks Low is useful if a player is light on weight and wants extra mobility. 
Conversely, if a player is heavy and requires stability as well as efficient running, the Nike Dunks High is ideal. These shoes are made to provide excellent shock and stress resistance while keeping the ankle and knees secure. Dunks High has an excellent ankle lock-in feature and provides the necessary bounce. Both the Dunks High and Low shoes are the best in their respective categories, but you should choose the one that best meets your needs.
Conclusion
Nike Dunks are ideal for basketball and skateboarding. If you plan on skating, the Nike SB Dunks Low will certainly meet your needs, but if you plan on playing basketball, the regular Nike Dunk Low or High will suffice. You can also wear Nike Dunks while doing other activities, such as playing tennis or football.
Nike Dunks have great traction, stability, and bounce. The outsole of the SB Dunks is important for providing grip because it has a threaded pattern, and with new technology used in Nike SB Dunks, the rings have been increased to add more traction for skateboarding.
More Articles: