If you are a Crocs owner, who wear half sizes, or have wide feet, and are looking for comfort, snug-fitting, and ample room for accommodation, I have both good and bad news for you. 
No, Crocs don't have half sizes and generally run true to size. But there's a solid reason for that. Crocs don't feature half sizes because they are generally meant to have a more relaxed fitting. However, unlike other shoes, they not only offer full sizes but also close sizes ranging from ⅜ to ⅝ in between. 
Let's go over how Crocs will fit you and whether you should stretch them to compensate for the lack of a half-size.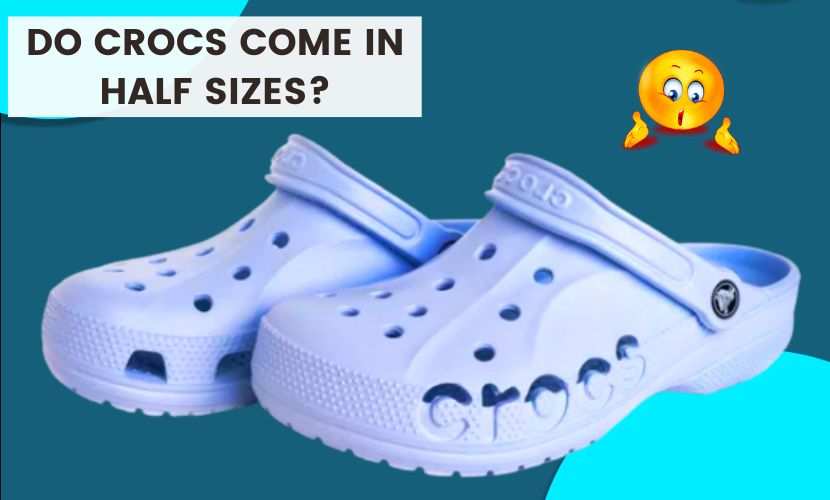 Do You Have Half Sizes in Crocs? 
As mentioned previously, they only come in whole sizes. So, if you wear half sizes, I suggest going half a size down in Crocs, especially Classic Crocs.
Are Crocs True to Size?
Overall, Crocs run true to size, with a few exceptions in some types. Since they are genuinely spacious and comfortable, you will find them wide and roomy. 
Depending on how much room you want in your Crocs, you can size them up and down according to your choice.
Read more on: Why are Crocs So Expensive?
Crocs Sizing Chart 
Let's clear your sizing confusion with size charts for Crocs:
Women's Crocs Size Chart
| | | | | |
| --- | --- | --- | --- | --- |
| US/AU | UK | EU | Inches | Millimeters |
| 3 | N/A | N/A | 8 | 204 |
| 4 | N/A | N/A | 8 3/8 | 212 |
| 5 | 3 | 34-35 | 8 5/8 | 221 |
| 6 | 4 | 36-37 | 9 | 229 |
| 7 | 5 | 37-38 | 9 3/8 | 238 |
| 8 | 6 | 38-39 | 9 5/8 | 246 |
| 9 | 7 | 39-40 | 10  | 255 |
| 10 | 8 | 41-42 | 10 3/8 | 263 |
| 11 | 9 | 42-43 | 10 5/8 | 272 |
| 12 | 10 | N/A | 11 | 280 |
Men's Crocs Size Chart
| | | | | |
| --- | --- | --- | --- | --- |
| US/AU | UK | EU | Inches | Millimeters |
| 4 | N/A | N/A | 8 5/8 | 221 |
| 5 | N/A | N/A | 9 | 229 |
| 6 | N/A | N/A | 9 3/8 | 238 |
| 7 | 6 | 39-40 | 9 5/8 | 246 |
| 8 | 7 | 41-42 | 10  | 255 |
| 9 | 8 | 42-43 | 10 3/8 | 263 |
| 10 | 9 | 43-44 | 10 5/8 | 272 |
| 11 | 10 | 44-45 | 11 | 280 |
| 12 | 11 | 45-46 | 11 3/8 | 288 |
| 13 | 12 | 46-47 | 11 5/8 | 297 |
| 14 | 13 | 48-49 | 12 | 305 |
| 15 | 14 | N/A | 12 3/8 | 314 |
| 16 | 15 | N/A | 12 5/8 | 323 |
| 17 | 16 | N/A | 13 | 331 |
How to Check Your Feet Size With Crocs Sizing Chart?
Foot growth normally slows after the age of 20. However, swelling, pregnancy, and other factors can cause the size to increase. So, if you fall into any of these categories or need Crocs for a child, it's critical to measure your feet and compare them to the size chart.
Check out: Are Crocs Supposed To Be Loose?
Here's how you can measure your feet:
Place your foot on a piece of paper and outline it with a pencil.
Measure the width and length of the sketch and record the measurements in centimeters and inches.
Compare your results to the size chart above.
If your readings lie within ⅜ and ⅝ and you don't know how to evaluate them on the ruler, here's a trick to follow. If you notice your length coming two digits prior to the half size (any measurement in 0.5 cm), that represents ⅜ cm. But if it's two digits after 0.5 cm, that represents ⅝.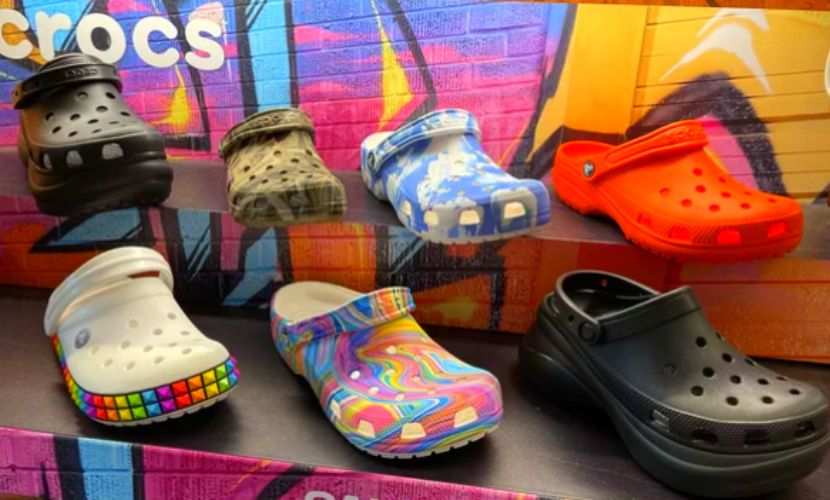 Crocs Sizing Comparison
Crocs have mixed sizing; some run small, and others are big or true. Here's a summary for you to differentiate between various types of Crocs:
Crocs That Run True To Size:
Crocs LiteRide
Classic Clog,
However, Classic Crocs run small for most people as well.
Crocs That Run Big:
The following Crocs run slightly bigger than Classic Clog:
Crocs Bistro Pro
Crocs Specialist II
Crocs Bistro.
Crocs feature 3 types of fit; Roomy, Relaxed, and Standard. Overall, the roomy fit Crocs don't seem to run true to size, and most pairs require sizing up or down half a size. In contrast, the standard fit Crocs run true to size in general. But if you have narrow feet, the Standard fit will run big.
Check out: Do Crocs Shrink?
Are Crocs Too Big for Your Feet? What next?
If your Crocs are way too big for your feet and pairing them with thick socks isn't your go-to option, you have to play with moisture and heat to make them small. Here's what you can try:
Place Crocs in a Dryer
Set the dryer's timer to 10 minutes at a low-medium temperature setting. 
Put a damp towel over the Crocs and place them inside the dryer.
Keep an eye on the process, ensuring the heat doesn't damage the Crocs.
Once done, remove the Crocs and allow them to cool to a temperature your feet can bear.
Wear your Crocs around until they fit snugly to your feet.
Leave them under the sun
Leave your Crocs in the sun or a hot car for 30 minutes, and you will notice them shrink half a size within half an hour. 
Grab your hairdryer
A hairdryer can help you shrink Crocs in the desired areas, especially the straps. Just turn your hair dryer to a high heat setting, and point them to the desired Crocs' areas for around 10 minutes in a to-and-fro direction, while keeping them on a flat surface. 
Then, remove the dryer until you get the desired shrinkage.
Are Crocs Too Small for Your Feet? What now?
We all know how expensive Crocs are, and if you have missed the return policy days, you don't need to worry if you find your Crocs too small for your feet.
You can stretch your Crocs manually and naturally in many ways:
Heatless methods
Stretching Crocs without heat is a blessing and a curse for Crocs owners. At one point, you are safe from accidentally harming Crocs. However, the process is time-consuming. So, how do you stretch them without using heat?
Method 1: Wear your Crocs with thick socks.
Thick socks provide the additional layer required to stretch your Crocs at home. Wear 2-3 thick socks and walk around in your Crocs for around 30 minutes for at least a week, or until you achieve the desired fit. However, if you notice that the socks are impeding your blood circulation, reduce the number of pairs or the length of time you wear the Crocs.
Water expands upon freezing. And you can employ the same technique to expand your Crocs. Here's how:
Grab some zip lock bags, fill them with water, and place them in areas you want Crocs to stretch.
Freeze your Crocs overnight.
At the end of the day, remove the frozen bags from the Crocs.
Wear your Crocs while they are still cold, and repeat if required.
You will feel the stretch as you walk around.
Heat methods
It may sound strange, but applying heat to Crocs can cause them to shrink and stretch. As a result, make certain that you stretch Crocs using the proper method. When it comes to heating Crocs, keep in mind that overheating them can cause damage. So here are some solutions:
Method 1: Microwave your Crocs
Yes, microwaving Crocs for around 1-2 minutes has been proven beneficial for many. 
So, after you microwave them, put on your Crocs and walk around; they will stretch. If you are not going to be wearing your Crocs for long periods of time, I recommend putting some newspaper balls inside them because they may shrink the next day.
However, ensure that you check your Crocs between 30 seconds of every microwave session to inspect if the Crocs don't melt. Though this method sounds risky, it's very effective for stretching Crocs.
Method 2: Soak your Crocs in hot water.
Though this method sounds risky, you can shrink your Crocs in hot water. Here's the deal: soak your Crocs for no more than a minute in a heat-resistant pot or bucket. For best practice, keep flipping your Crocs inside the water until they become stretchy. 
When you feel the stretch, take them out and let them cool for a while, until the warmth is tolerable. Then put on your thick socks and pair them with warm Crocs to walk around in and stretch them until they are cool. If the Crocs are still too tight, go through the entire process again.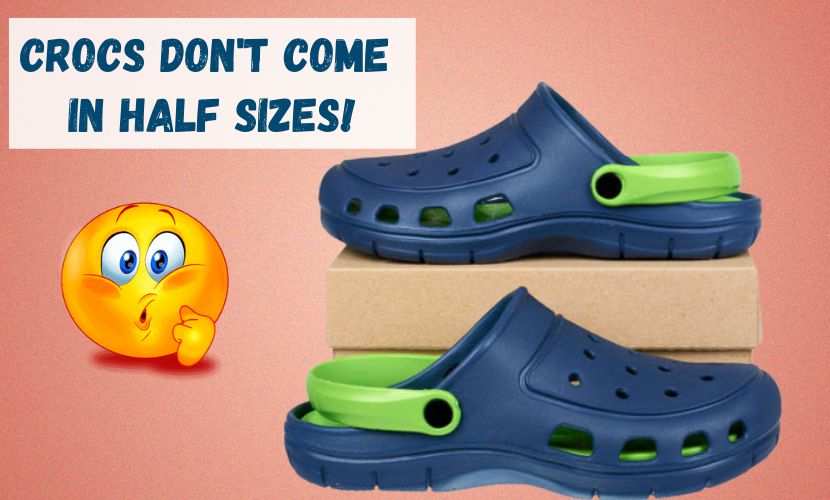 Why Do Crocs Have 2 Sizes on the Bottom?
This question perplexes many Crocs owners, but the answer is straightforward. Crocs has unisex shoes, such as the Crocband clog, with two sizes at the bottom. On the left, one number is labeled with an M, and on the right, with a W. 
So, if you think that the M and W sizes represent sizes for both sexes, you are absolutely right! Unisex shoes are available in two sizes, with the women's (W) size number always being greater than the men's.
However, you will see two numbers without M or W in Crocs for kids. Kids' shoes have two sizes, as seen in most other brands. For example, the C6-C7 represents US/UK size 6 and 7 and is usually marked at the bottom with a C between 6 and 7. I think it's because Crocs don't have half sizes, and kids grow up quickly. Such dual sizing makes sizing for kids of both sexes much easier and less stressful.
If I Wear 7.5, 8.5, or 9.5 in Women's Shoes. What Size Crocs Should I Get?
If you wear women's sizes 7.5, 8.5, or 9.5, I recommend sizing down (half a size) in all pairs. Why? Crocs, especially the Classics, run large when sized up. However, if you have wide feet, you may need to size up and choose sizes 8, 9, and 10. Overall, you should try on the shoes yourself because sizing varies from person to person.
When trying on the pair, make sure the toe isn't protruding or touching the toe box/frontal part of the Crocs.
Conclusion: Do Crocs Have Half Sizes?
Crocs do not come in half sizes due to their roomy fit. In terms of fit, they run true to size in most cases but can be large or small depending on the width and requirement of the foot. 
If your Crocs are out of your sizing zone, you can easily shrink and enlarge them to a certain level.
More Articles: