Do you like skateboarding so much that you spend time evaluating different designs every day? As much as you might want to spend your time choosing different varieties of skateboards, you also have to choose a good pair of shoes for an improved skating experience. Choosing the right shoes for skateboarding is crucial and if you are thinking about using Vans, here's what you should know.
This article will tell you everything you need to know about whether vans are suitable for skateboarding.
Vans shoes are specifically designed for skateboarding. Its grippy rubber insole, waffle outsole, canvas or suede uppers, and other distinctive features, make it an excellent pick for anyone seeking the best skate shoes. Vans provide the best grip between the skateboard and the shoes, lowering the danger of an accident when skateboarding.
They offer the best ankle support, are long-lasting and comfortable, and have a high shock-absorbing capacity. To answer the question, Vans sneakers are best for skateboarding.
Due to the exceptional design of Vans shoes, it's now the perfect choice for skaters independent of their experience. No matter the type of skateboard or terrain you skate on, Vans make quality shoes for skating in any condition.
Here's what you need to know about using Vans shoes for Skateboarding.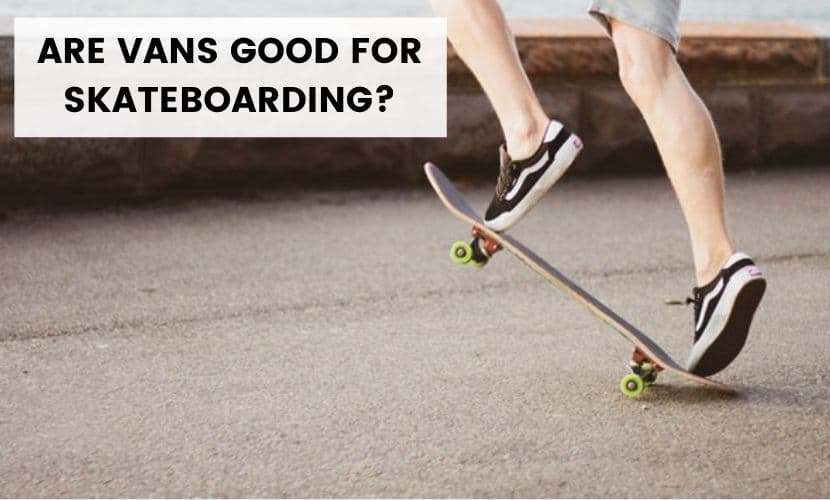 Can You Skate With Vans Shoes?
Yes, Vans shoes are specifically made for skateboarding. Among other popular brands of shoe manufacturers, Vans remains the first brand to specifically design shoes for skating. Vans have been popular for as long as the 70s while competing with other brands like BMX that specialize in manufacturing skating shoes.
Vans have made it possible that anybody wearing them is assumed to be a skater. It's not like people can't wear Vans to walk around and have fun, but the fact that skaters love this brand of shoes is undeniable. 
Read more about: Do Vans Stretch? 5 Easiest Ways To Break In Vans
Are Vans Good Or Bad For Skateboarding?
Vans shoes are best suited for skateboarding. Vans is a popular shoe manufacturing company that's based in America. However, the fact that many people consider Vans as the perfect skating shoes don't only rely on their brand popularity but its design features. The design of Vans shoes can match almost any outfit and they are super comfortable.
Van shoes have rubberized soles, which make them both flexible and fashionable. The padded collar also contributes to a better fit by absorbing shocks and protecting the foot from external impact. Vans are typically made with suede for the upper, sturdy fabric, and custom linings. Rubber soles provide a good grip and traction, which is essential for the skater's safety.
Vans are designed to provide skaters with the comfort they need to skate safely for a long period. Vans shoes can be worn for a long period if you are a skater that needs shoes for standing and walking throughout the day.
However, you ought to know that wearing Vans for a long period can cause blisters. Wearing them for a couple of hours is advisable, but wearing them for a day might cause foot injuries.
Read more on Are Converse True To Size Or Not?
Which Is Better Converse Or Vans For Skating?
Both Converse and Vans represent a different style of design, which indicates that one is not better than the other. Due to this, most people prefer owning both Converse and Vans based on their skating preferences. One is not better than the other. Each represents a different style, culture, and buyer. Although many people who own one also own the other.
For example, Vans make slip-on shoes while Converse doesn't. Most of the Vans high-top shoes look like a boot while Converse makes very sleek high-top shoes. Below are more facts you should know about Vans and Converse shoes.
| | |
| --- | --- |
| Vans For Skateboarding | Converse For Skateboarding |
| Vans have canvas and suede uppers, waffle grippy outsoles, and rubberized insoles. They are a manufacturer's brand that focuses on designing skate shoes. They concentrate on revealing new styles on a regular basis to indicate what a skater is wearing. Because of their fancy curves and fantastic interior designs, Vans shoes are more padded than Converse. | Converse are made with vulcanized construction for a high-quality finish. Converse shoes are flexible and comfortable, with a well-cushioned insole. Converse shoes have a thick rubber sole that provides enough traction for walking and leaping. Converse shoes are made for basketball, but that doesn't mean they can't be worn on the street. |
Nothing looks better with an outfit than a pair of Converse (All-Stars). When it comes to bulky styles, Vans are also good with fancy looks and designs. Converse and Vans are excellent skateboarding shoes. You can go with either of them or both of them. You will notice a significant improvement in your skating experience.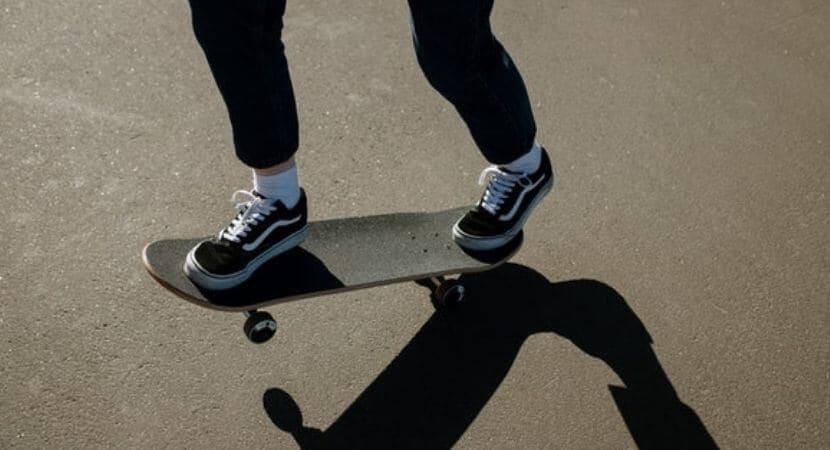 What Are Some Simple Skateboarding Tricks You Can Do With Vans?
Vans make any skateboard move very simple, you can do any skateboard trick with vans. They provide the best flexibility and grip to the board, allowing you to perform each trick with ease. You can wear them to a skate park and are the best choice for any skaters I have seen till now.
Here are a few tricks which you can perform with vans:
Regular
Goofy
Nollie
Fakie
Switch
Pop
Flick- foot turned sideways
Hippie Jump
Flip On
Wall Bounce
Firecracker
Rail Sand
Backside 180
Power sliding
Manul
What Variants Of Vans Shoes Are Good For skating?
Vans have different varieties of shoes that are suitable for skating. Check out the below lists to learn about the Vans shoes that are good for skating:
1. Authentic Vans
The Authentic is a fantastic pair of shoes from Vans. The style is widely recognized in the skating community. It can be said that Vans have skaters in mind while designing the Authentic. From the curve of the shoe to its cushioning suits any skating environment perfectly. The Authentic is durable and flexible, true to size, and super comfortable which makes it resistant to wear and tear and lasts longer than other sneakers.
2. Old Skool Vans
Old skool is a unique design from Vans that are well-styled to ensure comfort. The old skool variant is among the first shoes from Vans to have a side stripe along the arch. Old skool shoes are well-cushioned with soft padding and toe caps, which makes them comfortable to wear for a long period.
3. Slip-On Vans
Slip-On is the perfect choice when you want simple skating shoes. Vans have been manufacturing the styles of Slip-On shoes since the 70s. It's designed in such a way that it doesn't have laces or fasteners for comfort. The flexibility and simple design of the Slip-on make it perfect for everyday wear.
4. Era Vans
Many people don't know about Era, but that doesn't make it less popular among skaters. Era is among the first styles of shoes created by Vans in the 70s. That's the main reason most people who skate today don't know about it. The Era was cushioned with enough padding on the collar to provide ankle support, which is perfect for shock absorption. The Era is designed to last for a long period, which makes it look sturdy.
What Materials Are Vans Shoes Made Of?
Vans shoes are made of Canvas with rubber soles that provide support when wearing them. The top layer is made of durable suede leather. Also, the tip of the shoes is often reinforced with a special material that starts from the top toes to the back laces. The insoles are padded with foam to keep the feet in a stable position for comfort while skating.
The double-stitched canvas seen on the majority of Vans is more durable than suede and will get you through even the most difficult skateboard tricks. There are several Vans with elegant leather uppers and a big toe box that keeps your toes from feeling cramped.
Are Vans Slip-On Good For Skating?
Yes, Vans Slip-On is a popular variant of Vans shoes designed specifically for skateboarding. The Vans Slip-On features a simple appearance that is ideal for skating and casual wear.
Vans has a reputation for creating flexible shoes that are ideal for skating. The insoles of Vans slip-on shoes were critical in terms of support and shock absorption.
Are Old Skool Vans Good For Skating?
Vans Oldskool shoes are among the best variants from Vans for skating. Unlike other Vans shoes, the Oldskool Vans have different designs and colors. However, the soles are made of rubber, which is perfect for skateboarding. The sole is perfect for providing a strong grip on the ground surface.
Most of the Oldskool Vans come with a certain pattern on their soles to provide grip and traction. The rubber soles don't only provide traction but protect the feet from injuries.
What Vans Are Good For Skating?
Vans shoes come in a variety of styles. Only a few of them, however, are ideal for skating. Vans skate shoes such as Era, Old Skool, Slip-On, and Authentic are the most popular among skaters. Each of these Vans shoe styles is intended to enhance the skater's experience.
Are Vans Comfortable And Durable?
Yes, Vans are designed with durable materials that make them comfortable on foot. Among other brands of shoes for skaters, Vans remain the perfect choice because of its durability and comfortability. You can casually wear Vans shoes like normal shoes and they will look great on almost any outfit.
Do Vans Provide The Perfect Grip Between Your Feet And Skateboard?
Yes, Vans shoes are designed in a way that the feet will go deep inside the shoes to feel the board. Also, the old Skool Vans are perfect when looking for Vans shoes that can grip your feet on the skateboard.
The Old Skool Vans sole is designed with a soft vulcanized rubberized insole. Because of its flexibility, Vans Old-waffle skool's outsole is ideal for providing better traction. So when looking for the perfect Vans shoes for skateboarding, you should start with Oldskool Vans.
Final Thoughts: Are Vans Good For Skateboarding?
Vans is a popular brand of shoes that manufactures different varieties of skating shoes. Each of these shoes from Vans is unique in its way with lots of amazing features like stitching, cushioning, padding, and colors.
If you are thinking of using vans for skating then go with them. When you try different skateboard tricks, you will notice a significant difference. Vans give skateboarding a distinct advantage in terms of solid waffle grip and extreme flexibility.
More Articles: