Every Nike customer wonders whether Nike Huaraches run small, large, or true to size. The fit of your shoes is influenced by various factors, including the type of shoe, the manufacturer, the country of manufacture, your gender, your foot shape, and other factors. As these variables differ, measuring shoe size can be tricky.
Furthermore, many shoe manufacturers use different sizing systems, and shoes of the same style may have different fits and sizes even within the same manufacturer and brand. This further complicates the process, making it difficult for a die-hard Nike fan to determine whether their new Nike Huaraches will fit. 
Nike Huaraches typically run half a size or a full size small. To get a proper fit in these shoes, you should consider going a size up. They usually provide you with enough grip to propel forward and backward and are very comfortable. Nike Huaraches have a snug fit because of the back strap, which is made of plastic and does not stretch much, making it a bit tight to wear. However, it has been noticed that after wearing them for a week, they easily stretch out.
So, how do you know which size to buy? Don't worry, we'll take care of this for you! So read till the end.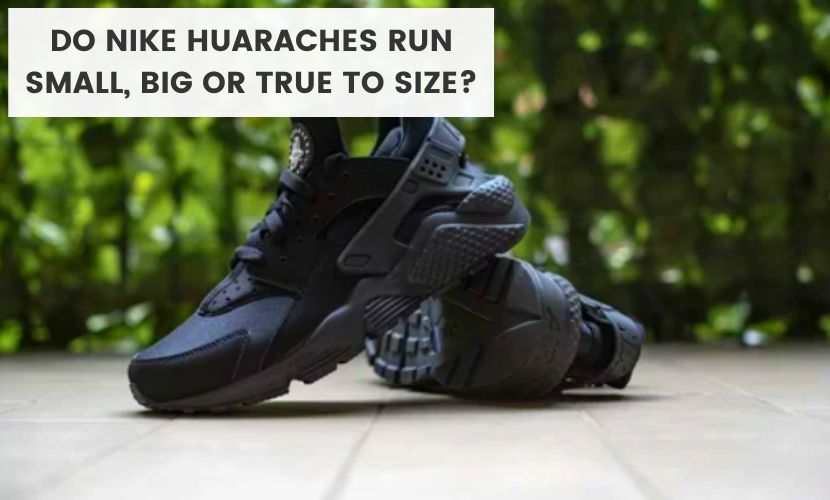 Do Huaraches Boots Fit True To Size?
Since Huaraches boots come in a wide range of sizes and shapes, answering this question is difficult. Huaraches boots fit true to size for some people, but they run slightly small or large for others.
The best way to tell if a pair of Huaraches will fit you properly is to try them on. This will prevent you from purchasing the incorrect size and wasting your money. If you can't go shopping in person and want to buy a strapped shoe, go for a slightly larger size because the straps can be tightened later.
Read more on: Hoka Vs Nike
How Should Huaraches Fit?
The ideal fit for a pair of Huaraches will vary depending on the individual's foot shape and size, so there is no one-size-fits-all answer to this question. However, there are a few general guidelines that can be followed to ensure a comfortable and stylish fit.
Firstly, Huaraches should be snug enough to keep your foot secure but not so tight that they cause discomfort. The straps should be adjusted as well so that they are neither too loose nor too tight. Second, the huarache should sit flush against the Achilles tendon, with the front of the shoe not rubbing against the toes.
Finally, it is critical to select the correct size of Huaraches. Huaraches that are too small will be uncomfortable and may cause blisters, while Huaraches that are too big will be difficult to walk in and will also cause discomfort. When in doubt, err on the side of a slightly larger size because the straps can always be adjusted.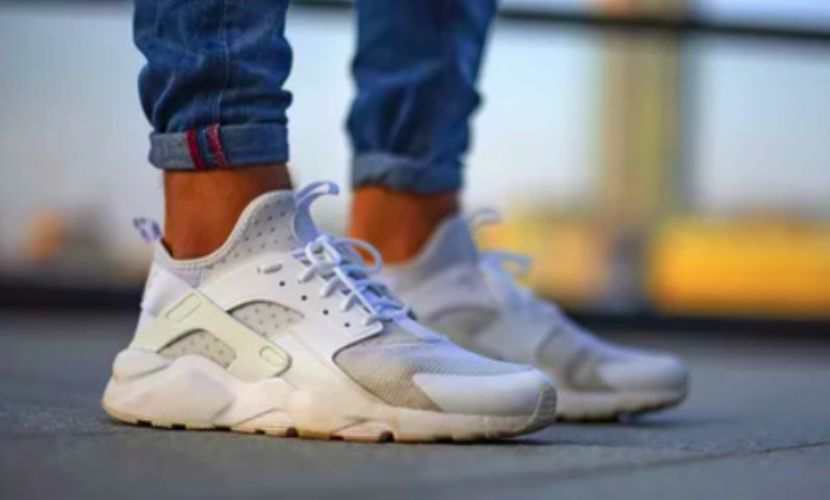 Huaraches Sizing Chart
Our Huaraches Sizing Chart will help you find the perfect fit! Simply measure your foot length in inches and find the corresponding size in our Huaraches range.
Men's Nike Shoes Size 
| | | | | | | | | | |
| --- | --- | --- | --- | --- | --- | --- | --- | --- | --- |
| US | 7 | 8 | 8.5 | 9 | 9.5 | 10 | 11 | 12 | 13 |
| UK | 6 | 7 | 7.5 | 8 | 8.5 | 9 | 10 | 11 | 12 |
| ER | 40 | 41 | 42 | 42.5 | 43 | 44 | 45 | 46 | 47 |
| CM | 25 | 26 | 26.5 | 27 | 27.5 | 28 | 29 | 30 | 31 |
Women's Nike Shoes Sizes 
| | | | | | | | | | |
| --- | --- | --- | --- | --- | --- | --- | --- | --- | --- |
| US | 5 | 5.5 | 6 | 6.5 | 7 | 8 | 8.5 | 9.5 | 10 |
| UK | 2.5 | 3 | 3.5 | 4 | 4.5 | 5.5 | 6 | 7 | 7.5 |
| ER | 35.5 | 36 | 36.5 | 37.5 | 38 | 39 | 40 | 41 | 42 |
| CM | 22 | 22.5 | 23 | 23.5 | 24 | 25 | 25.5 | 26.5 | 27 |
Kids' Nike Shoes Sizes
| | | | | | | | | | |
| --- | --- | --- | --- | --- | --- | --- | --- | --- | --- |
| US | 8C | 9C | 10C | 11C | 12C | 13C | 1Y | 2Y | 3Y |
| UK | 7.5 | 8.5 | 9.5 | 10.5 | 11.5 | 12.5 | 13.5 | 1.5 | 2.5 |
| ER | 25 | 26 | 27 | 28 | 29.5 | 31 | 32 | 33.5 | 35 |
| CM | 15 | 16 | 17 | 18 | 19 | 20 | 21 | 22 | 23 |
Which Huaraches Size Should I Go For?
If you're between sizes, we recommend going up to a larger size; this is because Huaraches can run a little small, and you don't want them to be too tight. Huaraches are available in both standard and wide widths. We recommend going with the wide-width option if you have wider feet.
Finally, keep in mind that Huaraches are typically worn without socks. If you intend to wear socks with yours, you may want to size up, even more, to account for the extra bulk. Ultimately, the best way to determine which size Huaraches to purchase is to try them on.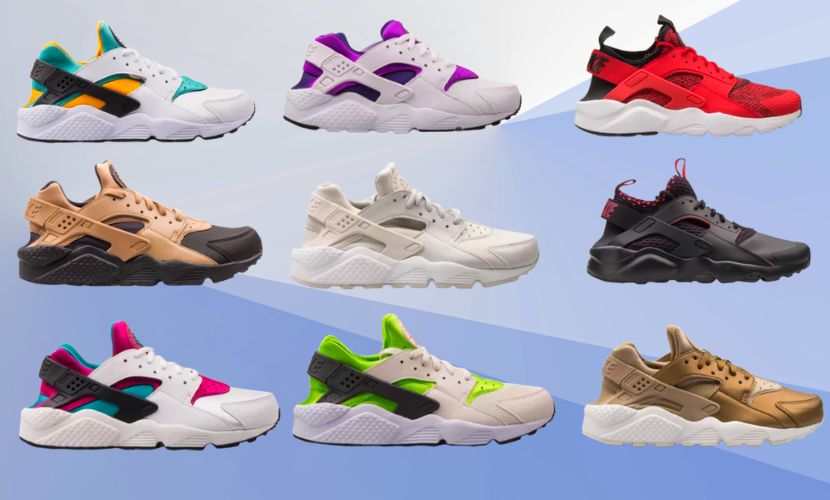 Should I Size Up Or Down In Huaraches?
When deciding whether to size up or down in Huaraches, there are a few factors to consider. 
First, think about the type of Huaraches you're looking at: are they traditional Huaraches or a more modern style? 
Second, consider how you want the Huaraches to fit: snug and comfortable or loose and relaxed. Finally, consider your personal style preferences; some people prefer a more snug fit, while others prefer more room in their shoes.
If you're not sure which size to get, it's always best to err on the side of caution and go with the larger size. That way, you can constantly adjust the Huaraches to perfectly fit your feet, but you'll never be stuck with a pair that's too small.
What To Do If My Huaraches Run Small?
You can wear Nike Huaraches around the house to break them in. But if they are too small, you can break them in by using a hair dryer on them for two to three minutes.
You can also use a shoe stretcher or shoe tree to make them fit better in a day or two. Just be careful not to overdo it, because if you turn the shoe stretcher too quickly, it can tear the shoes. So, these steps must be done with a lot of care.
The other way is to use the freezing method. To do this, take two sandwich bags and fill each one halfway with water. Then, put one bag in each shoe. Now put them in the freezer for 3 to 4 hours. After that, take them out and wear them around the house. You will notice the difference and feel how they have transformed.
Check out: Do Brooks Run Small, Big Or True To Size?
What To Do If My Huaraches Run Big?
If your Huaraches are too big, try wearing them with socks first. This will help to fill any extra space in the shoe and make it feel snugger. If that fails, you can try insoles or heel grips. These can help to fill some of the space and make the Huaraches more comfortable. Finally, if all else fails, try exchanging or returning the Huaraches for a different size.
Do Huaraches Come In Half Sizes?
Huaraches are a type of traditional Mexican sandal, typically made from leather or other natural materials. They usually come in whole sizes, but some brands do offer half sizes. If you're not sure what size to get, it's best to go up a size, as Huaraches can sometimes run small.
Do Huaraches Stretch? 
Yes, Nike Huaraches do stretch. They are made of a soft, pliable material that molds to the shape of the foot. Huaraches will stretch to fit the foot more snugly with continued use. 
Some people may find this a comfortable fit, but others may prefer a looser fit. If you're not sure, try on a pair of huaraches before you buy them.
Do Huaraches Make You Taller?
Huaraches will not make you taller. However, because they often have higher heels than other shoes, they may give you the appearance of being taller. 
Furthermore, the straps on Huaraches can make your legs appear longer and leaner, adding to the illusion of height. While Huaraches will not make you taller, they will give you the appearance of being taller.
Conclusion 
We discovered that Nike Huaraches run a size smaller than other shoes, but based on the reviews, they appear to be true to size for many customers. To be on the safe side, go one size up, either half or full. You can always return them if they don't fit properly, or try the other methods listed above to stretch or shrink them. 
The snug fit can be frustrating at first, but after wearing them regularly, they will stretch out and you will be able to enjoy the comfort. The best thing about Nike Huaraches is that they offer excellent comfort, lightweight, and padding all at the same time.
More Articles: