When you think of "top white sneakers," do you picture the Nike Air Force 1? Unsurprisingly, these kicks have been on people's minds for over 40 years.
Because of the pricey AFs, footwear enthusiasts have turned to Nike Court Vision, often called wallet-friendly AFs. Consequently, some may believe that the two models are indistinguishable. But is that accurate?
Not exactly. The Nike Air Force 1s and Court Vision may share a similar look, but subtle contrasts exist. For instance, AF 1s are sizable, more comprehensive, and comfier. In contrast, Court Vision is smaller, firmer, and less comfortable than AF1s.
Let's delve deeper and debunk some misconceptions.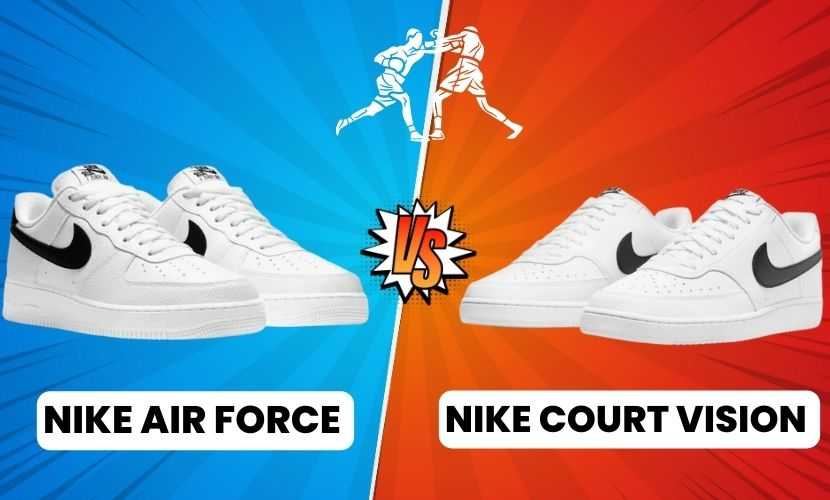 Nike Air Force 1 Vs. Court Vision Origin comparison
First appearing in 1982 on Italian streets as the "Air in the Box," the Nike Air Force boasts an impressive history. Named after the presidential plane, Air Force One, it became the first basketball training shoe due to Bruce Kilgore's efforts. Numerous iterations of the Nike AF1s have been released since then.
Conversely, the Court Vision is not as renowned as the Nike AF1 and debuted in 2014 as a distinct model. Despite their striking similarity and shared inspiration, Court Vision was not designed for basketball. Instead, as the moniker implies, these sneakers were initially crafted for tennis as part of the Nike Tennis line.
Considering Nike offers footwear for every sport, this substantial difference between the two models is crucial, as athletes can attest to the importance of having specific shoes for various activities. This distinction helps explain why both models enjoy best-seller status, despite their separate origins.
Check out: Hoka Vs Nike
We've made our selections! Could be your next
Differences in Design, Material, Color & Cost
Regarding exceptional white sneakers, one cannot overlook the timeless appeal and iconic design of the Nike Air Force 1 (AF1). The Nike Court Vision, on the other hand, has gained traction as a cost-effective alternative. Despite their similarities, a few crucial disparities distinguish these two models.
Here are a few differences to check out for both shoes:
Design and form: The AF1 is known for its heftier, wider shape, lending it a sturdy and robust look. In contrast, the Nike Court Vision showcases a more slender and sleek outline.
Comfort level: The AF1 boasts a cozy fit due to its generous cushioning and support. Although the Court Vision also provides comfort, it delivers a somewhat firmer sensation.
Materials: Both sneakers use leather for their uppers, yet the quality may vary. The AF1 typically incorporates superior leather, while the Court Vision might use lower-grade leather or synthetic alternatives.
Color choices: The AF1 offers an extensive array of colors and limited editions, while the Court Vision generally presents a more restrained color selection than AF1. Nonetheless, seasonal launches and collaborations may expand the color options.
Logos: A significant distinction between these models lies in their branding. The AF1 sports the iconic Nike Swoosh and "AIR" logo on the midsole, whereas the Court Vision displays a smaller Swoosh and omits the "AIR" insignia.
Cost: As previously mentioned, the AF1 tends to be pricier than the Court Vision, owing to factors such as material quality, design, and brand prestige. The Court Vision, a more affordable choice, appeals to those seeking a similar style at a lower cost.
The Nike Air Force 1 and Court Vision may appear comparable initially, but a closer examination reveals several key differences. Sneaker fans can use this understanding to make well-informed decisions when selecting these options.
Nike Men's Basketball Shoe, Bianco Nero, 8.5
Using synthetic materials, the design features materials that echo mid-1980s basketball shoes.
Padded, low-cut collar looks sleek and feels great while the perforations on the toe and sides add comfort and breathability.
Perforations on the toe and sides
Rubber outsole
Check out: Are Nike Waffle One Good For Running?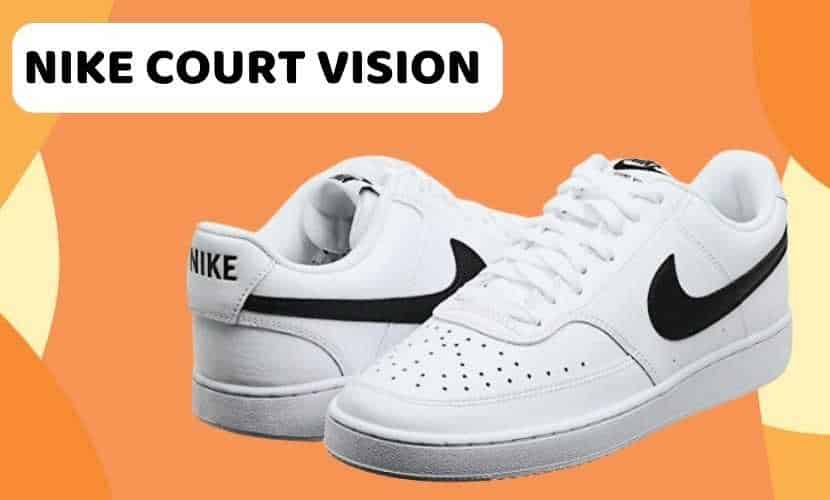 Nike Air Force 1 Vs. Court Vision Design Comparison
If you place the Nike Air Force one and Court Vision pairs side by side, you won't be able to tell the difference. Both are white and mesh and have a similar build. Let's take a close look at them.
Nike Air Force 1
Nike Court Vision
Mesh
Although the newest versions have no mesh uppers, the classic pair did. In addition, keep an eye out for any gaps in the mesh.

The mesh pattern resembles a child's sun drawing, having the holes separated from each other and following a widening straight-line pattern from a fixed point (tongue) — just like the sun's rays in the drawing.
Unlike Nike Air Force one, Court vision's mesh pattern is scattered and resembles a spider's web but has more holes than Nike Air force 1.
Midsole
The midsole is constructed of Phylon foam and includes the Nike Air unit, which has encapsulated air for added cushioning and comfort. 

The phylon foam is made from EVA foam granules that are compressed, thermally enlarged, and then cooled to form the mold.

The thickness of the heel is about an inch and a half.
Instead of an air unit like the AF, it has an EVA cushion and a rubber midsole. This results in the shoe having less arch support and are not suitable for standing all day or athletic pursuits.  The main reason is the shoe's low energy return; thus, they are only suitable for casual usage.

The midsole, on the other hand, has a width of about an inch.
Outsole
The outsole pattern is the same on both versions. However, because of the inclusion of the Air Unit, Nike Air Force Ones have a chunky outsole.
Nike Court Vision's outsole isn't as dense as Nike AFs' and feels hard during walks because it lacks an air unit. As a result, Nike Court Vision creates a loud noise when walking.
Upper
The upper is made of Nike Flyleather (50 percent recycled leather fiber + synthetic materials combined with a hydro-powered process).

The Air Force 1s are more weather resistant than traditional leather shoes, thanks to Nike Flyleather.  
It has a clean top made of 20% recycled materials with stitched overlays.

In addition, the general design of the upper and shoe has been slimmed down.
Toe box
The toe box is significantly larger and rounder than in the Court view.
Is less clunky and boxy than the Nike Air Force 1.
Heel height
Heel height is approximately 1.2in/3cm. (rises higher in the ankle)
For a size 8.5, 1 3/4 in. to 2 3/4 in. (rises lower in the ankle)
Nike Air Force 1 Vs. Court Vision Sizing and Fit comparison
Despite the uncanny similarity, there are significant variations in the size and fit of both models. Let me give you a short rundown.
Nike Air Force 1 runs large due to the larger and deeper toe box, whereas the Court Vision goes true to size. So, if you're in between sizes, I recommend scaling down (half) in Nike AF 1s.
In terms of length, Nike Air Force 1s again outperforms Court Vision and is slightly lengthier.
Read more on: Do Nike Huaraches Run Small, Big Or True To Size?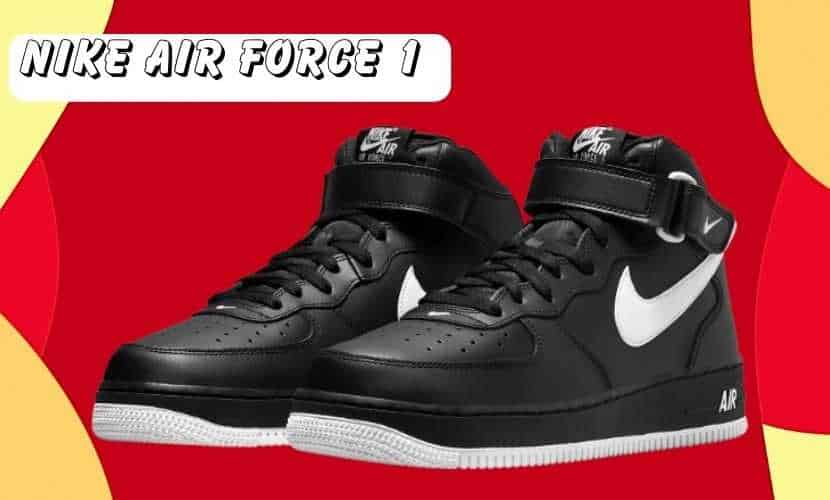 Nike Air Force 1 Vs. Court Vision Price comparison
The Nike Air Force 1 and the Court Vision are available in a variety of colors, with each color indicating a different price. Now that we know that the Court Vision was launched to break down the barriers of the skyrocketing price of Nike AF 1s, here's a summary:
| | |
| --- | --- |
| Nike Air Force 1 | Nike Court Vision  |
| $130 to $400     | $70 to $95 |
Nike Air Force 1 Vs. Court Vision Weight comparison
The Nike Air Force 1 weighs marginally more than the Nike Court Vision. And it's most likely due to their thicker base.
| | |
| --- | --- |
| Nike Air Force 1 | Nike Court Vision  |
| Around 15 oz. | Around 12 oz. |
Nike Women's Court Vision Mid Sneaker, Black/White, 5 Regular US
OLD-SCHOOL B-BALL STYLE: Call back to te 80s with the perforated leather upper and deep traction outsole of this women's Nike shoe. The nike swoosh keeps the classic vibe going.
RETRO ELEMENTS: These Nike sneakers for women use a combination of leather, synthetic leathe, and rubber; the design draws inspiration from mid-1980s basketball shoes
ENHANCED DURABILITY: A rubber cupsole adds durability while an embossed swoosh design & branding details on the upper add style & visual interest to these Nike women's shoes.
HISTORIC STYLE: The heel of these Nike women sneakers references the Air Max 90; notches in the midsole reference the Air Max 1 completing a classic and sporty look.
NIKE WOMEN'S SNEAKERS: Rubber outsole, traditional lacing.
Pros And Cons Of Nike Court Vision And Air Force 1
As for each shoe, both models have a benefit and a drawback to their stories, and  mixed evaluations. Here is an overview of their advantages and disadvantages:
Nike Air Force 1
Nike Court Vision 
Pros
Better for individuals with short stature.
Classic style. 
Breathable.
There are numerous color options offered.
Durable.
Comfortable.
Excellent footing.
Sleeker appearances.
Court Vision has a wider mouth.
Excellent for long days and athletic pursuits.
Multiple colors.
Fit true to fit.
Lightweight.
Excellent value for money.
Durable.
Slightly efficient.
Cons
Heavier.
Expensive.
Run big.
Due to foot bending, leather creases rapidly.
Reduced joint support.
Make noises while walking.
Digs into the foot while walking.
An everyday sneaker that is not intended for long hours or athletic pursuits.
But they're great for jogging.
Bottomline
Nike Air Force 1s and Court Vision are my two favorite Nike pairs. Though both shoes' outsoles and overall appearance are identical, they vary in most stances. 
For example, Nike Court Vision is the smaller counterpart of Air Force 1. They have a lower heel height, total length, and a slimmer toe box than AF 1. However, they earn brownie points for being lighter, true to size and fit, and less costly than the Nike Air Force 1.
The Air Force 1 is a must-try if you are okay with their prices and cannot take the cost of low arch support as felt in Court Vision. In comparison to Court Vision, their built-in Air unit gets the lead in providing a more comfortable, supportive, and classic feel. 
However, unlike the Court Visions, the Nike Air Force 1 is heavier and larger in height.
More Articles: