Oofos and Hoka have carved out strong positions for themselves as leading suppliers of sports footwear, with devoted customers praising their distinctive features and unmatched comfort. Oofos is a leading name in recovery footwear, offering a selection of sandals and shoes to ease post-workout soreness and speed up muscle recovery.
On the other hand, Hoka's maximalist shoe design emphasizes a responsive and lightweight experience, particularly for runners seeking the best possible performance. But how can you determine which brand best fits your needs when there are so many different approaches to footwear?
Although comfort is a top priority for both Oofos and Hoka, they approach it differently. Oofos is a company that specializes in creating footwear that helps muscles heal after strenuous exercise and reduce stress. Because of the unmatched cushioning, arch support, and shock absorption that their patented OOfoam technology offers, Oofos are the preferred option for people with foot, leg, and back discomfort.
While Hoka, known for its maximalist shoe design, focuses on delivering a responsive and lightweight experience during strenuous hobbies like running. The thick, well-cushioned midsoles of Hoka's footwear help to provide a smooth ride and lessen the strain on joints.
 Whether you prioritize recovery or high-performance activities, being aware of these fundamental distinctions will help you find the footwear most suited to your requirements. However, your running needs and goals will ultimately determine whether you choose Oofos or Hoka shoes.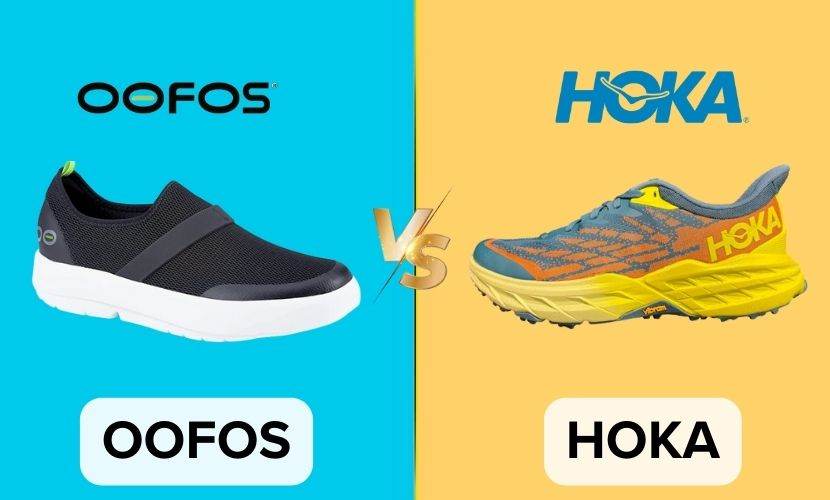 Feature Table: Oofos Vs Hoka
| | | |
| --- | --- | --- |
| Aspect | Oofos | Hoka |
| Founded | 2011 | 2009 |
| Technology | Oofoam | Oversized midsole and balanced geometry |
| Material | Lightweight and flexible | Foam, rubber, and synthetic materials |
| Sole | Single-piece Oofoam sole | Lightweight and flexible with shock absorption |
| Insole | Molded Oofoam insole | Soft foam with optional arch support and stability |
| Midsole and Outsole | Single-piece Oofoam midsole, rubber outsole | Large cushioned midsole, rubber outsole with traction |
| Design and weight | Sleek, minimalist design, various colors | Thick, cushioned sole, distinct appearance, various styles and colors |
| Weight | 6-9 ounces | 9-12 ounces |
| Pricing | $50-$100 | $120-$180 |
Our Top Picks For Oofos!
Oofos: Revolutionising Recovery Footwear
1. Comfort Beyond Compare 
With its revolutionary recovery footwear, Oofos has experienced tremendous growth in popularity. The brand's main goal is to offer outstanding comfort and support to anyone who wants to improve their post-workout recovery. Oofos shoes are made using cutting-edge materials to provide a unique experience for your feet.
2. Impact Absorption and Arch Support 
Exceptional impact absorption is one of Oofos footwear's major characteristics. The soles of the shoes are made of a special foam material that actively cushions your feet while you walk, relieving pressure on your joints and promoting muscle recovery. Oofos shoes also have great arch support, which can be very helpful for people with foot problems or high arches.
3. Versatile Design and Style 
Oofos initially focused on recovery footwear, but the company has now expanded its product line to include sandals and shoes appropriate for everyday usage. Oofos footwear features a flexible design that expertly combines comfort and aesthetics, enabling you to use its cutting-edge technology in various contexts.
Read more on: Do Hoka Shoes Run Small, Big Or True To Size?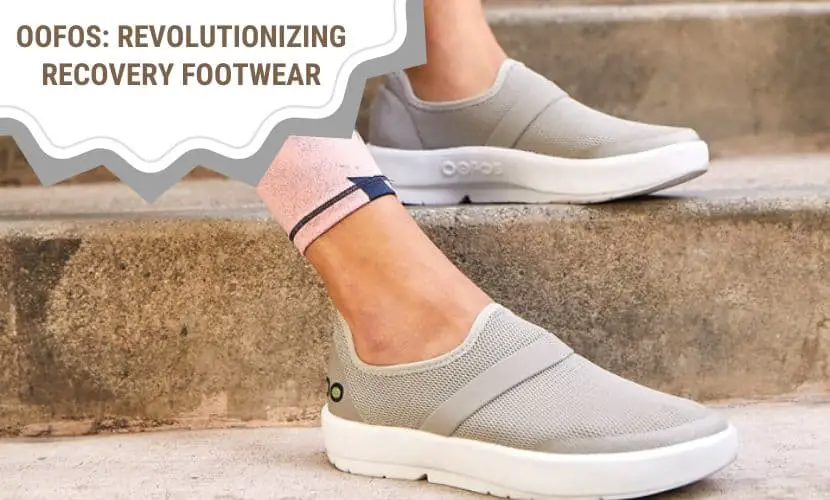 Hoka: Elevating Performance and Endurance
1. Innovative Cushioning Technology 
By introducing Meta Rocker's cutting-edge cushioning technology, Hoka has established a reputation in the running community. The brand's footwear is renowned for its outstanding level of shock absorption and its ample midsole cushioning. This function is especially helpful for people with joint problems or runners looking for increased comfort during extended runs.
2. Enhanced Stability and Traction 
The emphasis on grip and stability in Hoka shoes is another noteworthy feature. The distinctive styles of the shoes frequently feature broader soles and expanded outsoles, which enhance stability while running. The rubber compounds in Hoka shoes also provide great grip, empowering athletes to navigate different terrains confidently.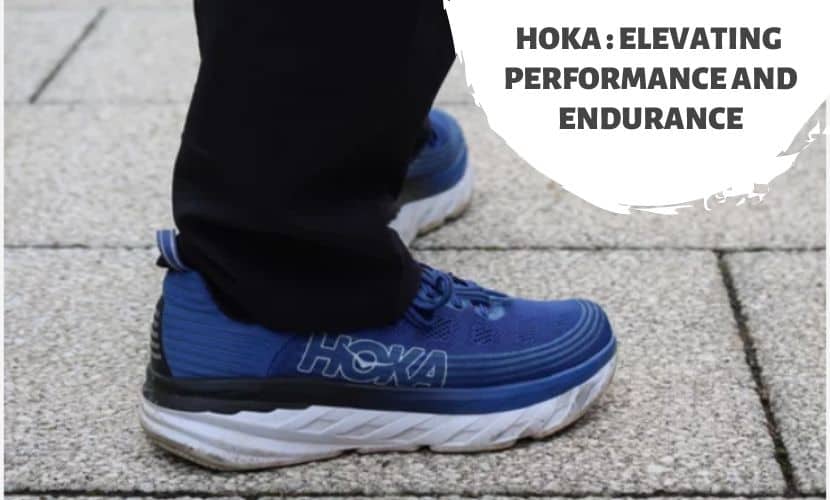 Difference between Oofos and Hoka:
1. Technology and Design
Oofos uses its own Oofoam Technology to offer unmatched support and cushioning. This cutting-edge technology aims to promote healing while simultaneously offering users exceptional comfort.
Hoka stands out thanks to its Meta-Rocker Technology, a cutting-edge design innovation that enhances the running experience. Facilitating an effortless and effective change from heel to toe encourages natural and fluid movement.
The Oofoam material used in Oofos footwear absorbs more shock than typical foams, reducing stress on the feet and joints. It provides significant comfort and contributes to general foot health during post-workout recovery or regular activities.
 Hoka shoes have ample cushioning in their midsoles, efficiently absorbing impact and relieving stress on joints and muscles. This characteristic is especially advantageous for long-distance runners because it reduces fatigue and pain over prolonged durations of action.
Stability and support are key considerations in Oofos' footwear design. Their expertly made footbeds with arch support guarantee optimum alignment, lowering the chance of foot problems and increasing general comfort.
Hoka shoes are made to give athletes more stability. They encourage balance and assist in lowering the risk of ankle injuries thanks to their larger platform and carefully designed support components in the midsole.
2. Benefits and Features
Superior Shock Absorption:
Oofos footwear uses its innovative Oofoam technology, which offers the best shock absorption. The unique material absorbs more impact, which lessens strain on feet. Because of this, Oofos is perfect for athletes and those who participate in high-impact sports.
 Hoka shoes have midsoles with cushioning, which efficiently absorbs shock. This characteristic lessens strain on joints and muscles, enabling them to be used by runners and lowering the likelihood of frequent running problems.
Reduction in Joint Stress:
Oofos shoes decrease joint strain by uniformly distributing weight. Oofoam technology's outstanding cushioning and support reduce the impact on joints like the knees and ankles, improving joint health and relieving diseases like plantar fasciitis or arthritis.
Hoka running shoes lessen joint stress by including stability and cushioning elements. Hoka promotes general joint health by lowering the likelihood of common running problems like stress fractures and shin splints.
Product Range and Varieties
Oofos provides a diverse range of goods to meet various preferences and demands. Their product line includes the OOriginal Thong Sandals, which are great for casual use; the OOmg Low Shoes, ideal for everyday activities; and the OOahh Slides, which provide ease and comfort.
Hoka offers a wide range of items to fit various sporting pursuits. Their main product lines include the Clifton Series, noted for its adaptability and cushioning; the Bondi Series, which provides optimal cushioning for long-distance runs; and the Speedgoat Series, developed exclusively for trail running.
Check out article on: Are Hoka Shoes Good?
Oofos Vs. Hoka Size Chart
Oofos Men Size Chart 
Here is a size chart for Oofos men's shoes to find the best fits for your feet. 
| | | | |
| --- | --- | --- | --- |
| US | UK | EU | CM |
| 2 | 1 | 35 | 22.5 |
| 3 | 2 | 36 | 22.8 |
| 4 | 3 | 37 | 23.5 |
| 5 | 4 | 38 | 24.1 |
| 6 | 5 | 39 | 24.8 |
| 7 | 6 | 40 | 25.4 |
| 8 | 7 | 41 | 26 |
| 9 | 8 | 42 | 26.7 |
| 10 | 9 | 43 | 27.3 |
| 11 | 10 | 44 | 27.9 |
| 12 | 11 | 45 | 28.6 |
| 13 | 12 | 46 | 29.2 |
Hoka Men Size Chart
Here is the Hoka men's shoe size chart; choose the size that fits your feet perfectly!
| | | | |
| --- | --- | --- | --- |
| US | UK | EU | China |
| 5 | 4.5 | 37 ⅓  | 230 |
| 5.5 | 5 | 38 | 235 |
| 6 | 5.5 | 38 ⅔  | 240 |
| 6.5 | 6 | 39 ⅓  | 245 |
| 7 | 6.5 | 40  | 250 |
| 7.5 | 7 | 40 ⅔  | 255 |
| 8 | 7.5 | 41 ⅓  | 260 |
| 8.5 | 8 | 42 ⅔  | 265 |
| 9 | 8.5 | 43 ⅓  | 270 |
| 9.5 | 9 | 44 | 275 |
| 10 | 9.5 | 44 ⅔  | 280 |
| 10.5 | 10 | 45⅓  | 285 |
| 11 | 10.5 | 46 | 290 |
| 12 | 11 | 46 ⅔  | 295 |
| 12.5 | 11.5 | 47⅓  | 300 |
| 13 | 12 | 48 | 305 |
Oofos vs Hoka: Which One Should You Choose?
The factors that should be considered are discussed below:
1. Target Market
Oofos primarily targets athletes, fitness enthusiasts, and anyone who values recovery and comfort after intense physical activities. Their footwear is designed to provide exceptional cushioning and support, offering relief and rejuvenation for tired and overworked feet. Oofos understands the importance of proper recovery and offers reliable options for all-day comfort, making it an appealing choice for individuals prioritizing post-workout relaxation.
On the other hand, Hoka's target audience primarily consists of athletes and active individuals aiming to enhance their performance. With innovative designs and advanced technologies, Hoka focuses on optimizing athletic abilities. Runners, hikers, and sports enthusiasts seeking footwear that improves running mechanics, enhances stability and boosts overall performance are drawn to Hoka's reputation for pushing boundaries in athletic footwear design.
While both brands address comfort and support, Oofos targets recovery and daily comfort, while Hoka targets performance enhancement for athletes and active individuals.
2. Design and Aesthetic Appeal
Oofos prioritizes a casual, laid-back aesthetic that complements its focus on recovery sandals and slides. The footwear design reflects relaxation and comfort, with minimalist styles prioritizing ease of wear. Soft and cushioned materials, ergonomic shapes, and versatile color options create a visually pleasing and comfortable experience. Oofos understands the preferences of individuals seeking post-workout recovery or everyday comfort, offering a sense of calm and tranquility through their design choices.
In contrast, Hoka embraces an athletic and sporty design aesthetic that resonates with those who value functionality and style in their footwear. Dynamic shapes, bold color combinations, and sleek profiles reflect the brand's commitment to performance enhancement. Hoka's designs optimize running mechanics, stability, and overall performance while making a bold statement. 
The visually striking appearance attracts attention and represents the brand's dedication to pushing boundaries in athletic footwear design. Hoka's aesthetic appeals to athletes and sports enthusiasts who seek high-performance footwear that is visually appealing and confident.
Oofos and Hoka create footwear that aligns with their target audience's preferences and expectations. Oofos' casual and relaxed aesthetic complements recovery and comfort needs, while Hoka's athletic and sporty design satisfies athletes and active individuals seeking performance and style.
3. Functionality and Purpose
Oofos prioritizes recovery and exceptional comfort in their footwear. Their specialized cushioning and supportive features alleviate fatigue and provide a soothing sensation for tired feet. Oofos aids the recovery process after intense activities, promoting overall well-being through functional design.
Hoka, on the other hand, focuses on performance enhancement for athletes and active individuals. Their innovative features and lightweight construction improve running performance and minimize injury risks. Advanced technologies optimize running mechanics, provide stability, and confidently empower athletes to reach new heights.
Oofos emphasizes recovery and comfort, while Hoka targets performance enhancement. Both brands deliver on their purposes, providing support and relief for tired feet or enabling athletes to excel in their pursuits.
4. Price Range and Affordability
Concerning their distinctive features, materials, and intended markets, Oofos and Hoka have different price points. Oofos is renowned for being reasonably priced and selling high-quality comfort and recovery footwear. Oofos makes sure that its products offer outstanding cushioning and support without breaking the bank for customers by placing a high priority on functionality and value. Oofos is a desirable choice for dependable and cost-effective solutions for healing and daily comfort due to its accessibility.
On the other hand, Hoka offers shoes in a slightly higher price range. The cutting-edge technology used by Hoka justifies this price range. It reflects the brand's commitment to R&D through which they create innovative designs and keeps their standards high by enhancing performance and providing a more secure experience.
Customers can choose between the two according to their preferences. Both brands provide value to their customers in their ways. Oofos offers affordable shoes with reasonable performance, while Hoka offers a price range that is slightly high but justified by its enhanced technology and performance.
Check out: New Balance Vs Hoka
Oofos Flip Flops Vs. Hoka Flip Flops 
Oofos Flip Flops are known for their cushioning and arch support, making them an excellent choice for those suffering from foot pain or recovering from an injury. They are also made of a special foam material designed to absorb shock.
On the other hand, Hoka Flip Flops are intended for running and other outdoor activities. They offer more support and stability than conventional flip flops and are frequently made with quick-drying materials to keep your feet cool and dry. They are also designed with a more cushioned sole for added comfort.
Oofos Oomega Oolala Sandals Vs. Hoka One One Ora Recovery Flip Sandals 
Oofos Oomega Oolala Sandals are made of a soft, flexible foam material that gives a cushioned, supportive feel. They are designed to promote foot recovery and comfort by concentrating on shock absorption and arch support.
On the other hand, Hoka One One Ora Recovery Flip Sandals are designed for recovery and efficiency. They feature a thick foam base for cushioning and stability and a soft and flexible upper strap for a comfortable fit. The Hoka One One sandals also have a multi-directional traction outsole, making them ideal for outdoor use.
Oofos Unisex Oocondoo Vs. Hoka Clifton 8
The Oofos Unisex Oocondoo is a recovery shoe made with Oofoam technology, which offers cushioning and shock absorption. They are lightweight and flexible, with a unique footbed design that helps to reduce stress on the feet and joints. They are perfect for post-workout recovery and everyday comfort.
The Hoka Clifton 8, on the other hand, is a neutral running shoe. It has a cushioned midsole and a durable outsole for a smooth and pleasant ride. It has a lightweight build, and the foam substance provides a comfortable and stable running platform. It's ideal for running, jogging, and light trail exercise.
Finally, your intended use and personal preferences will determine the decision between the two.
Sale
Conclusion
In conclusion, Oofos and Hoka are both exceptional athletic footwear brands with unique strengths. 
Oofos shines in recovery footwear, providing unparalleled comfort and support for your feet. Their specialized cushioning and supportive features alleviate fatigue. On the other hand, Hoka stands out for its innovative cushioning technology and lightweight designs, perfect for athletes that focus on performance and endurance.
Consider your specific needs and preferences when selecting Oofos and Hoka. The right pair of shoes can significantly enhance your athletic endeavors and overall well-being. Whether you prioritize recovery, performance, or personal fit, both Oofos and Hoka have various options to cater to your requirements.
More Articles: