Nike Blazers and Court Royale rank among Nike's top-selling sneakers, both boasting a timeless style and a diverse palette of colors. However, each shoe possesses distinct qualities that set them apart.
The Nike Blazer made its debut in 1973 as a basketball sneaker, deriving its name from the Portland Trail Blazers. This shoe gained popularity among basketball athletes with its high-top construction and leather upper, paired with a rubber sole. In contrast, the Nike Court Royale emerged in the 1970s as a tennis sneaker, featuring a low-top design with a leather upper and rubber sole.
While the overall design of both shoes shares similarities, they differ in aspects such as price, fit, and comfort level. Typically, the Nike Blazer is priced higher than the Court Royale, but it also comes in a wider range of styles and variations. The sizing remains consistent between the two sneakers, but the Court Royale is often considered more comfortable than the Blazer. In the end, selecting between these two iconic sneakers boils down to individual tastes and intended use.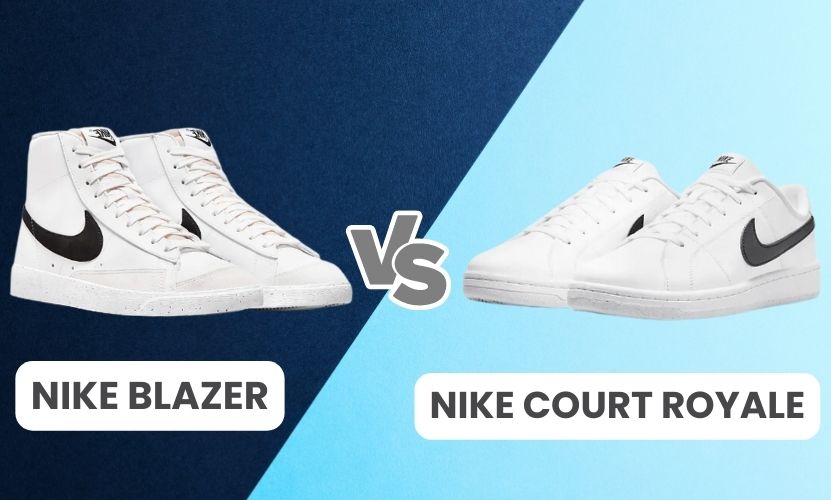 Design and Weight
Nike Blazer Design
Nike Blazers are a sophisticated basketball shoe that has been around since the 1970s. Nike Blazer are high-top sneakers with a suede or leather upper and a rubberized sole.
The shoe has a Swoosh logo on the side and a Nike logo on the heel. Blazers used to only be available in high-top variants, but the design has developed over time, and today low-top and mid-top models are also accessible for Nike fans.
The nicest thing about Blazers is that they come in a range of colors and patterns such as solid colors, two-tone colors, and graphic prints. 
Nike Blazers is one of the most adaptable Nike sneakers I've ever worn. They will never let you down and will always boost your fashion sense whether you wear them with jeans, shorts, or skirts. In general, you can wear them casually and dress them up or down depending on the occasion.
Court Royale Design
One of the best shoes inspired by tennis shoes is the Nike Court Royale, which has a simple yet elegant design. Royale often has a low-top design similar to Blazer, as well as a leather or synthetic upper and a rubberized sole.
The Nike logo is put on the side and heel of these shoes, giving them a stylish look. They, like Blazers, come in a variety of colors, including black, white, and navy blue. White with a black Nike logo on the sides is one of my favorite Nike Royale colors. 
Court Royale are one of the most lightweight and comfortable shoes I've ever worn, and they're also suitable for everyday wear. They are ideal for folks who desire simple yet stylish shoes that can be worn with any outfit. With these shoes, you can do everything, including running, walking, and other activities. 
To conclude the design aspect, Nike Blazers and Court Royale shoes feature a distinct set of design elements that are aspired to as top basketball and tennis shoes on the market. Blazers' classic and elegant appearance contrasts with the Royale's simple and clean appearance, but they may be worn casually every day. Both shoes are long-lasting, but Blazers outlast Royale. These sneakers are suitable for many kinds of sports such as running and walking. Blazers low-top versions, which are currently popular on the market, are comparable to the Royale low-top version. 
Court Royale are lighter than Blazers in terms of weight. The Court Royale weighs about 11.5 oz per pair, whereas the Blazers weigh about 17.3 oz.
Read more on: Nike Air Force Vs Court Vision
Material
Nike Blazers became famous for their comfort, durability, and grip. At the same time, Court Royale is light and low-collar cushioned. Court Royale is simple and ideal for walking and running. 
Nike Blazers have a firm grip and provide athletes with the support they require. The upper portion of the Nike Blazers is made of leather and suede, whereas the upper portion of the Court Royale is made of synthetic leather for additional durability.
Sole
Nike Blazers had an evergreen rubber sole. The sole was both soft and comfy. Court Royale, on the other hand, has a herringbone pattern composed of rubber.
Insole
The insole of the Nike Blazers is made of rubber and a sock lining, which offers a mattress for the feet. Furthermore, it provides comfort to the feet throughout the day. 
Whereas the insole of the Court Royale is composed of 20% recycled rubber, giving it a slight comfort difference from the Nike Blazers.
Midsole and Outsole
The midsole of Nike blazers offers a popular old-school look. The midsole and outsole are streamlined by autoclave construction to provide a fashionable look with the benefits of durability, comfort, and grip.
Court Royale also has rubber on the midsole and outsole for comfort. They have a light and traditional appearance. Their herringbone pattern offers an extremely comfortable cup-shaped design for the feet.
Also you can read more on: Are Nike Waffle One Good For Running?
Performance
Nike Blazer Performance
The Nike Blazer is a multi-functional footwear option that suits both leisurely and athletic occasions. With a cushioned collar and tongue, it delivers enhanced support and coziness, making it appropriate for endeavors like trekking or jogging. The rubber outsole offers solid grip on a range of surfaces, including sport courts. Nonetheless, the Blazer isn't explicitly crafted for any particular sport or activity, which may render it unsuitable for dedicated athletes.
In summary, the Nike Blazer is a dependable sneaker that accommodates various pursuits. Its timeless design and comfortable feel make it a favored selection among sneaker aficionados and style-savvy individuals.
Court Royale Performance
The Nike Court Royale is a low-profile shoe, specifically engineered for court-based sports like tennis and basketball. The rubber outsole ensures exceptional traction on both indoor and outdoor playing surfaces, while its minimalist design facilitates seamless movement and nimbleness on the court. The Court Royale's robust build makes it an excellent choice for regular court usage.
Although primarily crafted for court sports, the Court Royale can be worn for casual pursuits as well. However, its understated design might not supply ample support or cushioning for activities like running or hiking.
To sum up, the Nike Court Royale is a high-performance footwear option tailored for court-based sports. Its sturdy construction and outstanding grip position it as a premier selection for dedicated athletes.
Pricing
The prices may differ, but the average price for Nike Blazers for men is around $90 to $120, while it costs around $85 to $110 for women. New luxury Blazers are more expensive and are also subject to supply. The shoe's durability outweighs its expense.
The Nike Court Royale is one of the most classic and affordable shoes. A set will cost you around $55. Court Royale costs approximately $55 for men and between $55 and $65 for women.
Check out: Are Nike Dunks Good For Basketball And Skating?
Size Chart
The size chart of Nike Blazers and Nike Court Royale is given below for your guidance:
U.S. – Men's
U.S. – Women's
U.S. – Kids
The U.K.
CM / JP
E.U.
3.5
5
3.5Y
3
22.5
35.5
4
5.5
4Y
3.5
23
36
4.5
6
4.5Y
4
23.5
36.5
5
6.5
5Y
4.5
23.5
37.5
5.5
7
5.5Y
5
24
38
6
7.5
6Y
5.5
24
38.5
6.5
8
6.5Y
6
24.5
39
7
8.5
7Y
6
25
40
7.5
9
7.5Y
6.5
25.5
40.5
8
9.5
8Y
7
26
41
8.5
10
8.5Y
7.5
26.5
42
9
10.5
9Y
8
27
42.5
9.5
11
9.5Y
8.5
27.5
43
10
11.5
10Y
9
28
44
10.5
12
10.5Y
9.5
28.5
44.5
11
12.5
                
10
29
45
11.5
13
10.5
29.5
45.5
12
13.5
11
30
46
12.5
14
11.5
30.5
47
13
14.5
12
31
47.5
13.5
15
12.5
31.5
48
14
15.5
13
32
48.5
14.5
16
13.5
32.5
49
15
16.5
14
33
49.5
15.5
17
14.5
33.5
50
16
17.5
15
34
50.5
16.5
18
15.5
34.5
51
17
18.5
16
35
51.5
17.5
19
16.5
35.5
52
18
19.5
17
36
52.5
18.5
20
17.5
36.5
53
19
20.5
18
37
53.5
19.5
21
18.5
37.5
54
20
21.5
19
38
54.5
20.5
22
19.5
38.5
55
21
22.5
20
39
55.5
21.5
23
20.5
39.5
56
22
23.5
21
40
56.5
Nike Blazer Mid '77 Vintage VS. Nike Court Royale 2 Next Nature
The Nike Blazer Mid 77 was one of Nike's first shoes. This shoe was still trying to break into the public as basketball shoes.  However, it caught the attention of the public, and many famous NBA players wore these shoes. These shoes evolved into the vintage and popular Nike Blazers over time. These shoes have a firm grip and provide the required speed. These shoes provide excellent traction and comfort, allowing the feet to land securely in the jumps. It is a must-have in any collection.
Nike Court Royale 2 Next Nature never grows old. These are manufactured from 20% recycled rubber and are very inexpensive for their quality. Furthermore, synthetic leather is used to enhance the style and make it easier to wear.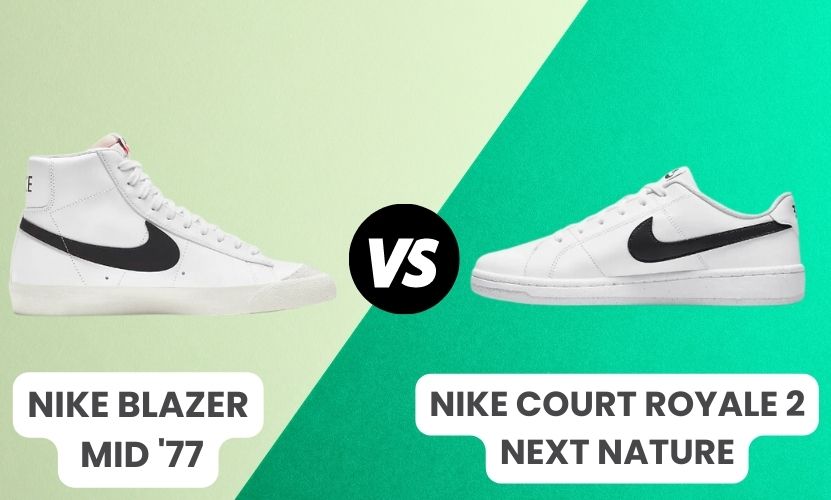 Nike Blazer Low '77 S.E. VS. Nike Court Royale 2 Better Essential Trainers
Nike Blazer low was designed for people who desired the comfort and simplicity of Blazers but in a more versatile style. As a result, Blazers Low was launched. These are the finest shows for picnics, garden parties, or a walk around the block. You can wear these comfortably all day. You can wear these comfortably all day. It has the same outsole and midsole design. The only distinction is the mid-low design of the shoe, which makes them more than just sports shoes.
Nike Court Royale 2 has a 50% recycled polyester upper and a ground rubber outsole. Streamlined midsoles and outsole were made more robust for extra durability. The modern herringbone structure offers more traction and comfort than older versions.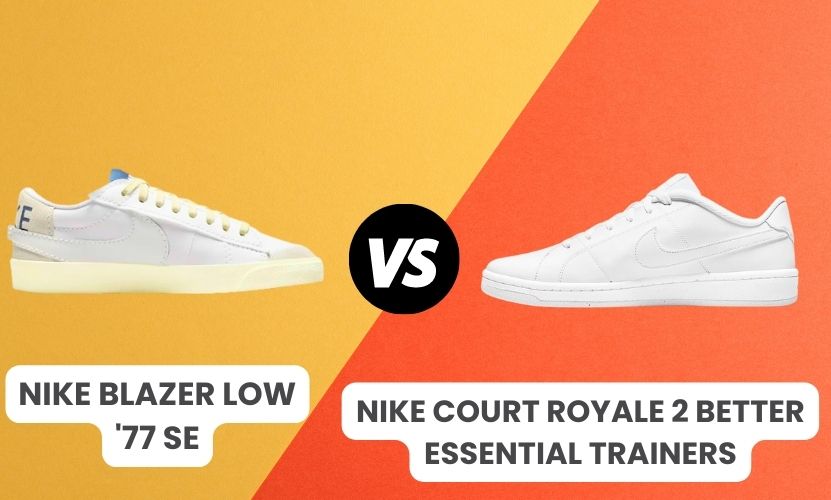 Nike Blazer Mid Pro Club VS. Nike Court Royale 2 Mid
Nike Blazers Mid Pro Club was made more luxurious and premium. It has additional rubber on the midsole for added durability. The patchwork on the Blazer adds style and a contemporary appearance. The same easy-to-wear design and material make these shoes so desirable.
The Court Royale 2 mid is one of the most unique shoe styles. While this shoe has the pattern and structure of an old and classic Court Royale, the mid-design makes it more appealing. The banana sole used in this shoe is extremely comfortable. Modern herringbone has the feel of an old Court Royale while maintaining a solid structure.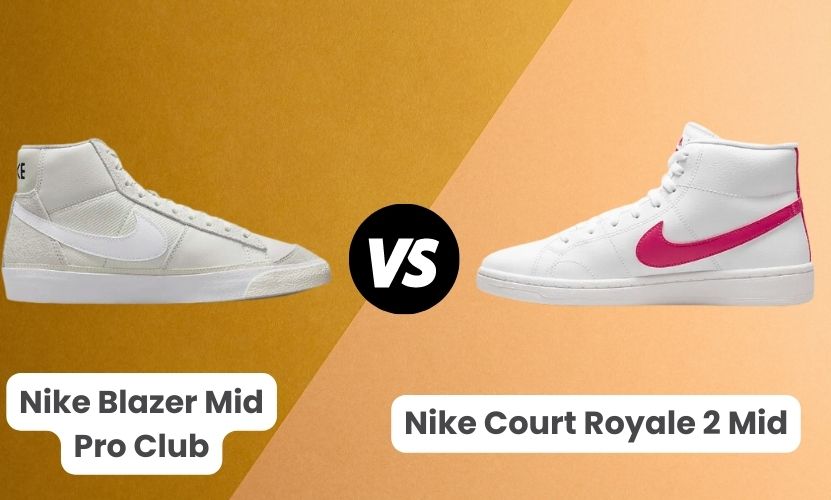 Summary
To summarize, Nike Blazers and Court Royale sneakers address distinct preferences and needs while delivering enduring fashion and coziness. The Blazers, originating from basketball and featuring a high-top design, offer a traditional, striking look that captivates sneaker aficionados. On the other hand, the tennis-inspired Court Royale presents a sleek, minimalist low-top style that attracts those who appreciate subtle sophistication.
Both sneakers exhibit durability, comfort, and adaptability, making them appropriate for a variety of situations and environments. In the end, selecting between these iconic shoes relies on personal tastes, intended purposes, and desired appearances. Regardless of whether you choose the Blazers' daring impression or the Court Royale's refined simplicity, you can have confidence in the well-crafted design and lasting allure of these renowned Nike sneakers.
Nike Blazers were the first products introduced by Nike, garnering a reputation for their fashionable design, comfort, and sturdiness. These shoes, worn by numerous NBA players, grew increasingly popular over time. Eventually, Court Royale emerged, taking inspiration from tennis shoes while retaining elements of the Blazers' design. Each shoe has its merits: Court Royale is affordable and versatile, allowing for a range of looks while providing all-day comfort. In contrast, Nike Blazers are geared more towards sports, supplying the support, grip, traction, coziness, and longevity that athletes require.
Related Articles: