Are you here after seeing that viral meme selling Steel-toe Crocs? If yes, I have news for you. It's fake. 
Steel-toe shoes are not available in Crocs, though they do sell safety Crocs. Yes, that's a disappointment when you want comfort with ultimate protection. To fill this gap, you can make steel-toe Crocs yourself or buy steel-toe shoes that look like Crocs.
Read the complete guide to understand this other side.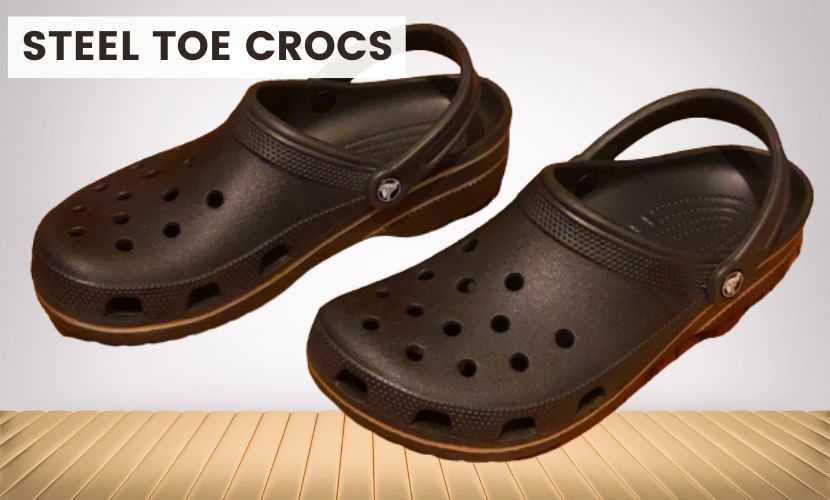 Do Crocs Make Steel Toe Shoes?
Crocs does not manufacture steel-toe shoes. However, they do manufacture certified work safety shoes. These Work Crocs are available in the Bistro, Neria, Specialist Vent, Crocs-on-the-Clock, and LitreRide series. 
Though not steel-toed and not made for heavy industrial work, Crocs work shoes are highly popular among various professions, like nursing. They are also waterproof, slip-on, and comfortable as all-day shoes, as are many other work clogs.
Also check out: Why are Crocs So Expensive?
Best Alternative Steel-Toe Shoes Which Look Like Crocs
I know how intimidating it is to hear that Crocs does not offer steel-toed shoes in their safety line. But if you are obsessed with the Cloggy-Croc look and are eyeing the steel-toe version, you can go for the look-alikes as alternatives. 
So, here's a list of steel-toe Crocs look-alikes for both genders to choose from:
Steel Toe Shoes Look Like Crocs For Men
Let's start with the men's look-alike steel-toed Crocs:
1) Skechers for Work Men's Hartan Steel Toe Slip-On Shoe
These Skechers are a good alternative to steel-toe Crocs because they are stylish, comfortable, and steel-toed. They have the same relaxed fit as Crocs, and the memory foam adds to the comfort story. These steel-toe shoes are slip-resistant and have a durable upper. But they do require time to break in.
Pros
Lightweight. 
Easy slip-on.
Premium quality.
Cons
Not much durable.
Unfit for wide feet.
2) Sika Footwear Fusion Work Clog
Sika is a brand that specifically sells safety shoes. The Fusion work clog is equipped with an 8mm birchwood insole for superior arch support. They have the Cloggy-boat shape of Crocs and are suitable as all-day work shoes, as well as being slip-resistant, steel-toed, and waterproof. Overall, this kitchen clog is a cross between Crocs and Birkenstocks.
Pros
Comfortable and supportive.
Breathable. 
Durable.
Cons
3) Cdsnxore Safety Work Steel Toe Clog
Originally known as the Chef Clogs, these steel-toe shoes are more than jing kitchen shoes and are designed for various workplaces. Fortunately, the look, I mean, is way too similar to Crocs, and they even have the classic Crocs strap you find missing in the other look-alike Clogs.
Needless to say, these Clogs are slip, water, and oil-resistant. And the patented outsole easily makes it comply with the ASTM F2413-2011 standards. Also, they are available in multiple sizes, even in 4XL.
Pros
Comfortable 
Suitable as an all-day shoe
Premium anti-slip quality.
Cons
Not durable
Slightly tight. 
Read more on: Do Crocs Shrink?
Steel Toe Shoes Look Like Crocs For Women
If you are a woman looking for look-alike yet worth-buying steel-toed Crocs, I have a list for you:
1) ARIAT Women's Safety Toe Clog
This Clog has a professional yet safe appearance, making it ideal for those looking for office-style Clogs. These Ariat safety toe clogs are not only steel-toed, but also abrasion, slip, and oil resistant, as well as electric-hazard resistant.
They also meet the safety requirements. However, unlike Crocs, these Ariat Clogs are not waterproof; they must be waterproofed in order to maintain their surface integrity. And, according to reviews, they run from a half-size small to a full-size small.
Pros
Heavy duty, lightweight, and comfortable.
They don't look like traditional steel toes and are pretty stylish.
Cons
The top edge cuts to the ankle's bottom.
Have a narrow width.
2) Birkenstock Women's A 640 Steel Toe 
I compare them to Crocs because of their appearance and, secondly, because of their polyurethane upper. The ankle-high shaft is what distinguishes them from Ariat's safety toe Clog.
Furthermore, like Crocs, these Birkenstocks steel-toed shoes have squishy, uneven, and thick soles.
Pros
Molds to feet like all Birkenstocks
Light and flexible 
Very Croc-alike in looks and feel.
Supportive and comfortable.
Cons
Takes around two months to break in.
Needs work on the structure.
3) Rockport Women's Top Shore RK600 Work Shoe
These penny loafer steel-toe shoes resemble Crocs' loafers pretty much. But unlike Crocs, they feature a removable memory foam and steel toe cap, making them the perfect blend of bearing comfort with protection.
Plus, they are perfect as slip-resistant shoes and feature stylish full-grain leather, making them good safety dress shoes for women. And the differentiating feature is the look; it makes them hard to tell if they're steel-toed. However, they will require the break-in period to become entirely comfortable. But for some people, they appear large. So, you have to do some work on finding the right fit.
Pros
Lightweight.
Stylish.
Comfortable.
Cons
Sizing issues.
Not much supportive.
Read more on: Are Crocs Supposed To Be Loose?
Can you make your crocs steel toe?
If you aren't satisfied with the look-alike Steel-toe Crocs discussed previously, you can take a chance of converting your regular Crocs to steel-toe. Here's what you have to follow:
Cut and extract a steel toe cap from an old steel-toe footwear or buy one online.
Ensure that the size fits you and your Crocs toe area well. If it's unfit, you can try cutting the excess area with a metal/steel cutter or get the size reduced from a steel fabrication shop.
Clean and dust your Crocs with a damp cloth and let them dry.
Carefully place your steel-toe cap inside the Crocs till the toe area's end, and wear them.
Walk around until you are comfortable.
Note: Please keep in mind that these DIY steel-toed Crocs are not intended for heavy work. They are instead suitable for minor bumps or garage-type work, with no guarantee of preventing serious injuries. That is why I recommend making them as a last resort.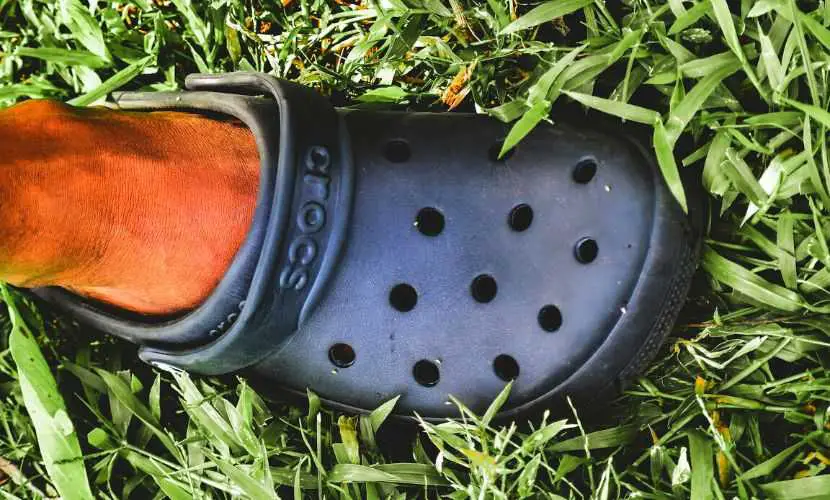 Are Crocs Safe To Wear At Work?
Yes, Crocs are okay to wear at work. But the 'safety' depends on the kind of work and Crocs you are talking about. For example, you can take your Bistro Crocs to nursing shifts, but you can't take the Classic open-toed ones to the same place. 
On the other hand, they are appropriate for the workplace. No Crocs are intended for heavy, industrial work. In short, Crocs are acceptable for wearing at work if the style is appropriate for the needs of your workplace.
The Takeaway
Crocs does not make steel-toe shoes, despite having work, non-slip, and water-resistant safety shoes. On the plus side, steel-toe Clogs and boat shoes that resemble Crocs and are even better than regular safety Crocs are available.
If you are a die-hard Crocs fan and are unwilling to try look-alike Crocs steel-toed shoes, you can make your own steel-toed Crocs with some effort. If you still don't think this is a good idea, you can always wait for Crocs to release steel-toe shoes in the future. This is likely to happen, as they are currently one of the most sought-after Crocs.
More Articles: