With the introduction of its first leather handbag in 1941, Coach established itself as a popular brand. The company introduced many versatile shoe collections between the mid and late 1990s. They enlisted renowned designer Reed Krakoff to use all of his talents to make the Coach shoes more fashionable and robust.
Reed's work, combined with the brand's previous success with handbags, made the Coach shoes an instant success. Coach is known for producing high-quality leather products, but the shoes are also available in suede and signature fabric.
Coach shoes are popular among people of all professions, particularly celebrities. Their size, material, and appearance are all elegant. However, do Coach shoes run big or small?
Coach shoes fit differently for each individual. Some claim that Coach shoes fit them perfectly, while others claim that Coach shoes run small and are larger than their actual foot size. However, complaints about Coach shoes running large outnumber complaints about the shoes running small.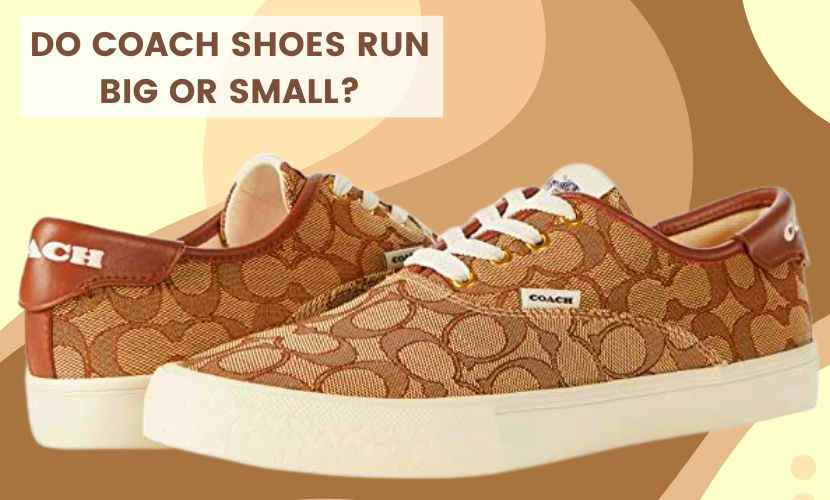 What Are Coach Shoes?
Coach shoes are well-designed shoes that are popular among celebrities and the rich. Coach shoes are incredible in terms of comfort, material, and style. The brand is well-known for its excellent leather products crafted by world-renowned designers.
Coach shoes are always there to save the day, whether it's a party or a hectic day at work. Let's take a quick look at the top three factors to consider when purchasing Coach footwear:
Style: As previously stated, Coach shoes are designed by renowned designers such as Reed Krakoff, so there is no compromise on style. Coach sells everything from heels to flats to sneakers.
Material Type: Coach is well-known for its handcrafted leather products, but you can also find shoes made of synthetic fiber and suede.
Genuineness: Since the shoe market is rapidly expanding, it is advised to be wary of scammers. Check for the original Coach shoe label and price tags on your shoes.
Read more on: Do Vans Stretch? 5 Easiest Way To Break In Vans
Do Coach Shoes Run Big or Small?
Coach shoes are distinguished from other types of traditional footwear by their size variations. Many customers have reported that Coach shoes are slightly oversized in size.
However, the question of whether Coach shoes run small received little positive response, as there are few to no complaints about these shoes running small. If you wear a Nike 10, choose Coach shoes in sizes 9 to 9.5.
Do Coach Shoes Run Large?
Although Coach is a fantastic shoe brand, some Coach shoes don't fit true to size. Customers who purchase Coach heels and sneakers frequently complain that the shoes are slightly larger than their actual size. As a result, you can avoid this problem by purchasing a smaller size.
For example, if a size 8 shoe fits you perfectly, try a size 7.5 shoe from Coach shoes for a perfect fit. Let's look at some helpful tips if you don't know how to get the perfect shoe fit.
How To Ensure The Coach Shoes Don't Run Small?
Nothing is more terrifying than purchasing a beautiful pair of shoes only to discover that they do not fit your feet. Here's how to make sure Coach shoes don't run small:
Choose A Slightly Larger Size
After you've decided on a pair of shoes, put them on. Wiggle your toes and ankles to see if the shoes dig into your toes and ankles. If this is the case, try on a slightly larger shoe size. A shoe that is too small should be at least ½ inches larger.
Wear Both Pairs
If you believe you can accurately check the size while wearing only one shoe, you are mistaken. Wear both shoes and walk around in them to see if they cause any discomfort. In almost every Coach shoe store, there is a mirror.
So, examine your feet from every angle to determine their size and fit. Reminder: Your shoes should not dig into the sides of your feet.
Try Shoes With Socks
Trying on shoes while wearing socks can help you avoid purchasing smaller shoes. This tip is for those who regularly wear socks to work. When visiting the Coach store, make sure to wear socks so the shoes don't cling to your feet and fit comfortably.
Go For Comfort
If you like a particular shoe, make sure it fits properly. Because it's pointless to try to fit into Cinderella's shoes, always choose shoes that fit you and meet your size requirements.
Read more on: Are Skechers Good Shoes?
Coach Shoes Sizing
Coach shoe sizing patterns differ greatly from those of other shoe brands. As a result, when checking sizes, take caution. When purchasing from Coach, it is recommended that you order a smaller shoe size than usual because they tend to run larger. Here's a useful shoe sizing chart to help you decide.
For Women:
| | | | |
| --- | --- | --- | --- |
| US (Size) | Europe | UK | China |
| 5 | 35 – 36 | 3 | 35.5 |
| 5.5 | 36 | 3.5 | 36 |
| 6 | 36 – 37 | 4 | 37 |
| 6.5 | 37 | 4.5 | 37.5 |
| 7 | 37 – 38 | 5 | 38 |
| 7.5 | 38 | 5.5 | 39 |
| 8 | 38 – 39 | 6 | 39.5 |
| 8.5 | 39 | 6.5 | 40 |
| 9 | 39 – 40 | 7 | 41 |
| 9.5 | 40 | 7.5 | 41.5 |
For Men: 
| | | | |
| --- | --- | --- | --- |
| US (size) | Europe | UK | China |
| 7 | 40 | 5 | 7 |
| 7.5 | 40.5 | 5.5 | 7.5 |
| 8 | 41 | 6 | 8 |
| 8.5 | 41.5 | 6.5 | 8.5 |
| 9 | 42 | 7 | 9 |
| 9.5 | 42.5 | 7.5 | 9.5 |
| 10 | 43 | 8 | 10 |
| 10.5 | 43.5 | 8.5 | 10.5 |
| 11 | 44 | 9 | 11 |
| 11.5 | 44.5 | 9.5 | 11.5 |
If your feet are slightly larger, you can also get larger sizes.
What Should You Do If Coach Shoes Run Small?
Coach is a reliable brand with excellent customer service. If your shoes are too small for your feet, you can return them within 30 days of purchase. This brand is primarily for people who order shoes online and end up with shoes that dig into their feet.
However, to return the shoes, ensure they are in their new condition and not damaged. Because the company may not take worn-out or partially damaged shoes. In that case, a shoe stretcher can be pretty handy. 
It does not remove the shine from your shoes like a traditional blow dryer method. To get the best results from a shoe stretcher for Coach shoes, follow these steps:
To begin, fully close the shoe stretcher and insert it into your new Coach shoes. Push the stretcher inside until it can no longer move any further. Caution: Using too much force may cause your new shoes to rip open. Simply come to a halt when you feel the front of the shoes: the toe area.
Insert the block heel into your shoes and counterclockwise rotate the lengthening drum. This method easily stretches your Coach shoes from front to back.
Wait for 8 to 24 hours because your shoes require this time for proper stretching.
Finally, turn the T handle counterclockwise and wiggle the heel block out. Try on your lovely Coach shoes and see if they still fit you perfectly.
If the shoes still feel snug on your feet, repeat the process.
Read more on: How To Break In Blundstone Boots?
Types Of Coach Shoes
The Coach is not limited to a single field. Coach has everything you need for an urgent meeting or a fun night out. Shoes are not only affordable but also fashionable.
Coach Sandals
Nothing beats the elegance and style of Coach sandals. They are both comfortable and versatile. Their sports slides are one of the most affordable options. These slides cost between $75 and $85. So, anyone looking for something rocky but not wanting to spend a lot of money should definitely consider these fantastic sports slides.
Coach Sneakers
Who doesn't enjoy wearing sneakers? Coach Sneakers are leading the way in this fast-paced world where people seek comfort everywhere, especially in shoes. Coach has the best pair of sneakers for you, whether you're a skater or a university student. Coach Citostype Skate Sneakers are ideal and cost only $135. The insole and outsole are made of soft but durable material, providing adequate cushioning while running.
Coach Heels
Heels and comfort are not words that go together. Anyone who wears heels complains about the discomfort of their posture. Coach, on the other hand, has solved your problem. You can now get a fancy yet comfortable pair of heels for $75 to $225. So you get comfort, style, and affordability all in one. Jackie Pump is one of the best-selling heels; try it and you won't be disappointed.
Coach Boots
People who live in cold areas with heavy snowfall and storms require durable footwear. Coach provides the best boots for walking down the streets in the snow. These boots and booties are made primarily of leather. Cody James Boots come highly recommended for those looking for ideas. However, boots and booties are not cheap. They range in price from $250 to $350.
How To Wash Coach Leather Shoes?
There are two types of cleaning processes for leather shoes: one for scuffs on shoes and the other for dirt accumulation.
●    Take a brush or a soft cloth to clean. Then, dip it into a mixture of distilled water and vinegar. Remove all debris by running the damp cloth or brush over the dirty areas.
●   If there are scuffs, consider polishing the leather surface according to the instructions in the polish box. If you can't find a white polish for your white leather shoes, use baking soda to remove scuffs.
How To Clean Coach Fabric Shoes?
Fabric shoes can get dirty no matter how hard you try. If you believe that machine washing is the best way to clean Coach fabric shoes, you are mistaken. Machine washing shoes can reduce their overall lifespan. Here's how to easily clean Coach fabric footwear:
● Pour a solution of warm water and 2 to 3 drops of detergent onto a clean cloth. To get cleaner shoes, gently wipe the dirty sides with a damp cloth.
● Then, using a toothbrush, scrub the extra firm dirt away.
● After the dirt has been removed, rinse the soapy shoe with clean, warm water.
● Place it outside for a quick and natural cleaning. To avoid color damage, do not expose the shoes to direct sunlight.
Conclusion: Do Coach Shoes Run Big Or Small?
Coach shoes are ideal for anyone looking for a stylish yet affordable pair of shoes. When asked, "Do Coach Shoes Run Small?" No, it does not. However, when compared to other popular brands, they typically run larger than the actual foot size. We hope this article has given you a good understanding of Coach shoes and their shoe sizing guide.
More Articles: